Liam Hoofe reviews the Riverdale season 2 premiere…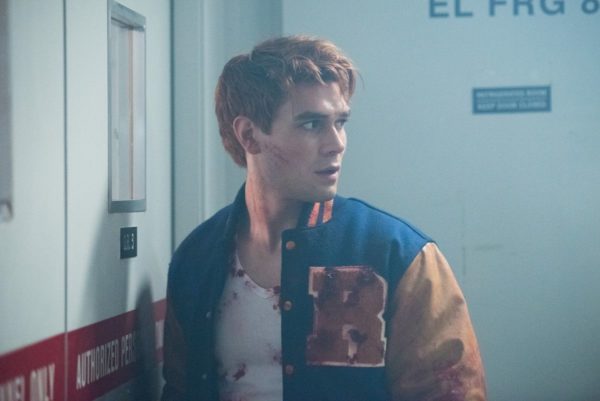 Riverdale, the TV adaptation of the iconic Archie Comics, returned to our screens last night, kicking off the show's second season in riveting fashion.
Riverdale has always been delightfully over the top, delivering twists and turns at a breakneck speed in an incredibly stylish and confident fashion, and last night's season premiere 'A Kiss Before Dying' got going exactly where things left off last season.
In the final harrowing moments of season 1, just after the mystery surrounding Jason Blossom had finally been resolved and the sleepy town of Riverdale looked set to return to normal, Fred Andrews, the lovable father of Archie, was shot and left for dead in Pop's diner, leaving audiences reeling as they eagerly anticipated his fate.
Season 1 left us with many other loose ends – Jughead's slow turn towards the South Side Serpents, Cheryl Blossom burning down the Thornhill mansion, and the impending return of Veronica's corrupt father, Hiram Lodge. 'A Kiss Before Dying' manages to address all of these plot threads and add a few more for what is going to be one hell of a long season, and it does so in a very impressive 45-minute runtime.
The main focus here, though, is the fate of Fred Andrews and while some may argue that the show resolves the issue a little too quickly, it manages to efficiently builds all the characters, rock the town of Riverdale again and creates ample mystery for the coming 21 episodes (yes, it's going to be that long.) The episode's most effective scenes come as Fred verges on the brink of death, experiencing moments from the future that he will never get to see. They're a really neat narrative device, one that instantly reminds us of just how strong the relationship between Archie and Fred is.
Other characters get their fair share of screen time as well. Madelaine Petsch is as deliciously twisted as she is always is as Cheryl Blossom. The scene where she threatens her now incapacitated Mother is wonderfully over-the-top and Cheryl's character remains the show's most intriguing, and most enjoyable to watch.
The Jughead/Betty romance rumbles on in a similar vein to last season, which is perfectly fine. Watching Jughead slowly embrace the South Side Serpents is becoming one of the show's best storylines, and the slow build only benefits that. Betty is basically just there to play the voice of reason right now, but I'm sure that will develop further as the episodes begin to pile up.
Then, of course, there's Veronica and the arrival of her father. The scene at the end of the episode, where Hiram makes his grand entrance was suitably slick and menacing, harking back to Ernst Stavro Blofeld and other great on-screen villains. Hiram's return will no doubt have huge ramifications for a lot of people in Riverdale and he is placed to become the show's main antagonist. Will Veronica be able to resist her father? Her turn away from her parents has been great to watch, but Hiram is on a whole different level to her mother and his return will definitely create a rift between her and Archie.
The episode's closing scene, which saw season 1's Ms Grundy make an all too brief return, sets up plenty of questions for the coming weeks. It looks as though Fred may never have been the target in the first place, and that someone is actually targeting Archie himself, which will likely give us the season's central mystery.  Bringing Archie to the centre of proceedings will only benefit the show – he is, after all, the main character of the comics and having him front and centre on TV will help give us a character to root for.
What makes Riverdale such a joy to watch is just how confident the whole show is. Yes, the twists and turns can often be outrageous, and yes, some of the characterisation is ridiculously over-the-top and camp, but the show fully embraces that, giving us a confident and edgy depiction of life in a small town riddled with crime. It's delightfully silly and wonderfully sinister all at the same time. 'A Kiss Before Dying' was a fine example of what the show can do when it is going full throttle, and I can't wait to see what the rest of season 2 has to offer.
What did you think of 'A Kiss Before Dying'? Let us know in the comments below, and let Liam know on Twitter @liamhoofe