The Death of Stalin, 2017.
Directed by Armando Iannucci.
Starring Simon Russell Beale, Steve Buscemi, Jeffrey Tambor, Andrea Riseborough, Jason Isaacs, Paddy Considine, Michael Palin, and Paul Whitehouse.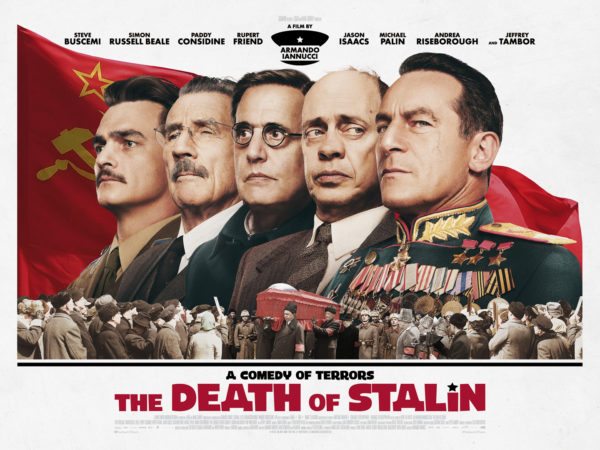 SYNOPSIS:
Follows the Soviet dictator's last days and depicts the chaos of the regime after his death.
Who knew gulags and mass graves, systematic rape and murder could be so uproarious. Armando Iannucci's The Death of Stalin is a raucous, fantastically strident, acerbic critique of post-Stalin Russia. Like In The Loop and Veep/The Thick of It, he finds poetry amidst fucks and grandiose insults whilst deftly dismantling power with a Chelsea smile.
There's a fine line between satire and exploitation and Iannucci treads it with a swaggering confidence. He plays up the hysterics of a Stalin-less Russia but never errs towards exploitation. There is still real tragedy to the action of the power-hungry cabinet, even amidst the laughs.
As Stalin falls ill, those that surround him begin a mad struggle for power. Second in command and impossibly vain Malenkov (Jeffrey Tambor) bumbles his way up the hierarchy, a figure prone to being manipulated. Kruschev (Steve Buscemi) is tasked, reluctantly, with arranging the funeral. Molotov (Michael Palin) and Mikoyan (Paul Whitehouse) quietly plot. But it's Beria (Simon Russell Beale) who yearns most desperately for power, gleefully offing those with even an ounce of doubt whilst playing everyone against one another.
And Iannucci dispatches with accents. There are no faux Russians, nor a uniformity, it's a free for all of regional British and American dialects. It's a surreal, momentarily isolating device that ultimately works in the films favour. There's something almost slapstick about hearing Stalin speak as if ordering at the Queen Vic, or Kruschev and Malenkov shouting over one another in a manner more appropriate for a bar fight in Brooklyn.
Anyone familiar with Ianucci's work will find an unshakable familiarity to the proceedings. It feels like a spiritual prequel to In The Loop and at times, it feels as if he's an auto-drive, simply ticking off all things that worked in his greatest hits.
Yet what a list to be ticking off from, and it certainly feels like his most satisfying film yet. Iannucci – alongside writers David Schneider and Ian Martin – bring real drama and threat, even as the film becomes more arch and broad.
Amidst brilliant performances – Jason Isaacs steals scenes with aplomb – Simon Russell Beale stands out. His Beria is vulgar and repulsive; a figure so repellant, his ultimate comeuppance is a cause for fist-pumping celebration.
And it's here where The Death of Stalin truly succeeds. There isn't an ounce of sympathy for any of the main players, and those on the sidelines (Andrea Riseborough and a very funny Rupert Friend as Stalin's children) too are as despicable as the next. But Iannucci understands this, and plays them as delightfully repellant.
The Death of Stalin may bring to mind Iannucci's previous work with slightly too much familiarity (the rhythm of swearing and insults is indistinguishable from In The Loop), it's still a grandstanding piece of satire and one of the funniest films of the year.
Flickering Myth Rating – Film: ★ ★ ★ ★ ★ / Movie: ★ ★ ★ ★ ★
Thomas Harris