Ricky Church looks forward to DC's Doomsday Clock…
Tomorrow DC Comics begins its anticipated event series Doomsday Clock, a semi-sequel to Alan Moore's seminal graphic novel Watchmen and a crossover with the main DC Universe. Written by Geoff Johns with art by Gary Frank, Doomsday Clock is the culmination of everything in DC Rebirth thus far. Readers will finally learn the mysterious connection Doctor Manhattan has to the DC Universe and how he has changed the lives of the world's greatest superheroes, but Johns is also aiming for a philosophical battle between Manhattan and Superman.
With a big series that will last for the rest of this year and the majority of 2018, what can we look forward to in Doomsday Clock? What team-ups would be best? How might the characters of Watchmen interact with heroes and villains like Superman, Lex Luthor and Batman?
Watchmen's universe was like a dark reflection of the DC universe with the world a hopeless landscape and most of the heroes straddling a morally grey line rather than outright good or evil. It is a polar opposite to what DC has always been: a universe filled with hope and the conviction that no matter how dark some things might get or how close the villains come to victory, hope will always prevail. The fact that the characters of Watchmen are crossing over into the DCU is riddled with potential.
From where we left off in Watchmen, Ozymandias succeeded in killing many of New York City's inhabitants as a way to bring the world together against a common, if fictitious, enemy. The heroes of Wacthmen decided, with some reluctance, to keep the true events a secret for the greater good with the vigilante Rorschach being the only one determined for the truth to come out. Unlike the others, he had a very black and white view of good and evil and believed "evil must be punished". This unfortunately resulted in him getting disintegrated by Manhattan, who then left Earth to possibly create his own kind of life.
Whatever has happened to him on his journey, it has brought him to the DCU apparently more disillusioned than ever. Johns revealed in last year's DC Universe Rebirth one-shot that Manhattan is in fact responsible for the creation of The New 52, DC's effort to reboot their line of comics in 2011 for fresh takes on their heroes to draw in new readers. Suffice it to say that while the New 52 had some good moments and titles, it was controversial throughout its time by erasing the relationships between several heroes and their loved ones; gone were the marriages of Superman and Lois Lane, Green Arrow and Black Canary, Flash and Iris West. Also gone were many fan-favourite sidekicks, such as Wally West, Spoiler, and Tim Drake's time as Robin where he instead became Red Robin.
Johns used Manhattan's meddling as a piece of meta-commentary for DC's handling of the New 52, citing a dark force taking away the things that mattered most to these characters. Why Manhattan decided to change things at all is a mystery. He has a goal in mind, but what is it? Why has he gone through so much trouble to change the history of the universe, destroy relationships, kill anyone who discovers his existence and, most importantly, weaken Superman?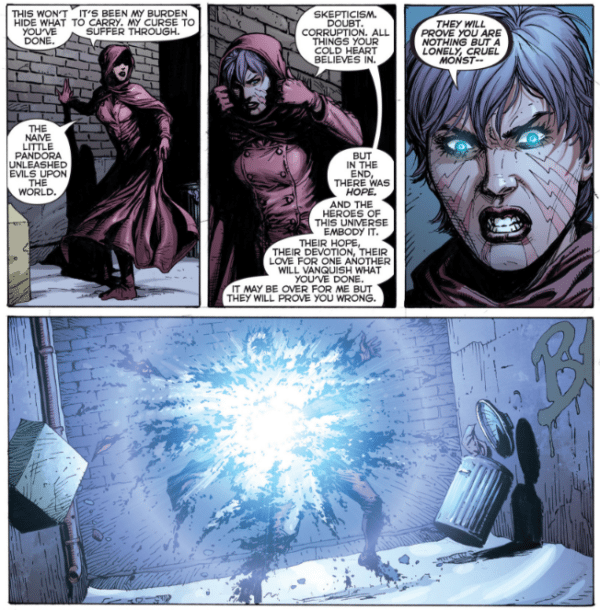 Watchmen was very much a philosophical battle between its heroes and villains rather than a typical superhero adventure where they beat a lot of people up. There still was a fair amount of action in the story, but Alan Moore spent more time deconstructing the characters and the ramifications of their actions. From everything Johns has said about Doomsday Clock, we can expect a philosophical battle between Superman and Manhattan.
Already Manhattan has tried to convince Superman of life's meaningless and hopelessness through his lackey Mr. Oz, revealed to actually be Superman's birth father Jor-El. Superman, though, is a beacon for the DC, unbreakable and unwavering in his hopeful outlook on the world and belief in the goodness of the majority of people. If Manhattan tries to convince Superman of life's uselessness, Superman will just fight back 10 times harder to prove him wrong.
The conflict between these two will be the driving point of the story, but just imagine what other character interactions await. Johns and Frank have teased a meeting between Lex Luthor and Ozymandias, two of the most intelligent and dangerous minds in both worlds. There type of conversations that could happen between them is limitless, but its funny to think of the parallels they share as well. Just think: Lex has spent years trying to take down Superman and make the world realize what a danger he is in order to bring the world peace while Ozymandias successfully turned Earth against Manhattan and kept him blind to his evil plot, achieving seeming peace by doing so. They both fought against a god-like figure, but only one was successful.
Even think what kind of conversation could be had between Batman and Rorschach, how Batman might view Rorschach's methods that are too extreme even for him, or imagine who might come out on top in a fight between Batman and Ozymandias. Batman himself is a good example of DC's balance between hopelessness and despair. He lost everything the night is parents were murdered, yet it didn't break hm. Instead, he channeled that despair into a force for good and inspires people in his own way to do the same.
There is a lot to look forward to with Doomsday Clock, from the way Johns will handle these beloved characters and depict the philosophical battle between the worlds of Watchmen and DC to Franks' sure-to-be gorgeous artwork. There is a lot of questions and anticipation revolving around this story and hopefully Johns and Frank deliver, but seeing these characters collide will be a delight.
Ricky Church