I,Tonya, 2017.
Directed by Craig Gillespie.
Starring Margot Robbie, Sebastian Stan, Julianne Nicholson, Paul Walter Hauser, Bobby Cannavale, Caitlin Carver, Bojana Novakovic, Paul Walter Hauser, and Allison Janney.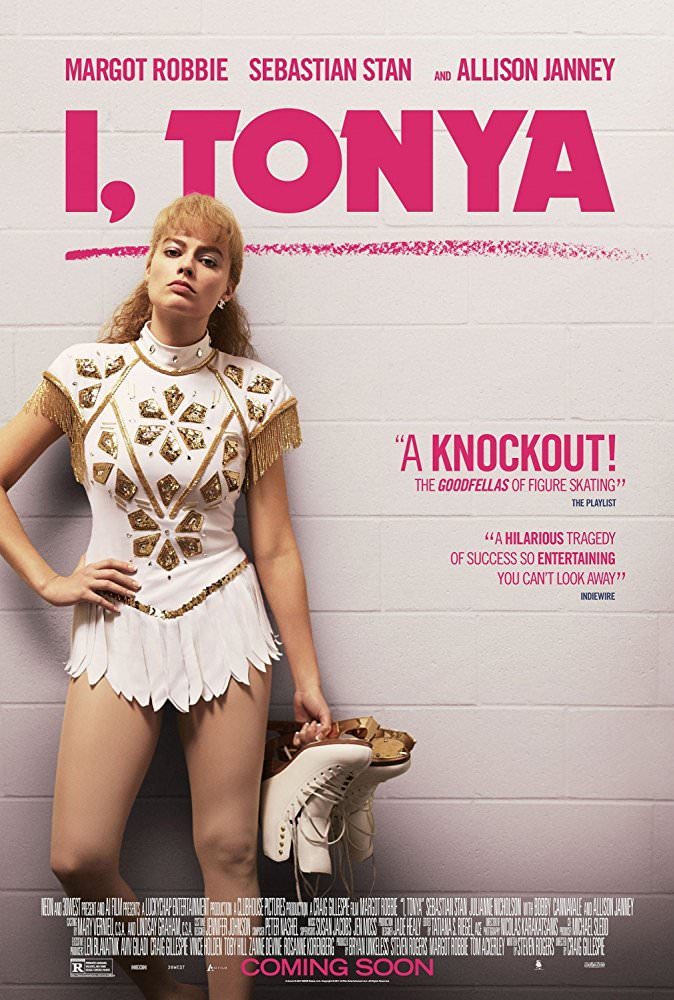 SYNOPSIS:
Competitive ice skater Tonya Harding rises among the ranks at the U.S. Figure Skating Championships, but her future in the sport is thrown into doubt when her ex-husband intervenes.
Martin Scorsese's The Wolf of Wall Street gave Margot Robbie a huge opportunity that she fearlessly seized, dressing up as Harley Quinn broke her into the mainstream as a Hollywood star, and now  I, Tonya should net her a first-time Oscar nomination. Directed by Craig Gillespie (last year's The Finest Hours), the biopic depicts the figure skating career of the infamous Tonya Harding, allowing for Margot Robbie to undergo a drastic physical and personality transformation shedding all that starlet glamour to bring out some old-fashioned white trash Americana. The makeup effects which present Tonya Harding at three different critical points in her life are nothing short of astounding; Robbie is absolutely unrecognizable and a tour de force.
Those same qualities apply to her emotionally, verbally, and physically abusive immediate family members, composed of just her chain-smoking, foul-mouthed mother LaVona (Allison Janney) and her on and off again boyfriend/husband Jeff (Sebastian Stan) who has a penchant for nonchalantly punching her in the face for even daring to talk back. Sometimes, the physical abuse is for absolutely no reason, although there is no reason for that sort of behavior ever. Early on, this felt like an issue that would persist throughout the two hour running time, as the direction tends to portray these far too frequent incidents seemingly for laughs with a lighthearted approach (the scenes, along with the majority of the film, tend to blast classic era-appropriate rock songs over the domestic violence).
I, Tonya also shows no starting signs of being a traditional biopic (which is actually a good thing), unfolding in the vein of a lite Martin Scorsese film. It's possible that this sort of execution for the film was seen in the script by Steven Rodgers or from meetings beforehand with Craig Gillespie, instilling Margot Robbie with the confidence needed to pull off such a complex role, and I don't mean just from the ice-skating sequences (although she does fine here with the assistance of graceful choreography and flawlessly implemented unnoticeable CGI to showcase the triple axel move), but the heavy psychological toll to emote. Tonya Harding was a broken woman that went back to her ex-husband even though he fired a gun at in her a fit of rage, thanks to her mother drilling this inexcusable tough love into her mind. Some will be unable to sympathize with some of the decisions Tonya makes, and it will be painfully obvious that those people have never known anyone that was abused; it's common for them to go back to their abusers because it's the only affection, as fucked up as it is, that they know. She doesn't understand her self-worth or what love is, only feeling truly happy when on the ice.
Circling back around to my original point, it's perplexing and offputting to see such displays of violence carried out semi-seriously, but if it wasn't done like that I, Tonya would come across exploitative and send the wrong impression that the filmmakers are hellbent on wringing drama out of shock value. There are still probably ways that the execution could have struck a more balanced tone, but at the same time, it's inevitable that Tonya will get knocked down and back up again (something beautifully demonstrated during the film's ending). Treating the abuse like a common occurrence simply allows the film to flow better, and besides, Tonya is a hardened warrior that doesn't mean need pity.
Domestic drama aside, the film also touches on the unfair competitive scoring that Tonya received for not looking or acting the part despite being objectively more skilled than many of the other participants. "You're representing our country for fuck's sake," a judge tells Tonya in a quick conversation from his car before leaving the event building, to which everyone watching the movie with a decent moral compass should reply "so what?". Shouldn't competitive rewards be purely based on skill? That's a rhetorical question, the answer is yes.
The complications from her home life bled into her passion, unfortunately thanks to a widely mainstream scandal that saw her husband Jeff along with his obese and unbelievably stupid friend (footage during the ending credits shows he was actually as dumb as portrayed here, which will no doubt blow the minds of some viewers as his comedic buffoonery feels like something out of Dumb and Dumber) carry out a death threat on rival figure skater Nancy Kerrigan. These shenanigans are the central focus of the film's second half and are what truly justifies the Scorsese approach to the experience. Amid all the dysfunction is a ridiculous screwball comedy that increasingly grows more baffling as it goes on.
To add a greater scale to all of the craziness going on, the entire movie also has cutaway documentary-style interviews of the characters (still portrayed by their respective actors) usually contradicting what just transpired on-screen. Tonya herself is no saint not to be criticized, as some of her shortcomings are the direct result of partying alcohol. Along with Tonya occasionally breaking the fourth wall to talk to the audience, these moments add to the stylistic presentation that blend fact and fiction. It also prompts the question of how many bland biopics that operate off the word of these interviews end up being complete bullshit.
Ultimately, the wild ride that was Tonya Harding's figure skating career ends on a tragic and emotionally moving note. The point is driven home that she was a talented, outspokenly well-meaning woman that was born into abuse, with footage of the actual Tonya Harding ice-skating over the credits poetically sinking in that she could have accomplished so much more. Allison Janney's shockingly cruel mother is worthy of awards consideration. It's still early in the career of Margot Robbie, but this will go down as her current performance to beat, and much like pulling off a triple axle, it won't be easy to surpass.
Flickering Myth Rating – Film: ★ ★ ★ ★ / Movie: ★ ★ ★ ★ ★
Robert Kojder is a member of the Chicago Film Critics Association and the Flickering Myth Reviews Editor. Check here for new reviews, friend me on Facebook, follow my Twitter or Letterboxd, check out my personal non-Flickering Myth affiliated Patreon, or email me at MetalGearSolid719@gmail.com