If any of you became worried when David Harbour was cast as Hellboy that he would get too buff for Stranger Things, prepare to be relieved. Speaking to Variety, the actor confirms that, since Hellboy has wrapped production, that he is actively working on his "dad bod" for the eventual third season of Stranger Things:
"I've already started the donut training. Six donuts a day! We'll get there, folks…"
The actor also reflected on what it's been like to suddenly become a sex-symbol this late in his career thanks to his portrayal as Sheriff Jim Hopper on Stranger Things:
"The fact that I got famous and become a sex symbol around my normal frumpy love-handled self is so gratifying. And dare I say culturally gratifying as well. What makes someone sexy in my mind is who they are. It's not necessarily how they look. If you have a dad bod, if you wear it well, and still shake your hips pretty good, I feel like you too can be a sex symbol! I think that's what we should venerate as sexy. Not people who eat organic chicken all day and spend nine hours at the gym. That's not a society that I really care about."
SEE ALSO: David Harbour wants a Stranger Things season 3 team-up between Hopper and Steve
While it's wonderful that David Harbour is enjoying his new-found fame, and also taking his portrayal of Hopper very seriously, one thing strikes this writer as curious (TINY SPOILER FOR STRANGER THINGS SEASON 2): didn't Hopper claim he was going on a diet at the end of Season 2? Wonder how long that lasted…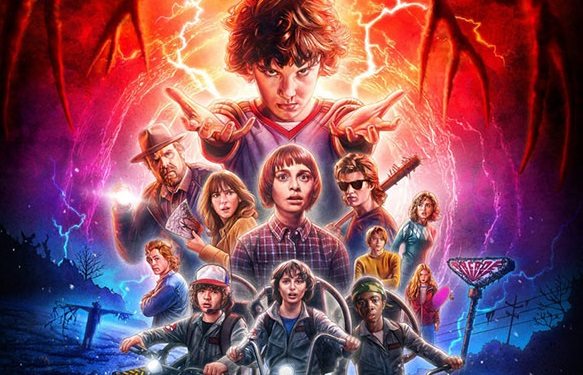 It's 1984 and the citizens of Hawkins, Indiana are still reeling from the horrors of the demogorgon and the secrets of Hawkins Lab. Will Byers has been rescued from the Upside Down but a bigger, sinister entity still threatens those who survived.
The second season of Stranger Things sees the return of cast members Winona Ryder, David Harbour, Millie Bobby Brown, Gaten Matarazzo, Caleb McLaughlin, Finn Wolfhard, Noah Schnapp, Charlie Heaton, Natalia Dyer and Joe Keery, along with new additions Sean Astin (The Goonies), Paul Reiser (Aliens), Linnea Berthelsen (The Desert), Sadie Sink (Odyssey), Dacre Montgomery (Power Rangers) and Brett Gelman (Brett Gelman's Dinner in America).
… You can find Jordan on Twitter, and Facebook.