The Walt Disney Company and Lucasfilm are celebrating the end of 2017 with the news that Star Wars: The Last Jedi has crossed $1 billion worldwide in its third weekend of release.
The Rian Johnson-directed blockbuster has grossed $517.1 million domestically, making it North America's eighth-biggest film of all time behind last year's Rogue One: A Star Wars Story on $532.2 million. It is currently locked in a battle with Jumanji: Welcome to the Jungle for the top spot at the box office on New Year's weekend.
Internationally, The Last Jedi has collected a further $523.3 million, for a total of $1.04 billion to date. It is yet to open in China, and will debut in that lucrative market this coming Friday, where it should receive a healthy boost as it seeks to fellow Disney release Beauty and the Beast ($1.26 billion) as 2017's biggest movie.
SEE ALSO: The 'Failure' of Star Wars: The Last Jedi
SEE ALSO: Mark Hamill regrets his criticisms of Star Wars: The Last Jedi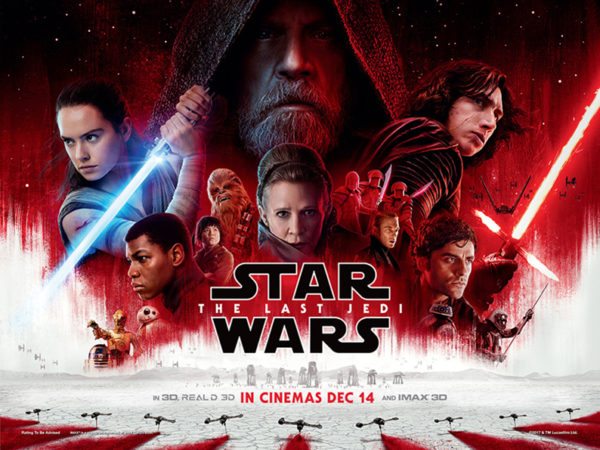 In Lucasfilm's Star Wars: The Last Jedi, the Skywalker saga continues as the heroes of The Force Awakens join the galactic legends in an epic adventure that unlocks age-old mysteries of the Force and shocking revelations of the past.
Star Wars: The Last Jedi sees returning cast members Mark Hamill (Luke Skywalker), Carrie Fisher (Leia Organa), Adam Driver (Kylo Ren), Daisy Ridley (Rey), John Boyega (Finn), Oscar Isaac (Poe Dameron), Lupita Nyong'o (Maz Kanata), Domhnall Gleeson (General Hux), Anthony Daniels (C-3PO), Gwendoline Christie (Captain Phasma), Billie Lourd (Lieutenant Connix), Andy Serkis (Supreme Leader Snoke), Peter Mayhew and Joonas Suotamo (Chewbacca), Tim Rose (Admiral Ackbar), Mike Quinn (Nien Nunb) and Warwick Davis joined by new additions Jimmy Vee (Pan) as R2-D2, Kelly Marie Tran (Ladies Like Us) as Rose, Benicio Del Toro (Guardians of the Galaxy) as DJ and Laura Dern (Jurassic Park) as Vice Admiral Holdo.