Roman J. Israel, Esq, 2017.
Directed by Dan Gilroy.
Starring Denzel Washington, Colin Farrell, Carmen Ejogo, Amanda Warren, Tony Plana, and Sam Gilroy.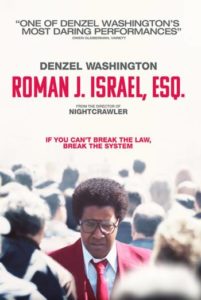 SYNOPSIS:
After more than 30 years as the backroom brains of a small law firm, Roman J. Israel's life is turned upside down.  The company's front man is in a coma and the business is handed over to a hot shot corporate lawyer.  Roman is forced to work for him and soon finds  himself facing a crisis of conscience.
What the J stands for remains a mystery.  But in Dan Gilroy's first film since Nightcrawler, it's transparently clear what Roman J. Israel stands for.  He's an idealistic defence lawyer and he's precise enough never to leave out the Esq.  When asked what it means, he describes it as a term of honour – above a gentleman, but below a knight.  In other words, something of an anachronism.  Just like the man himself.
There's one other thing about him.  He's autistic.  Not in a Rain Man sort of way, but enough not to always understand the effect of what he says on other people.  He doesn't fit in the slick world of corporate law he's forced into: his walk is more of a shuffle, his suit is dated and he uses a flip phone – with Keep On Truckin' as its ringtone.  Something of a gift to an actor of the calibre of Denzel Washington.  He's at the centre of writer/director Gilroy's latest foray into the underbelly of Los Angeles.  After putting the media in the spotlight in Nightcrawler, his target now seems to be the modern legal system, seen through the idealistic eyes of Israel who, until now, has worked in a time warp of an office, with its wooden panels, Post-It notes stuck everywhere and a computer so archaic it probably still has a slot for a floppy disc.
This is a one person film, with only two real supporting roles: Colin Farrell as George, the sharp lawyer whose company takes over the practise where Roman works, and Carmen Ejogo as Maya, who runs a local civil rights group.  His relationships with both of them have the capacity to take the story in interesting directions, but they never do and, as characters, they end up being under-written, despite the actors' efforts to breathe some life into them.  Gilroy is too busy trying to figure out what or who he has in his sights this time round, but his vision is blurred.
The legal world Roman finds himself in has a much clearer aim – to make money from its clients, regardless of whether or not they can afford it.  Forget justice and forget pro bono work: they're for appearances only and to generate more clients.  It's an obvious target and, once Gilroy has established that, the narrative loses its way, sagging badly in the middle when Roman gets what he wants.  Or what he thinks he wants.  At just over two hours, it's in need of some judicious pruning and a sharper focus, rather than just on its central character.
Which means that there's one reason for seeing the film and one reason only.  Washington.  He doesn't disappoint – it would be a surprise if he did – and, while this probably isn't quite on a level with some of his best performances, it's still top notch.  But overall the film doesn't live up to its potential – and it doesn't live up to him.
Flickering Myth Rating – Film: ★ ★ / Movie: ★ ★ ★
Freda Cooper.  Follow me on Twitter.