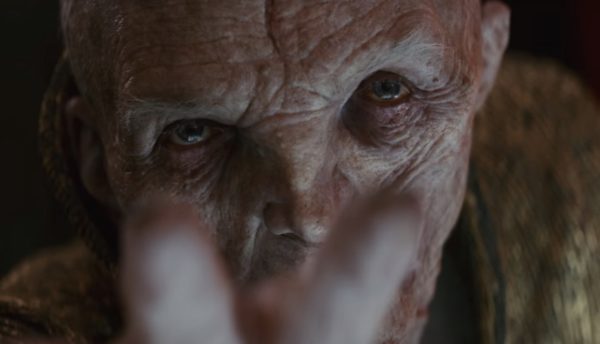 After introducing the mysterious character in Star Wars: The Force Awakens, fans spent the next two years debating the identity and origin of Supreme Leader Snoke. However, those who were expecting answers in Star Wars: The Last Jedi will have been disappointed that director Rian Johnson opted against delving into the villainous dark side user's past, choosing instead to kill him off at the hands of Kylo Ren as the former Ben Solo took his position as Supreme Leader of the First Order.
Speaking during a BAFTA Q&A (via ComicBookMovie), Johnson explained why he decided against delving into Snoke's backstory in The Last Jedi, leaving the door open for it to be explored elsewhere:
"In this particular story, it's much more like the Original Trilogy, where with Snoke if you think about the actual scenes, if suddenly I had paused one of the scenes to give a 30 second monologue about who he was, it would have kind of stopped the scene in its tracks, I realized. Even though it could have been interesting, something that fans were interested in, as storytellers, we have to kind of serve what the scenes need to be. It was a tough thing, even though I knew some fans were interested in it I also knew it wasn't something that dramatically had a place in this movie. Hopefully it can be addressed elsewhere or even J.J. Abrams may address it in the next movie. But it's not something that's particularly interesting to Rey, so we kind of had to follow through."
Some fans have speculated that Snoke isn't really dead, and that he may have been using some kind of Force Projection, similar to what Luke Skywalker employed during his confrontation with Kylo Ren on Crait. However, whether this turns out to be the case or not, we can presumably rest assured that we will find out more about the Supreme Leader, either in Star Wars: Episode IX or – more likely – one of the tie-in comics or novels.
SEE ALSO: Lucasfilm breaks down Star Wars: The Last Jedi's Easter eggs in new video
SEE ALSO: Star Wars: The Last Jedi home-entertainment release will include 2 hours of bonus footage, 4K confirmed
In Lucasfilm's Star Wars: The Last Jedi, the Skywalker saga continues as the heroes of The Force Awakens join the galactic legends in an epic adventure that unlocks age-old mysteries of the Force and shocking revelations of the past.
Star Wars: The Last Jedi sees returning cast members Mark Hamill (Luke Skywalker), Carrie Fisher (Leia Organa), Adam Driver (Kylo Ren), Daisy Ridley (Rey), John Boyega (Finn), Oscar Isaac (Poe Dameron), Lupita Nyong'o (Maz Kanata), Domhnall Gleeson (General Hux), Anthony Daniels (C-3PO), Gwendoline Christie (Captain Phasma), Billie Lourd (Lieutenant Connix), Andy Serkis (Supreme Leader Snoke), Peter Mayhew and Joonas Suotamo (Chewbacca), Tim Rose (Admiral Ackbar), Mike Quinn (Nien Nunb) and Warwick Davis joined by new additions Jimmy Vee (Pan) as R2-D2, Kelly Marie Tran (Ladies Like Us) as Rose, Benicio Del Toro (Guardians of the Galaxy) as DJ and Laura Dern (Jurassic Park) as Vice Admiral Holdo.