I, Tonya, 2017.
Directed by Craig Gillespie.
Starring Margot Robbie, Allison Janney, Sebastian Stan, Paul Walter Hauser, Caitlin Carver, Bobby Cannavale and Julianne Nicholson.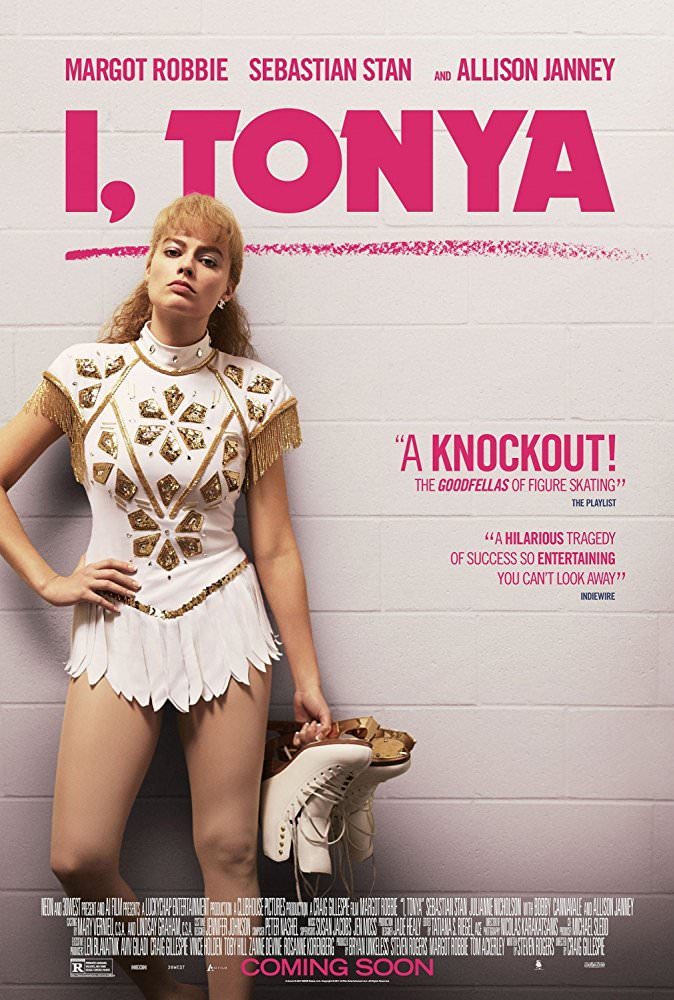 SYNOPSIS:
The true story of Tonya Harding, who was the world's best female figure skater despite a deprived background. She found her career derailed after she was implicated in a brutal assault on one of her skating rivals.
"That's the fucking truth," rants Margot Robbie in the final moments of I, Tonya. It's a strangely defiant and self-assured message, given truth is something with which this awards season biopic has a deeply unusual relationship. The film is a muddled and ramshackle drama that blends reality and fiction in a self-conscious attempt to subvert the tropes of the stately awards season drama. It attempts the perfect, elegant triple axel, but lands flat on its face.
Robbie is wide-eyed and crazy as figure skater Tonya Harding, who is essentially bullied from an early age into developing tunnel vision, with only a career on the ice capable of lifting her from her deprived roots – one character calls it her "super power". The bullying is largely perpetrated by Allison Janney, who has been hoovering up awards as Harding's mother and, later, by Sebastian Stan as the abusive husband who would later play into his wife's very public downfall.
Director Craig Gillespie, who was previously best known for Lars and the Real Girl and the Fright Night remake, opens his movie with a title card declaring the narrative is derived from "irony free, wildly contradictory, totally true interviews" with the figures behind the salacious story. It's this style of wink-nudge quirkiness that flows through the bloodstream of the movie, utilising the fourth wall breaking device beloved of 'edgier' awards fare like The Wolf of Wall Street and The Big Short.
In the early stages, the style mostly works and Mckenna Grace is compelling as the young Tonya. There's bite to be found in Janney's treatment of Grace, who delivers a performance every bit as precocious and impressive as her work in Gifted last year. Proceedings take a left turn, though, when Robbie steps into the lead role to pick up during Harding's teenage years. Robbie's performance is delightfully committed and she's entirely believable, but the sense of artifice surrounding every moment of the movie makes it impossible to become fully invested.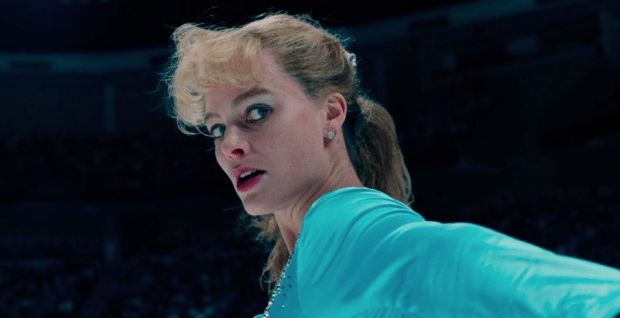 I, Tonya is keen to maintain a frothy, upbeat style, despite the darkness of its story's more difficult elements. Gillespie loves a montage and over-uses the device almost to the point of parody, even when it's tonally inappropriate. The film's most egregious misstep is in its characterisation of the domestic violence perpetrated against Harding by her husband, which is too often undercut by a profane quip or a break of the fourth wall.
There's a story to be told here about the way Harding, described by a skating judge as not resembling "the image we want to portray", fell into the stereotype she had always been believed to be as a result of the assault on fellow skater Nancy Kerrigan. Unfortunately, this film is far more interested in the sensational tabloid details and makes a misguided attempt to have fun with the differing accounts of what happened, but settles on a bumbling tale of redneck crime.
Like much of the comedy in I, Tonya, this is misjudged to a laughable extent. Paul Walter Hauser's take on Shawn Eckhardt is a route one nerd caricature and Sebastian Stan is given the impossible task of bumbling around like a dullard, while also appearing as a borderline psychotic threat to Harding's safety. It's in this part of the film that the interview-based framing device begins to stumble blindly into the path of the straightforward dramatic elements of the storytelling, leading to a half-finished jigsaw of a story that limps towards a finale.
Every awards season features at least one head-scratcher of a movie that doesn't deserve its spot on the shortlists. This year, that may well be I, Tonya, which misguidedly attempts to use its spiky sense of humour and peppy visual approach to turn a depressing story into a light-hearted antidote to the glut of earnest historical biopics. The result is a frustrating and often troubling tonal nightmare that skates on thin ice for so long that it's always going to slip up.
Flickering Myth Rating – Film: ★★ / Movie: ★★
Tom Beasley is a freelance film journalist and wrestling fan. Follow him on Twitter via @TomJBeasley for movie opinions, wrestling stuff and puns.