The Last Jedi may be close to exiting theatres now but many are still pondering some of the more shocking moments of the film. Perhaps the biggest surprise to be found was Kylo Ren's decision to betray Supreme Leader Snoke, killing him in front of Rey.
Luckily, Johnson has divulged a few details about when Kylo decided to turn on his master, explaining that it wasn't just a spur of the moment decision. Speaking at Collider's IMAX screening of The Last Jedi (via Screen Rant), Johnson said:
"In my mind, he walks in there knowing basically that he is going to betray Snoke but he doesn't know yet exactly what the mechanism is and what his opportunity is going to be. But he's gone in there with the intent of, whether it's now or whether it's later or whenever it is, when he brings Rey in there, he's had that connection with her and what he says in the elevator… from that, in my head I thought, 'Okay, he knows he's going to do this but he doesn't know how yet' and when he sees that opportunity with that lightsaber next to him and sees Snoke distracted and realizes he can give this an attempt, he goes for it."
It was certainly a gutsy move by Kylo and proved to be one of the biggest and most captivating moments in the new trilogy so far. And it's certainly interesting to know that Kylo had decided before entering the room that he would perform the deed.
SEE ALSO: Rian Johnson explains his reasoning behind Rey's parents reveal in Star Wars: The Last Jedi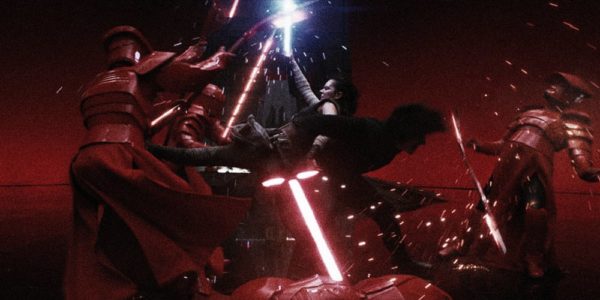 In Lucasfilm's Star Wars: The Last Jedi, the Skywalker saga continues as the heroes of The Force Awakens join the galactic legends in an epic adventure that unlocks age-old mysteries of the Force and shocking revelations of the past.
Star Wars: The Last Jedi sees returning cast members Mark Hamill (Luke Skywalker), Carrie Fisher (Leia Organa), Adam Driver (Kylo Ren), Daisy Ridley (Rey), John Boyega (Finn), Oscar Isaac (Poe Dameron), Lupita Nyong'o (Maz Kanata), Domhnall Gleeson (General Hux), Anthony Daniels (C-3PO), Gwendoline Christie (Captain Phasma), Billie Lourd (Lieutenant Connix), Andy Serkis (Supreme Leader Snoke), Peter Mayhew and Joonas Suotamo (Chewbacca), Tim Rose (Admiral Ackbar), Mike Quinn (Nien Nunb) and Warwick Davis joined by new additions Jimmy Vee (Pan) as R2-D2, Kelly Marie Tran (Ladies Like Us) as Rose, Benicio Del Toro (Guardians of the Galaxy) as DJ and Laura Dern (Jurassic Park) as Vice Admiral Holdo.