Iconic villain Jabba the Hutt is reported to make a return to the big screen for Solo: A Star Wars Story.
We all root for the heroes but Star Wars certainly has its fair share of classic villains, many of whom fans would love to see return in one form or another. Solo could very well see the appearance of a number of these iconic characters, with Darth Vader and Boba Fett being two likely candidates.
Jabba the Hutt, however, perhaps the most grotesque villain in the franchise, might get in on the action too according to a report in The Sun, which quotes from an alleged 'film insider'.
This individual is reported to have said: "It's a huge secret, but Jabba is returning to the Star Wars universe." The insider also explained that, "Fans will learn why Han ended up owing him so much money," and that, "Yoda was brought back for The Last Jedi and now Disney wants to bring back another legacy character."
Jabba would certainly be an obvious choice, considering the setting of the film, but the above should of course be taken with a grain of salt. Talk is just talk until Lucasfilm makes it official.
However, perhaps someone with a little more credibility than a nameless 'insider' is Oscar-winning visual effects artist Ben Morris who The Sun reports as saying, "Jabba the Hutt would be a good guess," when asked which characters would be in Solo. Then adding, "If I say any more I will get into trouble."
SEE ALSO: Ron Howard reveals that recording is underway on the Solo: A Star Wars Story score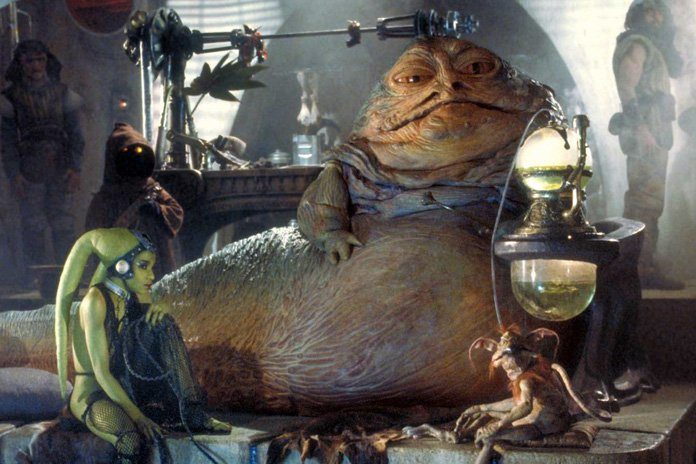 A new adventure with the most beloved scoundrel in the galaxy. Through a series of daring escapades deep within a dark and dangerous criminal underworld, Han Solo meets his mighty future copilot Chewbacca and encounters the notorious gambler Lando Calrissian, in a journey that will set the course of one of the Star Wars saga's most unlikely heroes.
Solo: A Star Wars Story features Alden Ehrenreich (Hail, Caesar!) as the famous smuggler, Donald Glover (Atlanta) as Lando Calrissian, Woody Harrelson (War for the Planet of the Apes) as Tobias Beckett, Joonas Suotamo as Chewbacca, Phoebe Waller-Bridge (Fleabag) as L3-37, Emilia Clarke (Gameof Thrones) as Qi'Ra, Thandie Newton (Westworld) as Val, Ian Kenny (Sing Street) as Rebolt, Harley Durst (Wonder Woman) as Moloch, Tien Hoang (Now You See Me 2) as Moloch's henchman and Paul Bettany (Avengers: Infinity War) and Warwick Davis (Star Wars: Episode VI – Return of the Jedi) and Jon Favreau (Spider-Man: Homecoming) in as-yet-unrevealed roles. It is set for release on May 25th 2018.