Flower, 2018.
Directed by Max Winkler
Starring Zoey Deutch, Joey Morgan, Adam Scott, Tim Heidecker, and Kathryn Hahn.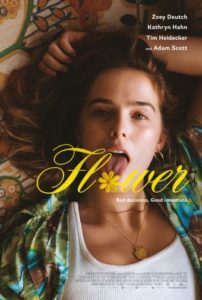 SYNOPSIS:
A sexually curious teen forms an unorthodox kinship with her mentally unstable stepbrother.
Flower is as unstable a ride as many of the characters that inhabit it, so let's just start at the beginning which sees Erica (Zoey Deutch radiating rebellious angst as a troubled and sexually promiscuous high school senior) giving a blowjob to a police officer for money, subsequently extorting him for more in exchange for silence on his actions. It's never confirmed who approached who, but Erika is so addicted to giving oral to literally anyone that it's a tough call to make on whether the cop or anyone she does this with (she has a Microsoft Excel spreadsheet containing the names of her targets along with how much money she has received from each person) is a legitimate sexual predator worth putting on a neighborhood watch list or a heavily pressured guy making one big mistake.
What's the money for you ask? It's not for makeup, expensive clothes, or other money seeking habits, but rather to accumulate enough dough so she can bail out her father from prison, who apparently was sentenced for attempting to rob a casino in Las Vegas. The motive shifts yet remain personal when her mom's boyfriend moves in with his 18-year-old, anxiety-ridden, overweight, panicky, recovering drug addict son Luke (Joey Morgan), as over time it comes to light that the reason for much of his mental instability comes from being molested as a child by a teacher. Also, the teacher just happens to be hot and played by Adam Scott, and conveniently hangs around the bowling alley Erica and her friends frequently hit up. If you think the plot is insane and full of conveniences already, well, you know nothing yet. Flower has so many different tones, twists, and new plot directions (it becomes a completely different movie at least three times) that it's challenging to decide what to even write about.
It's more fitting just to say that Flower wants to be a movie about broken home childhood upbringings, sexual abuse, outsiders banding together, exposing criminals, exploring consequences to various actions, a road trip, and so, so much else but it can't settle on any one aspect. In the end, its fragmented look at all of the above comes across somewhat mishandled which can be a dealbreaker for some considering how taboo the movie is. Sophomore filmmaker Max Winkler's direction is undeniably disjointed (obligatory scene of Erica's schoolmates labeling her a slut, ill-timed fat jokes and other failed attempts at dark humor) never defining these characters. It's too concerned with staying 7 steps ahead of the viewer and spiraling further into nonsense than getting into something important like why Erica craves penises.
Nevertheless, drama is mined from having audiences question if Erica is falling in love with this young man just because of physical attraction (all while knowing what he was accused of), or if she's simply that good at what she does. There is also the impression that Adam Scott might not even be a sexual abuser and that everything is a fabricated story for attention (we're told early on that the case was thrown out for lack of evidence). If you haven't been paying attention, the answer to all of these inquiries and more is overblown, paving the way for the narrative's next hard 90° turn. The script is equally all over the place (sometimes it comes across as a comedy, other times a super serious drama about the topics discussed), but after having seen Matt Spicer's Ingrid Goes West I'm convinced that whatever quality that does come from this madness is the result of him as a co-writer. I wouldn't be surprised to learn if he actually did a rewrite to make it more sturdy. For what it's worth, Kathryn Hahn has a few shining moments as the complicated mother trying to raise Erica, who employs the tactic of bribery for getting a task done. When she finally comes down hard on her though, it sadly might be too late for Erica.
The actors are all talented (Joey Morgan makes the most of his opportunity in a semi-leading role, and Zoey Deutch provides the necessary energy to keep the absurdity zipping along), but they're trapped in a film that is so far out there, the only entertainment is from sitting back and watching what crazy event happens next. That can be considered a compliment for some, but the story deserves much more focused treatment. As is, Flower makes light of very serious subjects; it means well but it's shoddily written and inconsistently directed. With that said, I wholeheartedly admit I was engaged throughout every second.
Flickering Myth Rating – Film: ★ ★ ★ / Movie: ★ ★ ★
Robert Kojder is a member of the Chicago Film Critics Association and the Flickering Myth Reviews Editor. Check here for new reviews, friend me on Facebook, follow my Twitter or Letterboxd, check out my personal non-Flickering Myth affiliated Patreon, or email me at MetalGearSolid719@gmail.com