Isle Of Dogs, 2018.
Directed By Wes Anderson
Featuring the voice talents of Bryan Cranston, Koyu Rankin, Edward Norton, Bob Balaban, Bill Murray, Jeff Goldblum, Kunichi Nomura, Akira Takayama, Frances McDormand, Greta Gerwig, Scarlett Johansson, Yoko Ono, Harvey Keitel, F. Murray Abraham, Tilda Swinton, Akira Ito, Ken Watanabe, Liev Schreiber, Courtney B. Vance, Fisher Stevens, Kara Hayward, Roman Coppola, and Anjelica Huston
SYNOPSIS:
Set in Japan, Isle of Dogs follows a boy's odyssey in search of his lost dog.
In such politically divided times, arguably the greatest accomplishment of Isle of Dogs (Wes Anderson's second foray into stop-motion animation having previously directed 2009's Fantastic Mr. Fox) is his blunt foreign-policy allegory regarding refugees by using man's best friend as stand-ins. Everyone in the world may not swoon over dogs, but at the very least it is quite the challenge to find someone that actively hates their presence. Who needs things like character development or an elaborate narrative when the plot's antagonist is a coldhearted Japanese mayor (Kunichi Nomura) banishing all dogs to a lonely garbage filled place dubbed Trash Island, just because there is a nasty dog flu and snout fever rapidly spreading that can make some more prone to violent outbursts? That's not to say Isle of Dogs forgoes those aspects (some supporting characters, humans and canines alike, are broadly drawn or feel superfluous to the story, and more often than not they are female), but Wes Anderson has the audience in his hands from the opening passages.
Although the diseased doggies are integral to the plot, the driving force of the story is definitely the undying bond between humans and dogs. Adults may have become jaded and basically said "fuck it, we're dealing with this problem in the least forward-thinking manner possible", but children (much like the current state of America by pleasantly pure coincidence) have not given up, instead, choosing to hold onto moral values and ethics. Koyu Rankin's 12-years old Atari (no, he is not named after the historic video game console, as in Japanese the word is typically used in a fortuitous context), the emotionally distant nephew of the aforementioned harsh mayor, steals a military grade jet flying over to the titular isle in a hopeful effort to locate and retrieve his guard dog, but more importantly his loyal friend Spots (Liev Schreiber).
Upon crash landing (a humorously drawn yet also dangerous looking event, tones that Wes Anderson is effective at mixing and matching to present both a serious and thoughtful treatise on immigration and refugees, but also something comedic that utilizes multiple brands of humor whether it be witty banter, dogs being cute talking about how much they miss lives with their masters, and dark humor mined from feral fights censored by a cloud of smoke), Atari meets a pack that are eager to support his cause out of admiration for his nobility to venture into a literal pile of trash to be reunited with, considering the fact that his parents tragically died in a car accident, his very best friend in the whole world.
Among the group are previous pets that all held a job per se ranging from being a baseball team mascot to starring in commercials for doggie treats (they also make up a stacked voiceover cast including such notable names as Edward Norton and Bill Murray), except Chief, a stray brought to life by Bryan Cranston who helps solely because he is outvoted by his peers. Chief is against the housebroken lifestyle, but there are reasons behind his steely and hardened personality, and Cranston delivers a fantastic performance that hits all its intended notes, especially when his backstory is revealed.
There is also the dynamic of the canines, much like the viewers, not being able to understand the Japanese language, and since Wes Anderson chooses not to display subtitles, it makes the situation easier to relate and allows the direction to tell the story with the wonderfully idiosyncratic visuals compromised of framing techniques, quick-cuts, close-zooms, flashbacks (complete with smooth narration from Courtney B. Vance) and more the auteur is celebrated for. Isle of Dogs is primarily a stop-motion animated feature, but additional beauty can be found from hand-drawn or painted backgrounds rich in vivid color (a stark contrast to all of the junk and scrap metal lying around). Also, by forcing Americans to figure out exactly what Japanese characters are saying (whenever Francis McDormand's interpreter is not present to repeat anything), the film adds a quirky layer of engagement playing off of how dogs in the real world have no idea what we are saying. On top of that, the actual animation is complex (I can't imagine staging fight scenes or tracking shots using the style to be simple), and coupled with the story, ensures that the film will garner a Best Animated Feature at next year's Oscars giving whatever Disney has in store a run for their money.
This is also accounting for the mild cultural appropriation backlash the film has received. Touching on the situation briefly, it never really came across as insensitive, inappropriate, or whatever issue people may have with the portrayal of Japanese culture. The outstanding orchestral score from Alexandre Desplat is a splendid combination of drumming, guitar strings, and overall somber work that better immerses audiences into the dire quest to locate a missing dog (it's also worth mentioning that some of the film's most beautiful shots are 2-D images of the group crossing different locations at various times of the day). The story itself was worked on with Japanese individuals and even contains many Japanese actors. Sure, there is a stereotypical scene of some sumo wrestling, but nothing that really strikes me as insensitively conceived.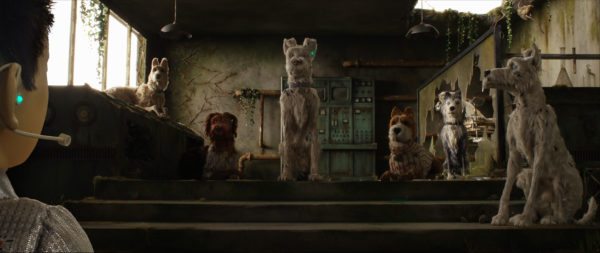 However, it is an issue that much of the political conspiring away from the island, including a foreign exchange student played by Lady Bird director Greta Gerwig, is filler that is far less engaging than anything involving dogs and Atari. Also, it is a bit surprising that Wes Anderson did not see how a white exchange student critical to saving the day for Japan could be perceived as another example of the white savior trope. Regardless, the real crime is that the whole side story and character amount to nothing of real worth, but there certainly was potential considering how important activism is in the current political landscape.
Children are certainly not the target demographic for Isle of Dogs, but its message is profound and should be given to them. Adults will even learn a thing or two regarding how idiotic it makes them look to believe every crazy rumor that ends up in their ears. Meanwhile, anyone with a beating heart will fall in love with the featured dogs. This is an in-your-face social commentary with accessible oddball humor all wrapped up in an outstanding stop-motion animation package.
Flickering Myth Rating – Film: ★ ★ ★ ★ / Movie: ★ ★ ★ ★
Robert Kojder is a member of the Chicago Film Critics Association and the Flickering Myth Reviews Editor. Check here for new reviews, friend me on Facebook, follow my Twitter or Letterboxd, check out my personal non-Flickering Myth affiliated Patreon, or email me at MetalGearSolid719@gmail.com