20th Century Fox scored a major critical and commercial success back in 2016 with its R-rated superhero movie Deadpool, and so as you'd expect there's certainly a lot of anticipation for the sequel, which is set to open in May.
However, if rumours are to be believed, Deadpool 2 may struggle to live up to its predecessor, with reports coming out of a test screening this past weekend describing the film as a "big mess" and that audience reactions have been really poor, leaving Fox "stunned".
I have heard its testing really poorly. They are stunned with what the screening audiences are saying. I know people don't say much about it but, you CANNOT underestimate Tim Millers contribution to getting Deadpool made. He was 1/2 the equation.

— Mike Kalinowski (@MikeKalinowski) March 11, 2018
Blogger Manabyte also received a cease and desist from Fox regarding (now deleted) tweets he made about the screening, citing an anonymous source:
"Fox screened Deadpool 2 tonight (not Dark Phoenix again) and…yikes! First reaction wasn't what I expected to hear. About a half hour longer than the first movie. No plot for a good chunk of it. [Morena Baccarin's] Vanessa is wasted. Credit scenes are the best part of the whole thing."
SEE ALSO: Exclusive – Josh Brolin on Marvel's Avengers: Infinity War and Deadpool 2
It should probably be pointed out that none of these reactions come first hand, and that test screenings aren't always the best indicator as to how a movie will turn out (take Alex Garland's Annihilation, for example, which tested so poorly that the studio tried to enforce changes, only for the unchanged movie to receive critical praise upon release). Let's hope it is a similar case here…
UPDATE: We're now getting conflicting reports which say that the movie has tested extremely well:
Have seen a completely untrue report of 'Deadpool 2' testing poorly. From what I heard the first 2 test screenings both scored over 90 with the second one scoring close to the top mark. I've also spoken to people that saw it. Everyone said it's excellent. Fans will love. pic.twitter.com/2WfL63aya9

— Steven Weintraub (@colliderfrosty) March 12, 2018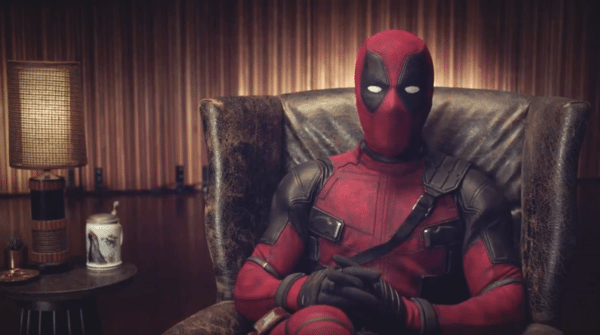 After surviving a near fatal bovine attack, a disfigured cafeteria chef (Wade Wilson) struggles to fulfill his dream of becoming Mayberry's hottest bartender while also learning to cope with his lost sense of taste. Searching to regain his spice for life, as well as a flux capacitor, Wade must battle ninjas, the yakuza, and a pack of sexually aggressive canines, as he journeys around the world to discover the importance of family, friendship, and flavor – finding a new taste for adventure and earning the coveted coffee mug title of World's Best Lover.
Deadpool 2 sees David Leitch (John Wick) directing a cast that includes returning stars Ryan Reynolds (Wade Wilson), Morena Baccarin (Vanessa), T.J. Miller (Weasel), Brianna Hildebrand (Negasonic Teenage Warhead), Stefan Kapicic (Colossus), Leslie Uggams (Blind Al) and Karan Soni (Dopinder) alongside new additions Zazie Beetz (Atlanta) as Domino, Josh Brolin (Avengers: Infinity War) as Cable, Jack Kesy (The Strain) as the film's villain, and Shioli Kutsuna (The Outsider), Eddie Marsan (Atomic Blonde), Julian Dennison (Hunt for the Wilderpeople) and Terry Crews (Brooklyn Nine-Nine) in as-yet-unrevealed roles. It is set for release on May 18th 2018.