Shaun Munro reviews Sea of Thieves…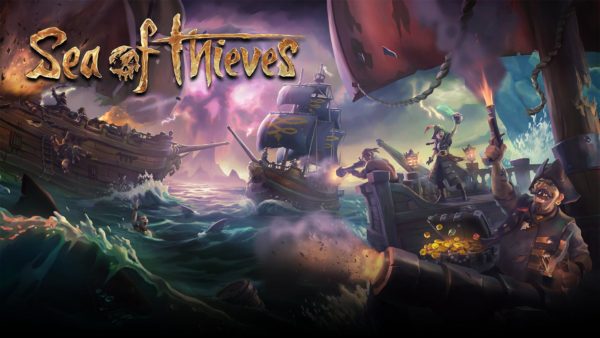 It's been a week since Rare's long-awaited seafaring multiplayer swashbuckler hit shores worldwide, and as just about any sensible observer expected, the game has drawn harshly divided responses from gamers and critics alike. After seven days of investigating whether the game's sea-sloshed sandbox would grow on me, it's a shame to report that Sea of Thieves is a half-ambitious, half-undercooked effort that's absolutely not worth the full-fat AAA price tag.
Following the increasingly popular trend of developers effectively encouraging players to "make their own fun", Sea of Thieves touts little in the way of story, confident that fans will enthusiastically fashion their own ad-hoc narratives on the open seas. Indeed, though the game can be played solo, the core appeal entails teaming up with a fleet of three other players – preferably friends but possibly also randoms – to carry out voyages, essentially fetch quests with a fancier name.
If you're fortunate enough to team with three close-knit pals, the game can be an absolute hoot, especially if you and your friends are all outgoing enough to use your microphones, while immersing yourselves deep into your cartoonish pirate avatars (silly accents and all!).
At this point, the grindy monotony of the central gameplay loop becomes decidedly more tolerable, especially when you're blindsided by an organic, emergent moment that finally realises a smidgen of the game's full potential. Pooling all your collective might to repel an enemy boat of other players, for instance, is a dopamine-surging delight.
The lack of substantial content, however, does ultimately make the game feel like an expensive, lushly-skinned chat room. While you can easily pour endless hours into the game just hanging out with friends, it's easy to see how the lustre of those early days can quickly wear off, especially as your comrades eventually seek out other games.
Given how we, as adults, typically lead busy lives, it's quite an ask for a game to mine so much of its prime-rib entertainment value from the intimate real-life friendships you already have. Sea of Thieves isn't alone in that bracket, but so few multiplayer titles present such an oppressively dull experience when removed from this ideal.
Again, you can opt to play with randoms, but the results are immensely scattershot, with players often not using microphones – which is doubly infuriating as there's no mini-map showing your teammates' locations – refusing to play the objective or just wanting to troll you with all their might.
As a result, you might end up leaping from match to match with your fingers firmly crossed, in what at its worst can feel a bit like an upmarket version of Chatroulette (remember Chatroulette?). Compounding matters are some egregiously long loading screens; on the original Xbox One it can take up to 90 seconds for a new match to load.
Perhaps even more annoying than all this is the game's laughable lack of tutorials; aside from familiarising you with the controls, Sea of Thieves totally leaves players to it, to the extent that even completing the first voyage required me to, embarrassingly enough, do some Googling.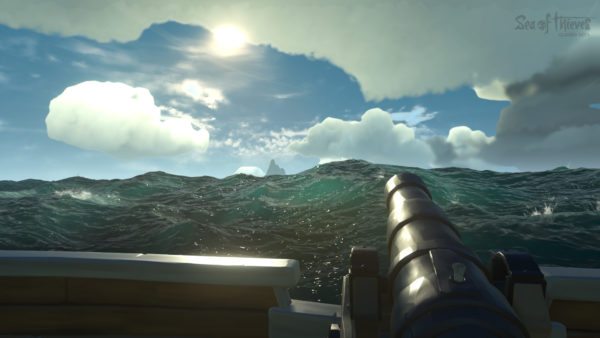 Except it's not embarrassing, for the player at least, because the game's systems are horribly laid out to the player with virtually no sense of intuition. At least it can be a shared experience of befuddlement with friends, but if you're thrown in at the deep end solo or with equally clueless – and possibly silent – randoms, it can start to feel a little miserable.
These fairly basic mistakes are all the more disappointing as the game is quite the aesthetic marvel at times. Sure, the amount of clipping that's possible is shocking for such a long-gestating piece of work, but the art style is a breezy hoot, with an inviting warmth that will probably have you wishing there was more to keep you coming back.
Much has been said of the game's sea effects, and rightly so; even on the original Xbox One or a mid-range PC, they are undeniably lush, enough to have you wondering quite why such a piecemeal product mastered one single element so spectacularly. Aurally, the gun sound effects pack a particularly meaty punch and the music that there is amusing enough, but most of it barely touches the sides, in honesty. At least you and your friends can make up your own sea shanties and sing them on your travels.
How much patience you'll have for Sea of Thieves will depend almost entirely on your social set-up, how much you care for loot and how allergic you are to repetition (and whether or not you trialled the game for free on Xbox Game Pass, of course). The sailing mechanic is perhaps the game's single element well-designed enough that it's enjoyable regardless of who you're playing with, but most everything else pales considerably outside of perfect conditions.
There are fitful moments of inspired invention throughout this title, and it sure looks up to the task, but for the most part the end result confirmed many of my fears about the project from the outset. It asks the player to do too much of the heavy lifting in the pursuit of fun, and is ultimately an odiously overpriced exercise in failed potential.
Pros:
+ Fitfully enjoyable with three friends.
+ Best-of-class water effects.
+ Fun atmosphere and mood.
Cons:
– Minimal, repetitive content with a gross AAA price tag.
– An infuriating lack of tutorials.
– Multiplayer success is a roll of the dice.
– Long loading screens.
Rating: 5.5/10
Reviewed on Xbox One (also available for PC).
Shaun Munro – Follow me on Twitter for more video game rambling.