After coming in for some criticism due to a lack of diversity during the early days of the MCU, Marvel Studios has made great strides over the past few years when it comes to representation.
We've seen an influx of strong female characters, both heroes and villains, while February's Black Panther movie has enjoyed enormous success at the box office, becoming the highest-grossing superhero movie of all time in North America and pulling in almost $1.3 billion at the worldwide box office.
Speaking to HindustanTimes ahead of the release of Avengers: Infinity War, Scarlett Johansson has been reflecting on the growing diversity of the MCU over the last decade:
"I've been advocating for some more female energy just in the cast and crew as a whole for a better part of a decade,l" said Johansson. "So it's really great to see a more diverse group and certainly great to see that the audiences are embracing and even asking for really strong female super heroines. They're hungry for those stories, and they also want to see a more diverse group that better represents the population. It's wonderful to feel like you've witnessed and been a part of that growth."
SEE ALSO: Hot Toys' Avengers: Infinity War Black Widow Movie Masterpiece Series figure revealed
This summer, Marvel is set to release Ant-Man and the Wasp, marking the first time that a female hero has received top billing in a Marvel Studios release. That will be followed next year by Captain Marvel, as Brie Larson's Carol Danvers becomes the first Marvel hero to headline her own film, while Johansson herself is also being lined up for a Black Widow solo movie, which we'll presumably get at some point during Phase Four.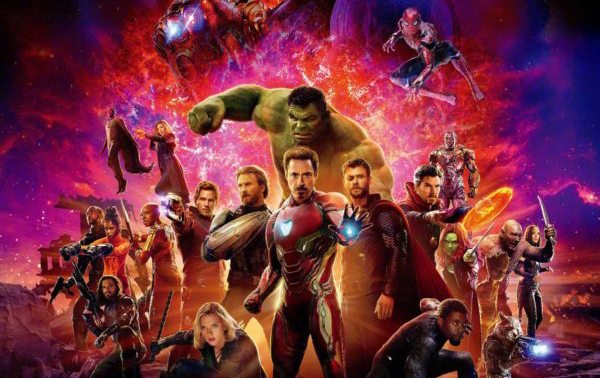 An unprecedented cinematic journey ten years in the making and spanning the entire Marvel Cinematic Universe, Marvel Studios' "Avengers: Infinity War" brings to the screen the ultimate, deadliest showdown of all time. The Avengers and their Super Hero allies must be willing to sacrifice all in an attempt to defeat the powerful Thanos before his blitz of devastation and ruin puts an end to the universe.
Avengers: Infinity War opens on April 27th 2018 and will feature an all-star cast including Robert Downey Jr. (Iron Man), Chris Evans (Captain America), Mark Ruffalo (Hulk), Chris Hemsworth (Thor), Scarlett Johansson (Black Widow), Jeremy Renner (Hawkeye), Chadwick Boseman (Black Panther), Tom Holland (Spider-Man), Sebastian Stan (Winter Soldier), Anthony Mackie (Falcon), Paul Rudd (Ant-Man), Paul Bettany (Vision), Elizabeth Olsen (Scarlet Witch), Don Cheadle (War Machine), Josh Brolin (Thanos), Benedict Cumberbatch (Doctor Strange), Benedict Wong (Wong), Chris Pratt (Star-Lord), Zoe Saldana (Gamora), Dave Bautista (Drax), Bradley Cooper (Rocket), Sean Gunn (Rocket, Kraglin), Vin Diesel (Groot), Karen Gillan (Nebula), Pom Klementieff (Mantis), Tessa Thompson (Valkyrie), Tom Hiddleston (Loki), Samuel L. Jackson (Nick Fury), Cobie Smulders (Maria Hill), Benicio Del Toro (The Collector), Danai Gurira (Okoye), Winston Duke (M'Baku) and Peter Dinklage and Terry Notary in as-yet-unrevealed roles.