Ricky Church reviews Optimus Prime #17…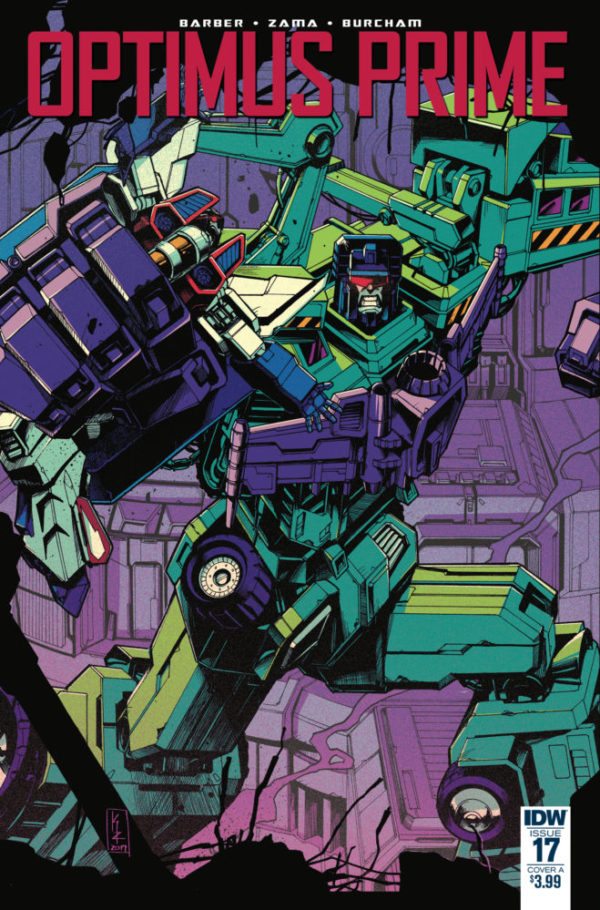 Its safe to say not only did Optimus Prime #17 raise the stake's of Cybertron's survival, but delivered one of the most shocking twists in Transformers history. John Barber crafts an intriguing tale that places readers in the place of the characters as things go from bad to worse in a chaotic manner that leaves them reeling. It certainly sets up a great endgame as the series, and IDW's current Transformers continuity, winds down as Transformers: Unicron is set to begin in a few months.
In the wake of Alpha Trion's death from the previous issue, fingers are pointed at Soundwave and other Decepticons for the act. It helps make Onyx Prime as a bigger threat that he deftly mixes lies with truth in his frame job, creating some very credible reasons for Soudnwave to be a suspect whole also subtly highlighting Optimus' apparent powerlessness in the situation. It just shows how fractured Cybertronian society still is and how Optimus, even with new transformers who praise him as if he were a god, has failed to unify their race.
It also does well at shining a light on Soundwave's character and how he has changed over the course of the series. The issue shows him remorseful over his past actions, but it also doesn't absolve him either. Instead, Barber paints a more complicated picture of Megatron's former second-in-command even as he tries working with Optimus to create a better Cybertron and stop whatever Onyx has planned. The contrast between who Soundwave was and is now, as well as the differences in his and Optimus' personalities, are given a nice examination.
It leads to what is, as I said above, perhaps the greatest and most shocking twist in Transformers history. The level of Onyx Prime's machinations deepen with the reveal and he becomes a much more interesting and three-dimensional character than just someone who speaks of the corruption of Cybertronian society to the Prime legacy. Longtime readers of IDW's various Transformers series, specifically of John Barber's, will be instantly rewarded.
Kei Zama's art shows best in her character work, giving a good sense of their movements and body language panel to panel. Nothing gets lost in her artwork and its easy to tell who is who and what is going on, especially towards the end of the issue. It shows just how much Zama's art has improved in the Optimus Prime series given that the artwork appeared a bit rougher at the beginning. Josh Burcham's colours compliment Zama's illustrations, making it a very vibrant issue.
Optimus Prime #17 is a great issue that not only raises the stakes, but changes the game as Barber delivers a great shock that ties into much of his previous work. With a tight script and impressive art, its a rewarding experience for longtime Transformers fans.
Rating: 9/10
Ricky Church