The Endless, 2018.
Directed by Justin Benson and Aaron Moorhead.
Starring Justin Benson, Aaron Moorhead, Callie Hernandez, Tate Ellington, Emily Montague, James Jordan, and Lew Temple.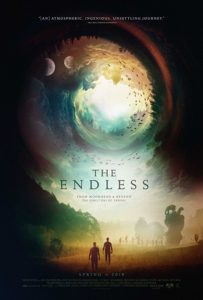 SYNOPSIS:
Two brothers return to the cult they fled from years ago to discover that the group's beliefs may be saner than they once thought.
Before highlighting the mind-bending aspects of The Endless, it needs to be pointed out that this is some highly confident genre filmmaking, which likely has something to do with the fact that the frequent collaborative duo of Justin Benson and Aaron Moorhead direct, write, star, photograph, edit the film and possibly do more that eludes my awareness. Similar features, especially mainstream Hollywood ones, can often feel manufactured and built by committee with a bunch of moving parts forming one big picture, resulting in elements that don't always jive with one another. There's also the case to be made that doing it all yourself will yield a more foul stench if the process goes completely haywire, but this is a pairing that knows what they are doing. The Endless, aside from standing on its own as a terrific slice of independent science fiction, will also encourage viewers to check out the previous small offerings.
Bucking standard conventions, The Endless begins by introducing us to our protagonists Aaron and Justin (characters conveniently named after the real-life filmmakers and played by them) 10 years after having escaped a suicide cult where members lived in unsettling harmony (the kind where everyone has a creepy smile for no apparent reason and are all kumbaya with one another) in the middle of nowhere surrounded by trail hikes, lakes, dusty environments, and small cabins, all perfectly fitting for friendly campfires intended for storytelling and building a sense of togetherness. Joining the cult after being rescued from a burning car that took the lives of their parents, the two eventually broke free of the brainwashing with one of them spreading rumors about its members and giving specific details of their location, subsequently getting the hippie shenanigans shut down.
Now, 10 years later a video has arrived breaking the news that things are up and running again, also inviting the brothers back (the cult is unaware of who betrayed them). The kicker is that Aaron (the younger of the siblings) actually feels enticed to check it out once again; he has no bad memories of the place or recollections of any suicides on site, and is also compelled to pay a visit, even for one day, to say thanks now as grown adults for looking after and raising them. Justin heavily disagrees but goes along with the idea seeing as they both still have trouble mingling with society and as a favor to his brother.
Naturally, they are welcomed back with open arms (and enough drugs to go around for anyone with the slightest inclination to get high). They strike up conversations with old friends who surprisingly do not seem to have aged a day (shrugged off as the community, for all its oddities, knowing how to eat right and properly care for their bodies), with Aaron slowly beginning to make moves over a female companion. The collective group also takes part in strange ritualistic games that seem to imply the presence of a supernatural force (such as putting forth exhausting levels of strength to pull down a mysterious object out in the woods attached to a ridiculously long rope). There are also Polaroid photographs falling from the sky directing characters towards their destiny.
As The Endless increasingly gets odder, more characters are introduced; some that are not within the vicinity of the cult by their own free will. It becomes clear that something sinister and dark is going on, with two full moons visible in the night sky and the third materializing close by (they appear to be aligned in the shape of a boomerang); maybe it is a death cult after all. Regardless, that's enough about the plot, as the way these small details and other developments not mentioned all come together make for some complex twists touching on the definition of insanity and brotherly bonding. It definitely requires some extended thinking during and after the movie, which is flat-out relayed to the audience at the beginning via a quote from H.P. Lovecraft about the fear of the unknown.
Admittedly, the experience can be a bit of a slow burn, but the atmosphere of both the backwoods nature and eerie friendliness of the community are inviting; audiences want to stick around by this cult, and that is at once the highest compliment one can give the film and a terrifying feeling. A few character dynamics could have been explored better, and not all of the personalities are exactly memorable, but the acting is assuredly subtle and low-key good. The cult is not exaggerated and comes across real, with the performances from Aaron and Justin anchoring the proceedings. It's evident that they are friends and that rapport is used to their advantage as leading siblings. The Endless is a disarming and unnerving gem of independent sci-fi.
Flickering Myth Rating – Film: ★ ★ ★ ★ / Movie: ★ ★ ★ ★
Robert Kojder is a member of the Chicago Film Critics Association and the Flickering Myth Reviews Editor. Check here for new reviews, friend me on Facebook, follow my Twitter or Letterboxd, check out my personal non-Flickering Myth affiliated Patreon, or email me at MetalGearSolid719@gmail.com