Finding Your Feet, 2017.
Directed by Richard Loncraine.
Starring Imelda Staunton, Timothy Spall, Celia Imrie, Joanna Lumley, Phoebe Nicholls, David Heyman, Josie Lawrence, Sian Thomas, and John Sessions.
SYNOPSIS:
On the eve of retirement a middle class, judgmental snob discovers her husband has been having an affair with her best friend and is forced into exile with her bohemian sister who lives on an impoverished inner-city council estate.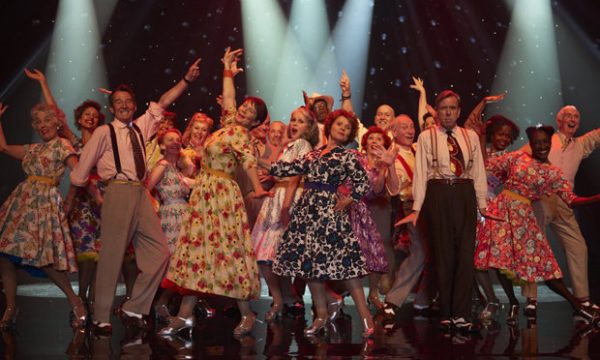 At its core, Finding Your Feet is a well-intentioned elderly romantic comedy dabbling in themes such as social class, marital woes, death, dancing (pulled off rather stiffly I might add), and staying true to one's self. Although the film focuses on the character of Sandra (Imelda Staunton), there are many others also attempting to find their footing, so to speak, dealing with problems ranging from illnesses to the defeating hopelessness of bearing witness to a significant other who is suffering greatly from dementia. Not only are these old folks either family or part of the same extended circle of friends, they also convene at a dancing center practicing moves and having fun, but also using the hobby as a way to cope with all of the darkness and uncertainty clouding their lives.
The performances in Finding Your Feet are comprised of a highly talented British cast ranging from the aforementioned Oscar nominee to the always terrific Timothy Spall to Celia Imrie playing the more down to earth, pot-smoking sister to the wealthy and uptight Sandra, with all of his actors putting in far more effort than the material deserves. Whether the film is detouring into one of its numerous terrible comedic moments (notable examples involves conveniently timing senior citizen croaking played for laughs or a gross understanding of going viral on social media, or the tired general jokes of elderly people trying out New Age technology like cell phones for the first time) or indulging in unbearably oversentimental, saccharine eye rolling nonsense (the closing slow-motion to freeze-frame ending shot of the movie is beyond over-the-top and will go down as one of the most unintentionally hilarious moments of the year to anyone that actually chooses to watch this), the talent in front of the camera is always game to make it seem convincing.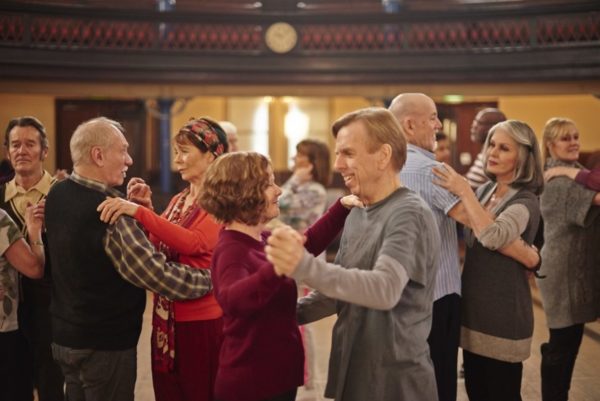 Truthfully, they succeed most of the time, but the script (Meg Leonard and Nick Moorcroft) and direction from Richard Loncraine are packed with narrative conveniences and genre familiarity to the point where everything feels hollow. Things are set in motion at an upper-class luxurious gathering where Sandra stumbles upon her husband Mike (John Sessions) full-on making out with another woman; the affair has apparently been going on for years. With nowhere to turn, she rekindles a bond with her sister Bif (Celia Imrie), butting heads at first over everything and anything while the audience waits for them to realize that despite ending up on different rungs of the social ladder, they are more alike than they think. Naturally, Sandra is also reminded of her love for dancing, slowly noticing that she gave the passion up, along with many others, as she settled in to being a trophy wife for essentially a privileged rich jerk. Sandra also befriends Charlie (Timothy Spall) through Bif, who is deeply hurting on the inside as his wife of decades is stuck in a nursing home and no longer recognizes him; these dramatic beats are actually the best aspect of the film as the depiction of both deteriorating brains and emotional pain are affectingly touching.
Whenever Finding Your Feet attempts to be funny, it usually fares badly, save for a scene that sees the two sisters sticking some of Mike's prized trophies into a shredder. It would all probably be more tolerable at a brisk pace of 90 minutes, but the filmmakers have more on their minds, seemingly determined to drag out the inevitable predictable ending as long as possible, sidetracking things with a vacation to Rome for a dance competition. To be fair, the change in location offers up some nice visuals, and the dance routine on stage is creatively executed, especially a segment involving choreographed electronic wheelchairs. Rest assured, these people may not be nimble or athletic, but there is craft behind the moves and it shows up on-screen.
Still, this is a movie that goes on an entire act too long, even if the trio of leads do have wonderful chemistry no matter what combination of them is interacting with one another. Polish the script more and remove most of the cheap humor (do we really need scenes of bit-part characters biting the dust right before getting it on?), fix the ending (for the love of all things good in the world I cannot believe something that overdone made it into shooting let alone the final cut), and then Finding Your Feet might have found something substantial to say about the aging process, death, living life, and not wasting one's years living a lie of a personality. As it turns out, all the presented ideas are undercooked, leaving audiences with an overlong, sentimental, waste of time only mitigated by actors still putting in reliable work.
Flickering Myth Rating – Film: ★ ★ / Movie: ★ ★
Robert Kojder is a member of the Chicago Film Critics Association and the Flickering Myth Reviews Editor. Check here for new reviews, friend me on Facebook, follow my Twitter or Letterboxd, check out my personal non-Flickering Myth affiliated Patreon, or email me at MetalGearSolid719@gmail.com