Rian Johnson, director of Star Wars: The Last Jedi, has revealed that he received death threats as a result of making the movie, but acknowledged that most of the online feedback was positive.
Directing a Star Wars movie is unlike any other job in Hollywood, there is surely no pressure like it from a fan base that demands and expects so much from each film.
Rian Johnson directed the most recent effort in the franchise, The Last Jedi, but unfortunately the film proved to be quite divisive among fans – causing some vitriolic feedback directed towards him. Johnson has shockingly revealed how far some took their hatred of the movie:
"There were death threats. It's balanced by a few things — 90 percent of the stuff I got online was not only lovely and encouraging but phenomenally thoughtful," Johnson told the Standard. "Fans would send me essays on the movie. The other 10 percent is just loud and gets amplified. At first I was freaked out but then I realized the things people were angry about are the things I'm most proud about."
Although the death threats must have been an incredibly upsetting experience, Johnson reveals that he knew the film would challenge some fans:
"I knew intellectually what I was letting myself in for, but then when it happens you're like, 'Oh my God, this is intense!'" Johnson explained. "It's about knowing you're not going to please everyone. But then you still read someone saying they wish you were dead and it's going to ruin your day."
Let's hope that fans behave more appropriately when Ron Howard's Solo: A Star Wars Story arrives next month.
SEE ALSO: Frank Oz doesn't understand the backlash against Star Wars: The Last Jedi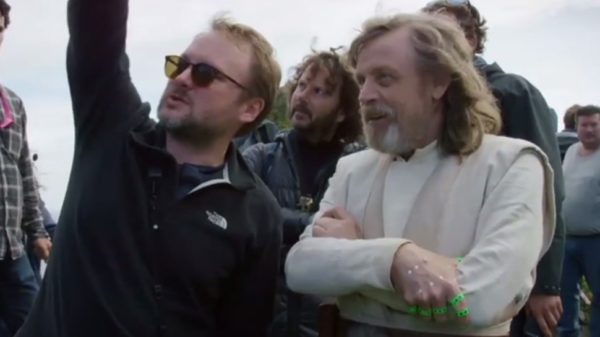 In Lucasfilm's Star Wars: The Last Jedi, the Skywalker saga continues as the heroes of The Force Awakens join the galactic legends in an epic adventure that unlocks age-old mysteries of the Force and shocking revelations of the past.
Star Wars: The Last Jedi sees returning cast members Mark Hamill (Luke Skywalker), Carrie Fisher (Leia Organa), Adam Driver (Kylo Ren), Daisy Ridley (Rey), John Boyega (Finn), Oscar Isaac (Poe Dameron), Lupita Nyong'o (Maz Kanata), Domhnall Gleeson (General Hux), Anthony Daniels (C-3PO), Gwendoline Christie (Captain Phasma), Billie Lourd (Lieutenant Connix), Andy Serkis (Supreme Leader Snoke), Peter Mayhew and Joonas Suotamo (Chewbacca), Tim Rose (Admiral Ackbar), Mike Quinn (Nien Nunb) and Warwick Davis joined by new additions Jimmy Vee (Pan) as R2-D2, Kelly Marie Tran (Ladies Like Us) as Rose, Benicio Del Toro (Guardians of the Galaxy) as DJ and Laura Dern (Jurassic Park).