Deadpool 2, 2018.
Directed by David Leitch.
Starring Ryan Reynolds, Josh Brolin, Julian Dennison, Zazie Beetz, Morena Baccarin, Brianna Hildebrand, T.J. Miller, Karan Soni, Leslie Uggams, Eddie Marsan, Stefan Kapicic, Bill Skarsgård, Terry Crews, Shioli Kutsuna, Lewis Tan, Jack Kesy, Hayley Sales, and Rob Delaney.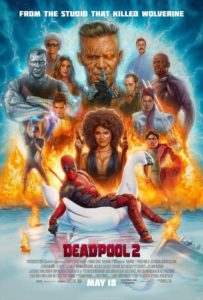 SYNOPSIS:
After surviving a near fatal bovine attack, a disfigured cafeteria chef (Wade Wilson) struggles to fulfill his dream of becoming Mayberry's hottest bartender while also learning to cope with his lost sense of taste. Searching to regain his spice for life, as well as a flux capacitor, Wade must battle ninjas, the Yakuza, and a pack of sexually aggressive canines, as he journeys around the world to discover the importance of family, friendship, and flavor – finding a new taste for adventure and earning the coveted coffee mug title of World's Best Lover.
Deadpool 2 opens in the most fitting way possible; a close up of a miniature figurine depicting Logan on his outdoors deathbed (spoiler alert but not really because you have had over a year to see that devastating ending) while the Merc with a Mouth declares that he is going to die too; the rivalry is destined to go on forever. The question that remains is why does Mr. Pool so desperately want to die, and well, the answer is a logical one even if the event kicking off the story feels rushed. In general, Deadpool 2 is overstuffed with characters and subplots even if the throughline never loses its focus on the importance of family, blood-related or not.
Also, with the introduction of fan favorite Cable (a chiseled and intimidating presence of a cybernetically engineered time traveler played by Thanos Josh Brolin), of altering the future. The no-nonsense villain that obviously meshes so well with Deadpool's personality (always being accused of racism in one of the sequel's better running jokes) has traversed backwards to murder a heavyset 14-year-old mutant with fire throwing abilities (the hilariously spunky Julian Dennison from Taika Waititi's outstanding Hunt for the Wilderpeople) for an unspecified reason, but the result is a movie that lovingly tributes The Terminator, even to the point of breaking the fourth wall and pointing out script gripes that people have had for decades now.
With that said, it should go without saying that Deadpool 2 employs the same meta, referential humor that the superhero is famous for, putting on blast everything from the mind-numbingly dumb Martha moment in Batman v Superman: Dawn of Justice to the worst roles of star Ryan Reynolds' career (you're going to want to stay for the credits during this one), but whereas the first film felt like a deconstruction of the standard comic book tropes there is a lot less of that touch here. If going bigger (not necessarily narratively, but with the sheer amount of characters introduced and returning who all simply don't get enough time to make a lasting impression besides Cable) and suffering in quality for it is intended to be commentary on the overall state of Hollywood blockbusters feeling the need to up the stakes to the point of hurting the project, then I suppose that spirit is kept alive, but it's downright shocking that the self-aware franchise doesn't include a witty remark on the subject. It is terrible how wasted the characters in the first film are here, but the new additions don't exactly fare much better.
Put it this way, I don't actually read comic books but I love many of the film adaptations (especially Deadpool which was one of my favorite movies of 2016), but after this movie all I knew about Domino (Zazie Beetz) is that her ability is massively heightened luck. That feels like a problem for a character so anticipated that the Internet was in an uproar over her casting not matching up to the pages. Make no mistake about it, Zazie is fine in the role and gets some badass action sequences including her own one-on-one fight with Cable, but viewers are left knowing nothing about her other than a rough sketch of her personality and superpowers. Similarly frustrating is a touchingly sad line from the troubled child who asks the last time anyone has seen a plus-sized superhero while debating whether to use his gift for good or vengeance, but it turns out to just be a disappointing throwaway line made all the more a missed opportunity considering that the first movie legitimately earned moving themes on physical appearances. Deadpool was hilariously marketed as a cringe romance, but when you saw the movie you understood why the filmmakers chose that route from a comedic perspective.
Here, the emotional pull is that (for reasons I won't spoil but will again mention feel abrupt and not as executed as well as they should be) Wade Wilson wants to die, but as we know has regenerative powers refusing to let him go into the light. So what does the sequel do? Out of nowhere, with no explanation behind the device at all, introduces a collar that completely suppresses all mutant abilities, which is such a far-fetched invention even for this genre that it's difficult to take seriously. It's lazy writing to give the character the potential for real danger and also raises far too many questions related to the X-Men franchise as a whole (instead of city-destroying battles, could someone had just snuck up and slapped a collar on Magneto to save the world?).
Anyway, it's not something I'm going to harp on too harshly about because for the most part the returning writing team consisting of Rhett Reese and Paul Wernick (alongside Ryan Reynolds who very clearly understands this persona that lines up with his own comedic sensibilities, and is once again having a blast in every single scene) know what works; there are jokes about everything imaginable and some genuinely creative elements like a James Bond-inspired opening credits segment set to a new song from Celine Dion that is all purely wonderful. The switch in directors (going from Tim Miller to the John Wick dog killer) hasn't changed much at all, and if anything the combat is much more crisp and clear.
Deadpool 2 was never going to surpass the original, but it is the second coming of something immensely fun and unlike anything else in the oversaturated superhero market. In particular are two huge set-pieces that are going to leave audiences laughing leaving the auditorium. The best news of all is that the future looks very bright for X-Force as long as there is a playfully inventive script that can give purpose to many of the numerous characters.
Flickering Myth Rating – Film: ★ ★ ★ / Movie: ★ ★ ★ ★
Robert Kojder is a member of the Chicago Film Critics Association and the Flickering Myth Reviews Editor. Check here for new reviews, friend me on Facebook, follow my Twitter or Letterboxd, check out my personal non-Flickering Myth affiliated Patreon, or email me at MetalGearSolid719@gmail.com