Making Fun: The Story of Funko, 2018.
Directed by David Romero.
Featuring Zack Ryder, Kevin Smith, Tony Hawk, Alice Cooper
SYNOPSIS:
A documentary exploring the rise of the pop culture phenomenon, Funko. Beginning with its humble beginnings in a garage in 1998, Making Fun: The Story of Funko explores the brand's rise and the impact it has had on fans around the globe.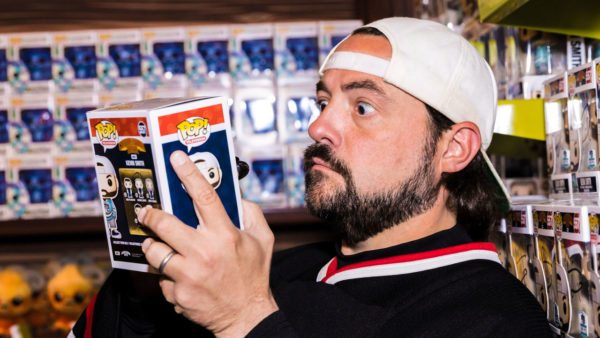 As anyone who has ever bought a Funko toy, the adorable little pop culture collectibles, will know, they can be incredibly addictive. The cute, instantly recognisable design has become a staple of toy stores around the world, and no self-professed pop culture aficionado's bedroom is complete without at least half a dozen of them sat on his or her shelf. But how did this Funko begin, and how did it become the force that it is today? Netflix's latest documentary, Making Fun: The Story of Funko sets out to answer both of these questions, and a little more.
Starting with humble beginnings, Funko started out as a bobble-head company began by Mike Becker, a man who was madly in love with 1950's pop culture, and who wanted to try, in some small way, to recapture this. That was back in 1998, and after seven long years, he decided to hand his company over to his close friend, Brian Mariotti. In many ways, it was this change in management that saw Funko become the behemoth that it is today. In the early years, Funko had a dedicated, loyal fanbase who would travel from all over to grab their slice of nostalgia, but it was Mariotti's willingness to branch out, change the design, and incorporate all elements of pop culture that really brought the brand into the public consciousness.
Documentaries exploring fandom are extremely popular these days, and we all know the drill by now. Humble beginnings, fast growth, a few interviews with the owners and some dedicated fans, and while Making Fun: The Story of Funko certainly ticks all of these boxes, it still manages to remain incredibly endearing throughout. The movie documents the company's rise, of course, but it also explores the impact that the figures have had on fans, and they have managed to find people from all walks of life to contribute. Alice Cooper, Kevin Smith, professional boxer Cletus Seldin and WWE superstar Zack Ryder all show up. These aren't just celebrity talking heads, as anyone who follows Zack Ryder on Instagram will testify, this is a legitimate passion.
It's that same passion that really helps elevate this movie about the usual fandom documentaries. CEO Brian Mariotti and original founder Mick Becker come across as people who genuinely want to please their fanbase, and throughout the film, they remind us that the company is all about having fun. Of course, this is a documentary and they aren't likely to come out and tell you that they just want your money, but I genuinely felt as though their interests were in their fans, and their own love for pop culture, and not just the bottom line.
Exploring the rise of 'geek' culture and witnessing how it has become less of a stigma in the modern day is nothing new, and the movie, for the most part, recognises that. Sure, there are parts where the movie begins to feel a little cliche heavy, but there are enough people from different warps of life, each with their own stories that make this a movie worth sticking around for. The idea of fully grown men and women spending hundreds of dollars on T-shirts or Toys is baffling to many (just ask my girlfriend) and the movie does a good job of really highlighting what makes such a hobby so addictive for so many people.
Hardcore Funko fans would have perhaps preferred a more in-depth analysis of the brand's creative process, which only takes up a small portion of the movie, and the movie decides to steer away from the more money driven aspects of collecting these things but the documentary still does an efficient job of peeling back the curtain on the brand's beginnings and their approach to what they do. What by many, could easily be mistaken for a corporate company comes across as a humble, and well-meaning business started by people with a genuine love for what they are doing. Staying so in touch with your fans desires when you are so hugely in-demand must be a difficult task, and it is one that the company will no doubt continue to tackle with grace as they only continue to grow in popularity.
Making Fun: The Funko Story is, for the most part, a resounding success for Netflix, which is something they have not had too many of this year. The movie serves as both an endearing success story, about a group of geeks who managed to make it, and a fitting love letter to all things pop-culture. This is a must for Funko lovers everywhere, and for all of those long-suffering partners who have struggled to grasp just why their boyfriend or girlfriend is so in love with a little piece of plastic, this one might just open your eyes a little too.
Flickering Myth Rating – Film: ★ ★ ★ ★ / Movie: ★ ★ ★ ★
Liam Hoofe