Hearts Beat Loud. 2018.
Directed by Brett Haley.
Starring Nick Offerman, Kiersey Clemons, Ted Danson, Toni Collette, Sasha Lane and Blythe Danner.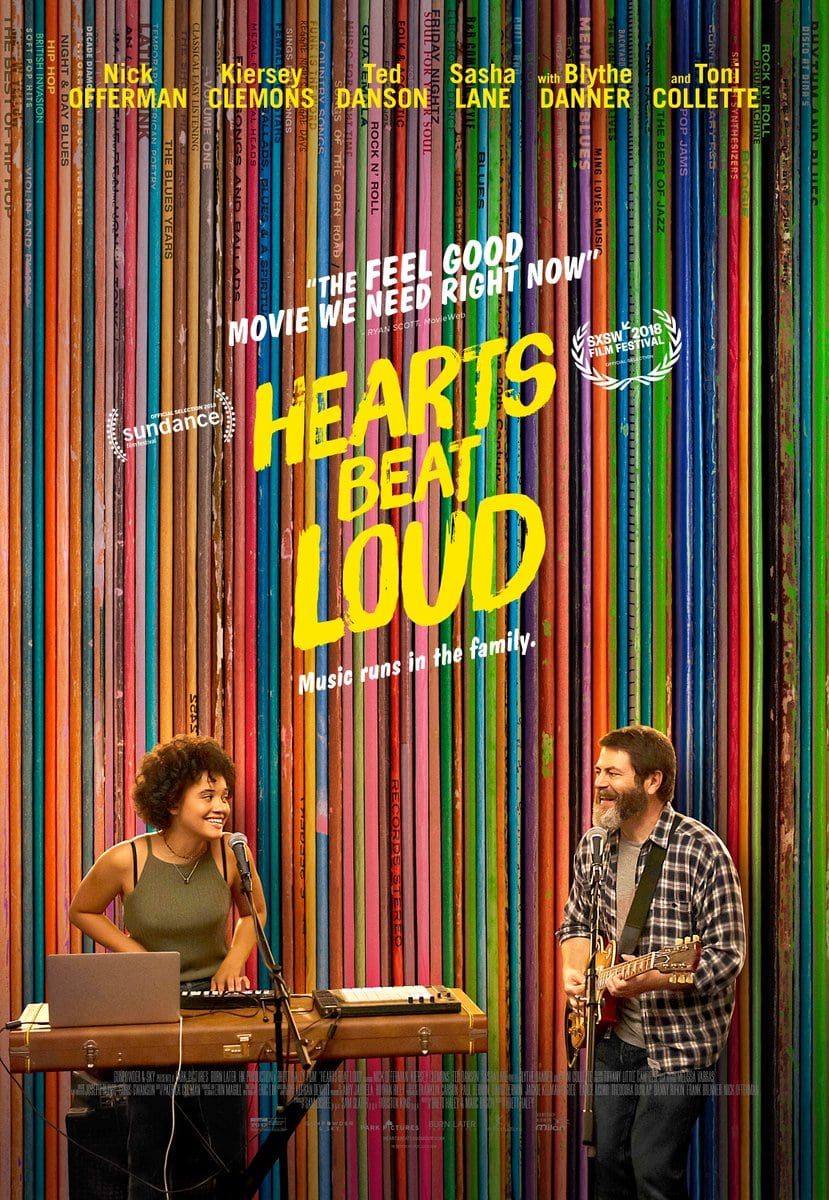 SYNOPSIS: 
A father and daughter form an unlikely songwriting duo in the summer before she leaves for college.
Brett Haley's Hearts Beat Loud is part catchy pop-positive chorus, part radio-friendly verses one might soon forget. This isn't damnation, mind you. Everyone needs their "Song 2" fix, your latest in the form of an achingly human drama about finding fulfillment amidst life's altruistically confusing choices. Instant chemistry between leads Nick Offerman and Kiersey Clemons is rhythmic perfection with a generational gap, their crossroads represented as youthful adventures and post-midlife crisis alarms. It's a message that rings loud and clear, but without the nuance that'd allow Haley's coming-of-self appreciation anything more than an upbeat ditty.
Which, again, is sometimes all the warm vibes we need.
Clemons stars as a Red Hook high school grad preparing for her forthcoming medical education program at UCLA – Sam – and Offerman her record-store-owning dad Frank (until doors shut for good right before she leaves). One an intellectual who considers pre-med summer classes "fun," the other a vinyl worshipping ex-musician who plots his next radio breakout. Two totally different people bound by the sounds of family – "jam sessions" as Frank calls them. Sam's mother was once Frank's bandmate, and the apple didn't fall far. It's during one such musical interlude that the two record a track good enough to reignite conversations of starting a band (and takeover Spotify). Could this be the purpose and answer each person seeks? Or a final hurrah before moving on.
What Offerman and Clemons accomplish is nothing short of resounding highs and pains of existence, clued into a very necessary truth – there is no point where life is "over." Clemons doesn't have to sacrifice her musical side-game or doctoral dreams much like Offerman needn't "check out" after losing his record shop to general disinterest (or deeper motives). In other more idyllic stories, Clemons and Offerman would form some adorable Partridge Family band and become a national alt-pop sensation – but that is not Hearts Beat Loud. Is this a cynical or stifling take? Not in the least. For how many blissfully positive films explore fairytale endings of the utmost glamour, filmmakers like Haley who can recognize the beauty in circumstantial appreciation are equally important. You can do what you love, but also love what you do as Ted Danson's pot-toking dive bartender so cheerily reminds. Shoot for the stars but enjoy the ride. And yes, this movie is so truthfully about "the ride."
It's a thoughtful switcheroo that Offerman and Clemons play. Offerman the man-child with an aging (re: senile) mother and college-bound daughter who's still willing to gamble *everything* on a *second* band that could possibly be his rockstar escape. Clemons the rational, responsible sprouting adult who paths a life of stability that's filled with studies and importance. Roles reversed; stereotypes bucked. Their bond a kinetic representation of decisions, mid-mid-life breakdowns, path wandering – every bump along life's journey is shared by two actors who we never question as bastions of bloodline beautification. Offerman's prodding and excitement is melodically balanced by Clemons' stern stance against abandoning caution in a time of tremendous uncertainty. Their hearts beat loud, actions speak volumes and performances carry staying weight.
Haley benefits most from actor efficiencies because in Hearts Beat Loud – a proclamation of being alive – generics world otherwise reign supreme. Ted Danson's Woodstock transplant providing the sage wisdom of a sedated Snapple cap, Toni Collette the unattainable love interest for love interest's sake. Not to say a film has ever gotten worse by their supporting inclusion, but outsider arcs are less pronounced to amplify the crescendo of clear focal drips. Intentions are pure and the conversation doesn't become white noise, but Haley has trouble saying anything new about life's storied rockiness. Drama sometimes unfolds at a slower dialogue-driven pace that's salvaged by influences like Sasha Lane's (American Honey) blossoming same-sex relationship, as if to interject hallmark indie pivots as a means of formulaic accomplishment.
New York City's representation does dash a necessary burst of flavor by way of location exploitation. Brooklyn parents of whimsy and independent children raised on subway cars and busy streets. It's the kind of alternate reality where vinyl shops like Red Hook Records can thrive and build communities, made even better by everyone's constant ability to handle one's own problems. It's both the draw and curse of this bustling American city, always promising opportunity of the grandest gesture. Kudos to Haley for painting an intimate portrait of Brooklyn's homeliest holes-in-the-wall and sense of adventure – even just in one borough.
Brass tax, Nick Offerman and Kiersey Clemons shape Hearts Beat Loud into their own layered underground hit that marches to a unified tempo. On the nose, largely situational and indie glitzed, but inherent soulfulness is a hard act to deny. Musical numbers ignite a missing spark from preachy-at-times assessments of our grandest desires to be something more, bringing to life the magic in pipedreams and great expectations. Much like this film, not every one of us is meant for the highest honor – yet we all have a purpose no matter what size. Stash that for a rainy day.
Flickering Myth Rating – Film: ★★★ / Movie: ★★★
Feel free to follow Matt Donato on Twitter (@DoNatoBomb) – if you dare.