Tag. 2018.
Directed by Jeff Tomsic.
Starring Ed Helms, Jon Hamm, Annabelle Wallis, Jake Johnson, Isla Fisher, Hannibal Buress, Jeremy Renner, Leslie Bibb, Rashida Jones, Nora Dunn and LilRel Howery.
SYNOPSIS:
A small group of former classmates organize an elaborate, annual game of tag that requires some to travel all over the country.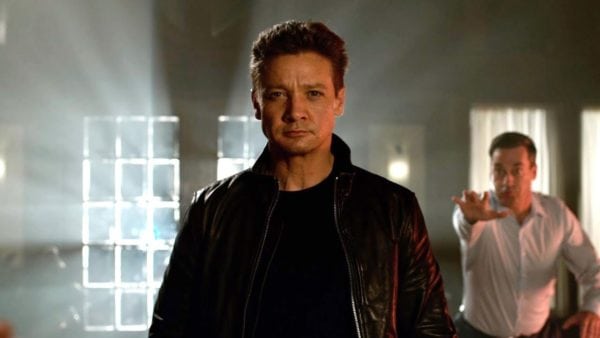 Tag. A movie about grown men reverting to their schoolyard daze. When first announced, Jeff Tomsic's man-child run amok goofer sounded like a sinkable gimmick backed by a better-than-deserved cast. Then again, so did Game Night. So did Blockers. Mainstream studio comedies are making quite a comeback in this year of 2018, and that streak continues with a rambunctious bromance that's far little SOMETHING more than ball taps and marijuana clouds. Layered under age-appropriate immaturity is a sweet friendship reminder that resonates with competitive comradery culture – and a scene-snatching Isla Fisher.
For most people, "Tag" is a juvenile game of speed. For a group of childhood friends, it's a reason to stay connected at least one month a year. Every May, "Hoagie" (Ed Helms), Bob (Jon Hamm), "Chili" (Jake Johnson), "Sable" (Hannibal Buress) and Jerry (Jeremy Renner) re-engage an ongoing battle of "Tag" that they've decreed infinite. To this day – years and rounds passed – Jerry has *still* never been "it." Not tagged once. This eats away at all the other players, but Hoagie finally sees their window – Jerry's wedding. To make matters worse, Hoagie tells the boys Jerry is retiring after the current season. Can the men finally place a hand on their ninja-like champion? Failure is not an option – just a statistical probability.
The game itself – even if you're watching with blinders on – is assertively a shoved-down-your-throat metaphor for keeping personal wonderment alive. Hoagie's gang doesn't play "Tag" because they're obsessive superfans of the art form, but instead to keep one single tether that wrangles their innocent days as bike riding kids. Scribes Rob McKittrick and Mark Steilen get by with basement-level subtlety thanks to their absurd "exaggerations" within the game itself. Life is short, and best enjoyed while we can. It's easy to lose touch with cul-de-sac brethren and become lost in corporate herds. Tag is a small fight against growing out of "fun," if an obvious one with sneaky-savage secrets that drive home what we shouldn't take for granted.
Playtime, thankfully, is a duck-and-dip laugh riot.
Hoagie and Bob immediately set the scene as Hoagie – a successful veterinarian – gets a job as a janitor at Bob's Fortune 800 company *just* to pull off an epic tag. Fake adhesive mustache and all. From here, set pieces grow more absurd and camouflaged (all based on *actual* hijinx pulled by the true-story participants). Expect a country club blackout aversion, crashed AA meeting, body-multiplying forest freakout, undercover grandma mall fight – Tag does not skimp on crushing injuries, psychological psyche outs or any three-steps-too-far humor. Especially when it comes to Jerry's mercenary-like domination. Pound for pound, his mechanical subduing of each friend's lumoxy charge envisions Renner as trying out for Upgrade 2 (Leigh Whannell's out of body thriller). An intimidating stand-in for Logan Marshall-Green, as psychotic as he is slow-motion savvy.
Jeff Tomsic does a serviceable job managing the film's *many* Hollywoodized liberties – containing the event to wedding festivities, establishing impactful stakes – but don't think it's been sanded to a smooth touch. Fisher's portrayal as Hoagie's "enthusiastic" wife is an explosion of competitive hormones in every outburst. Unable to play herself because the likes of Bob and Chili are afraid of the woman who takes rivalry "way too serious" (screaming in Chili's face to suck her "ginger balls" before form tackling him like Brian Urlacher). Annabelle Wallis' print journalist Rebecca Crosby abandons her profile piece on Bob Callahan's successful business to follow the man all weekend with zero reservations – another brilliantly understated "WTF" plot point that gets folded in effortlessly. Leslie Bibb as Renner's wife? Sadistic and so cheek-to-cheek grinningly set. Tag is the kind of move you just roll with, more for the better.
The quintet of actors engaging in the film's titular wargames range from expected to firing-on-all-cylinders. Jake Johnson the Nick Miller who veered off course and became a constant pot smokestack, Ed Helms as an excitable Ed Helms we've seen time and time again (but in a fitting way). Jon Hamm is constantly the overegoed hot-shot only he can pull off without becoming a total asswipe, and Hannibal – every movie needs more Hannibal existential philosophizing and beat-comedy knockouts. These are the bonded talents fighting against Renner, who rises like a machine as his uncatchable gym owner and maniac Jason Bourne of juvenile gamesmanship. Creating mock bedroom sets and using actual spy tactics like a secret operative, Renner is so well suited for the champion's spotlight. These men take a laughable concept and weave a complicated, progressing emotional journey that ends with true feelings of warmth – splendid bromanship all around.
Chases, chastising, surprise distractions and big-old, bleary-eyed dude hugs – that's what you can expect, and that's what Tag delivers. Don't get me wrong, this film isn't for the boys like Saturdays are. Comedy and calamity collide with a savory blend of honest intimacy in an oafish but understandable package. Laughs abound, as stupid as they've ever been – but not expected is a bursting sense of honoring what we love as to offset life's burn-and-churn cynicism. Plus horny moms? Even at that, I've said too much. Mainstream comedies are good once again, and all it took were some cockblocking, game-nighting and tag-playing adults. Heroes in the most unlikely forms.
Flickering Myth Rating – Film: ★★★ / Movie: ★★★★
Feel free to follow Matt Donato on Twitter (@DoNatoBomb) – if you dare.