A Simple Favor, 2018.
Directed by Paul Feig.
Starring Anna Kendrick, Blake Lively, Henry Golding, Linda Cardellini, Andrew Rannells, Jean Smart, Ian Ho, Joshua Satine, Kelly McCormack. Andrew Moodie, Eric Johnson, Sarah Baker, Zach Smadu, and Rupert Friend.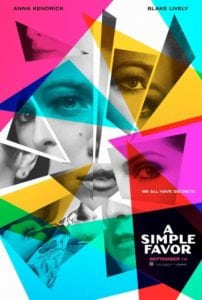 SYNOPSIS:
A woman seeks to uncover the truth behind the disappearance of her best friend.
A Simple Favor plays like a Hitchockian-fever dream propelled by water-cooler gossip and few too many gin martinis. It's a sun-drenched murder mystery dizzyingly silly and vertiginous in its rather joyfully broad strokes.
Anna Kendrick is Stephanie, a "mummy blogger" and single mother with the sort of enthusiasm for school activities that sends the other parents running to the door. Her bog-standard existence is interrupted by the appearance of the frankly comically glamorous Emily Nelson (Blake Lively). Emily exists in a constant state of martini bliss; her marriage with one-time literary wunderkid Sean (Henry Golding) is all sexual attraction and her job under sleazy designer Dennis Nylon (Rupert Friend) gives her further opportunities to drink through the afternoon listening to Serge Gainsbourg.
The two build a budding, if one-sided relationship with Stephanie in constant care of Emily's young son. Martini after martini begins to create the façade of best friendship, which comes to a boil when Emily disappears without a goodbye.
Feig manages to tread the line between the self-seriousness of the murder mystery and the broader comedy he succeeds so well at. He seems constantly distracted by the charisma of Lively and Kendrick and at times, seems to drop the drama to simply give way for the two of them to bounce off one another.
And it's here where the film is so successful. The central murder mystery is convoluted and well worn and is in fact the least interesting thing about the film. The twists and turns are only as entertaining as the central characters and in Kendrick and Lively, you have two performing with such giddiness, it's impossible not to find yourself carried away.
Kendrick, so often the sweet, if harmless "friend" plays up her every-girl charms to the absolute extreme, quietly manipulating those around her with her supposed naivety and puppy dog eyes. Lively too has real room to impress, constantly dizzy on a cocktail of anti-depressants and martinis. She is Amy in Gone Girl with a sense of humour. Anytime the two are on screen together, everything pops. Henry Golding too impresses further. Hot on the tails of Crazy Rich Asians, he builds on his ridiculous charm with aplomb.
The murder mystery itself is rather meandering and follows a similar path as to the aforementioned Gone Girl. But Feig clearly has a love for the pulp fiction it's so clearly indebted to. It never takes itself too seriously, and even in moments of heightened drama, Feig injects enough playfulness to make his mark.
A Simple Favor isn't to be taken seriously. It works best when ramshackle, spurred on by Lively and Kendrick's infectious relationship. It's very difficult not to find yourself swept up in the whole affair.
Flickering Myth Rating – Film: ★ ★ ★ / Movie: ★ ★ ★
Thomas Harris