A Star Is Born, 2018.
Directed by Bradley Cooper.
Starring Bradley Cooper, Lady Gaga, Sam Elliott, Dave Chapelle, Anthony Ramos, and Michael Harney.
SYNOPSIS:
A musician helps a young singer and actress find fame, even as age and alcoholism send his own career into a downward spiral.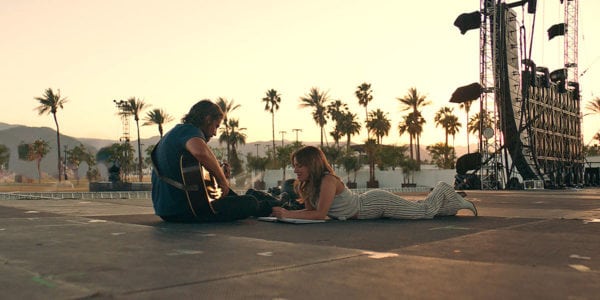 Hollywood adores a film about itself. It's infatuated with its own ego, its own rags to riches story, its own gilded dream. It's why there have been four versions of A Star Is Born, a cross-generational love story transplanted from decade to decade, dusted off and buffered for a knew audience.
There's something innately archaic about the need to retell a story so well trodden, it's almost part of Hollywood folklore. So news of heartthrob Bradley Cooper taking it on as his directorial debut with 21st century Madonna, Lady Gaga as his muse felt somewhat concerning.
Well concerns were rightly quelled. Cooper has woven a tapestry ripe in melodrama, playing with the tropes of A Star is Born and giving them much needed energy. It may follow the same blueprints, but it is his version. You don't have to squint that hard to see the spectral figures of Streisand, Garland and Gaynor walking the same steps as Gaga, but she brings with her a performance of such maturity, they fade into the distance.
Cooper is Jackson Maine, a swaggering, hard-drinking blues rocker. His success hasn't necessarily faded, but he's fast becoming defined by what's come before. Drunk and in search of another, he finds himself in a drag bar. Sipping on his straight gin, his attention is caught Ally (Gaga), who performs La Vie En Rose like her life depends on it.
He asks her out; she sings a song for him in a parking lot, he invites her to his show the next day, he brings her on stage, and so it goes…
The film never gets as truly brilliant as that first moment Maine drags Ally onto stage. Her performance is brilliant, but Gaga performs it with a necessary shyness. She covers her eyes with her hands for a moment before letting out the sort of cadence that punches you in the gut. She is truly extraordinary.
But then Cooper never lets up. The film is paced manically, lie a freight train without brakes and the momentum never stops. It allows the momentary silence at the films end to be truly effecting and affecting.
Cooper too is at a career best. Brother Sam Elliott – on grandstanding form – says to him, "you stole my voice," and he has. He lowers his voice almost to the point of inaudible, but it's a remarkable feat. On stage he swaggers with real confidence, removing his hat as if to reveal his true self only to lower his voice again once off stage, creating an impenetrable wall defined by his Stetson. He's a growling man-child, all testosterone and booze. In the past, Cooper may have felt slightly bland, a Hollywood heartthrob and little more. We were wrong, very wrong.
A Star is Born is a remarkable feat, devastating and beautifully constructed, it may be the definitive version of the story.
Flickering Myth Rating – Film: ★ ★ ★ ★ ★ / Movie: ★ ★ ★ ★ ★
Thomas Harris