Boy Erased, 2018.
Written and Directed by Joel Edgerton.
Starring Lucas Hedges, Nicole Kidman, Russell Crowe, Joel Edgerton, Xavier Dolan, Troye Sivan, Jesse LaTourette, Britton Sear, Cherry Jones, Joe Alwyn, Théodore Pellerin, and Flea.
SYNOPSIS:
The son of a Baptist preacher is forced to participate in a church-supported gay conversion program after being forcibly outed to his parents.
Writer/director Joel Edgerton's Boy Erased, the Australian's sophomore feature following up his psychologically twisted debut The Gift, this time changing around the names adapting the real-life story and memoirs of gay college student forced to undergo inhumane conversion therapy by his strict preacher father, Garrard Conley) tackles some biographical sensitive material, humanizing all of those involved, including those that feel homosexuality is a sin. Naturally, the filmmaker himself knows that the belief is wrong, but he's interested in complexity rather than one-dimensional villains and shock value to overcome.
This creative decision yields mixed results; on the one hand, it is absolutely understandable for Jared (Lucas Hedges turning in his third accomplished performance within the span of 30 days, here playing the real-life Garrard Conley) to want to hang on to a tiny shred of respect for his own flesh and blood, the man that raised him (the introduction treats us to a homemade video style family montage of loving memories), his father. Russell Crowe (certainly an unorthodox choice for the role, but serviceable nonetheless, especially delivering sermons) is hardcore devoted to God and the kind of frustrating individual afraid to open up his intelligent mind to differing perspectives. Nicole Kidman is fine as the more levelheaded mother, but it's the dynamic between father and son, and the anger it brings out within Jared that elevates the narrative in tandem with the powerful Lucas Hedges.
Around halfway through the film, Jared is going for a nighttime stroll and notices an LED advertisement on the sidewalk, plastered with what is perceived as the standard definition of female beauty. In frustration from the whole gay conversion therapy ordeal, Jared turns around just as the electronic display scrolls down to its next image; a chiseled male model pushing cologne or some irrelevant fashionable item. Enraged and offscreen, Jared forcefully throws an object smashing right through the screen, repeatedly yelling "fuck you" at it, which could very well be God playing a mischievous trick on the conflicted young adult. Nevertheless, the system malfunctions and remains frozen on the Herculean figure. It's a sequence so imaginative and strongly acted, it's a shame the rest of Boy Erased never really compares.
There's a pressurizing, foreboding score that hangs over the majority of the gay conversion therapy sequences, but it's also the best thing about them aside from a few scattered captivating moments from the minor supporting players. One wiry and nerdy teenager is traumatized after getting hit in his protected head by a baseball spitter, another girl graphically details her first sexual encounter, there's an overweight and elsewhere bullied kid that elicits empathy, and another peer that gives some heartbreaking but useful advice; fake it until you make it. Joel Edgerton plays the head of the conversion center, projecting his disapproval for homosexuality so unrelentingly pushy that one has to wonder if it's all a façade for our hunch that he is likely a self-loathing homosexual.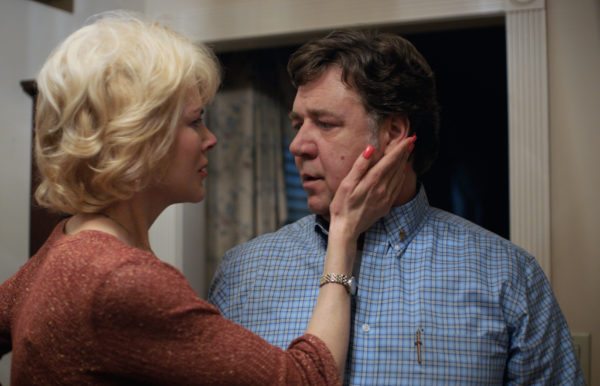 Boy Erased often seems to want to skirt around the horrors of gay conversion therapy; one of the members does commit suicide, but the tragedy somewhat lands flat because the script is more focused on filling out family trees writing in everyone's sins, or flashbacks of Jared's life/struggles with his own homosexuality. These segments are mostly compelling, but also feel as if they run on too long. At one point, I was wondering if the film would ever jump back to the present day until the ending. Now, this doesn't mean I expected/wanted Boy Erased to be the harrowing drug addiction equivalent version of gay conversion therapy movies, but the film misses out on reaching the emotional heights it should. Even the final scene with Joel Edgerton's leader is a bit of a letdown, with the film once again diving into the more intimate and personal family dynamics.
With that said, his restraint deserves to be admired; Joel Edgerton easily could have gone the more bombastic, Oscar-bait route with this project, offsetting the lackluster emotional gravitas with subtle observations (as a lifelong gamer, I couldn't help but notice Jared selects the shirtless and buff Johnny Cage as his character in the still to this day popular fighter franchise Mortal Kombat). There is fully realized depth within Jared's character, and thanks to the always impressive Lucas Hedges, he's enough to allow the film to function as engrossing for the majority of its duration.
Also noticeable is that Joel Edgerton, who was clearly inspired by Michael Haneke on The Gift, is unquestionably applying the slow-burn craftsmanship he has learned from working with Jeff Nichols over the years to Boy Erased. It's phenomenally acted and a touching story that could legitimately save lives and change the minds of parents in similar situations, but I also wish I felt something more than "gay conversion therapy is an atrocity". Perhaps the script should have elaborated more on its thesis that no matter how divided people become, we should always find a way to meet others in the middle.
Flickering Myth Rating – Film: ★ ★ ★ / Movie: ★ ★ ★
Robert Kojder is a member of the Chicago Film Critics Association and the Flickering Myth Reviews Editor. Check here for new reviews, friend me on Facebook, follow my Twitter or Letterboxd, check out my personal non-Flickering Myth affiliated Patreon, or email me at MetalGearSolid719@gmail.com