Wildlife, 2018.
Directed by Paul Dano.
Starring Carey Mulligan, Jake Gyllenhaal, Ed Oxenbould and Bill Camp.
SYNOPSIS:
Jerry, Jeanette and their son Joe move from the city to an isolated town in Montana to start a new life.  But Jerry loses his job and has to take the only work available – fighting forest fires in the nearby mountains.  While he's away, his wife also gets a job, one that leads to an affair with an older, wealthy businessman, so when her husband comes home they have to face the truth about their marriage.
While this week's UK cinematic spotlight is trained firmly on Widows – and probably The Grinch as well – a third title makes a more low key arrival, one that's very much in tune with the tone of the film.  Paul Dano's Wildlife, his debut as a director, was equally discreet at the London Film Festival last month, but attracted just as much attention there as it did in Toronto and Sundance earlier in the year.  And rightly so.
Unsurprisingly, giving Dano's self-effacing style as an actor, this is no showy first offering, but a sincere portrait of a crumbling marriage set in the early 1960s.  It boasts a classy double act in the shape of Carey Mulligan and Jake Gyllenhaal, who play the couple in question.  They've moved from the city to a small town on the vast Montana plains to improve their prospects but, ironically, things only get worse.  Jerry (Gyllenhaal) loses his job and his only option is to take a job away from home, helping fight forest fires.  Left behind to look after their teenage son Joe (Ed Oxenbould), Jeanette (Milligan) not only takes a job but a lover who offers her all the material things her husband can't.  It's only when Jerry returns home that they, and their son, have to face facts about their marriage and their future.
Dano tells the steadily paced story through the eyes of 14 year old Joe, one that unfolds through his reactions to things said and done off screen – a muffled argument, his mother and her lover together – all of which demands plenty of Oxenbould as an actor and of our imagination.  There are moments when he takes us into his confidence and we're shown exactly what he sees, but they are fleeting and carrying the narrative and the emotional weight of the film is, in the main, down to Oxenbould.  And his performance is a revelation – startlingly mature for somebody who only hit 17 in the summer.
In fact, this is a film which is all about the acting and the Mulligan/Oxenbould/ Gyllenhaal trio although, with the latter off screen for a large section of the movie, his is closer to a supporting role.  Nonetheless, he makes a convincingly well-intentioned but feckless father figure.  Mulligan's talents have never been in doubt, but this has to be her best performance to date as the brittle, constantly dissatisfied wife who feels life is passing her by.  Her attempts to disguise that simmering disappointment and resentment with a paper-thin optimism are superbly transparent: she's fooling nobody, least of all herself.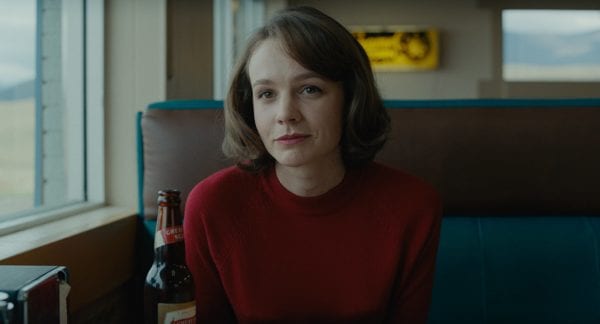 Dano has constructed a handsome film, one that's created a non-descript prairie town that, like the surrounding landscape, seems to go on for ever.  It only changes when the winter snow comes along.  The train never stops there – those eternal freight trains just rumble on through – and only the bus provides a semblance of a connection with the outside world.  Landscapes are framed by windows, giving the impression of a carefully created picture.
The radio constantly plays in the background, over-cheery in a way that makes the sadness in the household even more acute.  That voice keeps declaring that 1960 is "one heck of a year" and, for this particular family, it is – but not in the way the station means.  Sad in tone – not totally gloomy as there is a sense of hope, despite that final shot – Wildlife is an impressively sensitive debut from Dano.  One heck of a film, you might say.
Flickering Myth Rating – Film: ★ ★ ★ ★ / Movie: ★ ★ ★ ★
 Freda Cooper.  Follow me on Twitter.