Lundgren was running low on inspiration in the early part of this century. A rumour circulated in 2002 that he was about to retire. He'd made a string of largely awful films, the lowest ebb in his career (though this was after a slight upturn with Hidden Agenda). It turned out not to be the case, but Lundgren has since admitted the idea crossed his mind fleetingly around that era. A couple more low end straight to video films followed and then a sudden push into directing when Sidney J Furie fell ill weeks before The Defender was due to begin. Lundgren was asked to take on the directing duties. A lightning quick prep and he did. For what it is, an Assault On Precinct 13 formula film, it's a decent little action film, and it marked his best film in years. His sophomore directorial effort, The Mechanik, was even better. We're not talking high art here, but there was actual direction, whereas the order of that era (and video mentality) tended to be to have a director point, shoot and wrap as efficiently and quickly as possible. Creativity was a distant secondary demand from producers. Again, whilst other contemporaries had ventured to direction, Lundgren, unlike Seagal and Van Damme for example, wasn't doing it for egos sake. He was approaching the role seriously, and artistically. His further efforts behind the camera, like many in front, were hampered by producer interference, funding problems and lack of time, but he's still got long burning projects in mind (like Swede focused WW1 film Nordic Light), and the upcoming Malevolence in line to direct.
Stallone then came calling at the end of 2009 with salvation. The Expendables was born, and it brought Lundgren back into the limelight. The films never quite lived up to the idealised version in the minds of those growing up on Predator, Commando and the like. That said, Lundgren was the best of the bunch in the first film, albeit under-utilised (like everyone). In the second, which played out with far more irony, Lundgren was able to lampoon his image a bit and play for laughs. By the third film, he and the rest of the old guard were doled out a minimum of screen time in favour of an ill-judged attempt at introducing younger members (And potential spin-offs). Success in China is the only reason a fourth film is even possible.
Step forward a few more years and we find ourselves in an unusual position. A winter holiday season with not one, but two significant roles for Lundgren in tent-pole films. Creed II is big, in fact it's got more potential drawing power than The Expendables did, courtesy of Michael B. Jordan riding the crest of a wave (and Tessa Thompson for that matter). The decision to bring the Drago family back into the action obviously benefited Dolph as far as a big screen release, but Stallone and director Steven Caple Jr went a step further and fleshed out the once one dimensional, nigh-on indestructible super-opponent. Rocky IV wasn't subtle (great fun), but Creed II, judging by the reviews (roll on UK release!) has managed to play on father/son dynamics to create some drama among the boxing, and in doing so offers a platform for Lundgren to show he's more than an imposing figure, he's a better actor than he's ever been given credit for (by the mainstream). Die-hard Lundgrenites have seen the potential and the growth over the years, from layered and interesting cameos in two Universal Soldier sequels to a humorous turn in enjoyably outrageous, and delightfully old school comedy horror, Don't Kill It. Creed II brings with it, the best reviews of Lundgren's career and the teasing possibility he might just catch the eyes of people who had previously forgotten about him. Some of the films he's done in the last decade, even by some of the low standards he previously set, have been woeful. Such classics as Shark Lake. At the very least, Creed II's success may give him enough leverage to avert these kind of films.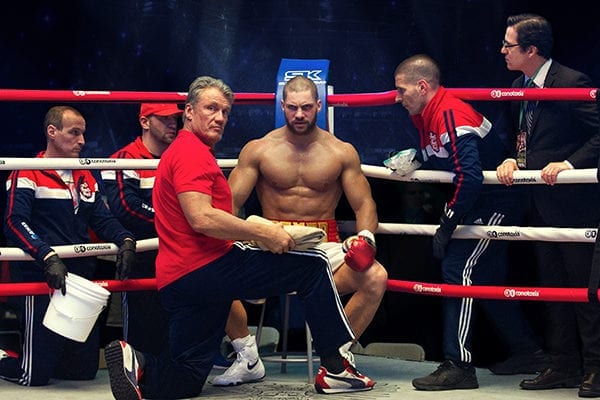 Then, over the Christmas season, Lundgren gets a significant role in Aquaman, a film that promises to capture a sense of fun that Wonder Woman managed, and an important change in ethos within the DCEU which had previously been bogged down in po-faced, self seriousness. He might not be the star attraction, or have the platform he's had with Creed II, but it's quite the 1-2 punch for Lundgren to deliver, particularly if King Nereus offers him another variation from Drago.
Lundgren may find possibilities of a sequel part coming his way (if he survives the carnage of course), as well as potentially another Expendables part, but beyond that, who knows? Nostalgia is still a draw. Maybe there's a sequel to be made from Lundgren's back catalogue, or a role in the long gestating Masters of the Universe reboot. TV is another avenue. As long as it's a good standard. His TV record is a mix of low rent game shows, cameos in decent shows, and a dismal failure called SAF3, which was supposed to be in the vein of Baywatch. Lundgren needs a 24, or something in that level of quality.
As a fan this next month is something that I would have thought impossible for my entire time as a Lundgrenite. I've had the great opportunity after having seen Masters of the Universe on the big screen way back when, to see him back in the multiplex in three Expendables films. Beyond that, it's always been home première. Now, within a month, two big screen appearances from Lundgren, and in Creed II particularly, a significant moment in his career. Full circle and finally, the mass audience and the full gamut of critics will see something that I've been seeing on/off for years (even in some of the more inconsistent films)…Lundgren offering a good performance. Like his action contemporaries, sometimes it takes a lot to change a view, and hopefully this is a start. More so, if it opens potential doors, hopefully he takes the right ones.
Tom Jolliffe is an award winning screenwriter and passionate cinephile. He has three features due out on DVD/VOD in 2019 and a number of shorts hitting festivals. Find more info at the best personal site you'll ever see… http://tomjolliffe.wordpress.com/films/