Erika Hardison reviews Netflix's Baki…
Spoiler alert.
Now, I haven't watched any other Baki series and in fact, I've never heard of this anime until I saw someone get really excited about it on my Facebook timeline. I figured I'd give it a go since I really enjoy graphic anime like Attack on Titan, Deadman Wonderland, and Devilman Crybaby. I'm also not ashamed to watch anime dubs, so I was curious to see what Baki was about. Without having any previous knowledge of this series, at first glance, it looks like a Double Dragon and Street Fighter smash up on acid and speed. Everyone is freakin' huge! These aren't typical Kung-Fu fighters huge, I mean these characters are enormous and they all look the size of X-Men's Juggernaut with chiseled chests.
Okay, on to the story; Baki Hanma is a teen and is training to be a great fighter, even greater than the best fighter in the world which is his father, Yujiro Hanma. Baki is undergoing intensive training and is being praised for his skills which somehow the word reaches every bad villain on death row and they all make it their duty to challenge him. Now, these aren't your typical villains that are just badass and tough. These are unearthly, big and powerful bad guys ( some the size of titans) that are bigger than buildings with their unusually veiny yet sculpted, testosterone pumped bodies. They all make it their duty to escape death row and make it a mission to find Baki to fight him. The real entertainment comes in as these wanted fugitives maneuver the public to get to Baki, or at least grab his attention.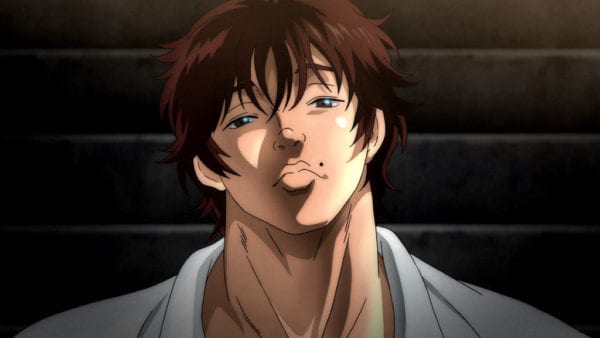 Netflix's Baki is so gruesome and gory that it is funny. If you like seeing brains and guts exploding everywhere this will tickle your fancy. The inmates that have all escaped are all the size of inhuman monsters and they enjoy killing for pleasure. Whether it's blowing someone's eardrums out until their head explodes, stuffing Japanese delicacies down your throat until their fist appears on the outside of the other end of your body, you'll probably find yourself laughing more than trying to keep up with the plot of this story. The plot is anime 101 simple: start off in a classroom where something is amidst and Baki is sleeping and unaware, Baki has daddy issues, Mitsunari Tokugawa the owner of the underground fight club ( because that's pretty much what it is) is the instigator and wants everyone to die and all the bad guys are as tough as the last bad guy you fight in a fighting game when you have half a bar of life left to kill them in the last round.
Of course our teen hero Baki, who looks like a professional bodybuilder in ripped pants and flip-flops, is unbothered by these scary and vicious bad guys even after having his chest caved in by one of them. He is so unimpressed by these convicts he just adds oil to the fire because they become obsessed with trying to fight him. They create a fighting rule of "no rules" so they spend the rest of the series in an epic every man for themselves war against each other.
Netflix's Baki is a quick watch and it's not a story that commands a lot of attention. For some viewers, it might be background noise for others like me, I simply enjoy dubbed anime with blood splattered everywhere.
Erika Hardison