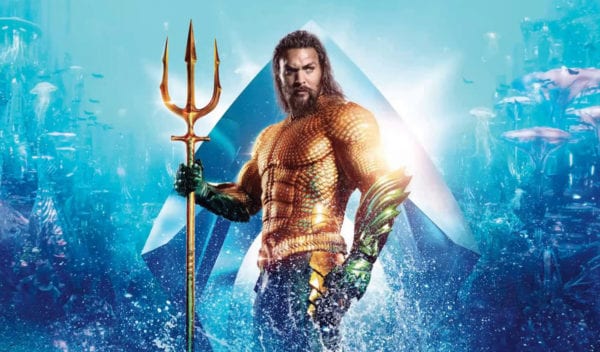 After surpassing the total box office grosses of Justice League and Man of Steel on Friday, Warner Bros.' DC blockbuster has enjoyed another stellar weekend with the underwater superhero adventure pushing its worldwide haul to $748.8 million.
Domestically, Aquaman added $51.6 million in its second weekend, pushing its North America haul to $188.8 million. It added a further $85.4 million from the international markets, taking its overseas total to $560 million.
Aquaman has now overtaken Suicide Squad (746.8 million) to become the third-highest grossing chapter of the DCEU behind Wonder Woman($821.8 million) and Batman v Superman: Dawn of Justice ($873.6 million).
How far do you think Aquaman can go at the box office? Do you think it can topple Batman v Superman? Let us know in the comments below…
SEE ALSO: Jumping the Shark on a Nuked Fridge: How Aquaman dials up the crazy to whole new levels
SEE ALSO: Jason Momoa's Aquaman joins The LEGO Movie 2: The Second Part
From Warner Bros. Pictures and director James Wan comes an action-packed adventure that spans the vast, visually breathtaking underwater world of the seven seas, "Aquaman", starring Jason Momoa in the title role. The film reveals the origin story of half-human, half-Atlantean Arthur Curry and takes him on the journey of his lifetime — one that will not only force him to face who he really is, but to discover if he is worthy of who he was born to be … a king."
Aquaman is directed by James Wan (The Conjuring) and stars Jason Momoa as the titular hero, reprising his role from Batman v Superman: Dawn of Justice and Justice League, along with Amber Heard as Mera, Patrick Wilson as Ocean Master, Willem Dafoe as Dr. Vulko, Yahya Abdul-Mateen II as Black Manta, Dolph Lundgren as King Nereus, Nicole Kidman as Atlanna, Temuera Morrison as Tom Curry, Ludi Lin as Murk, Michael Beach as Jesse Kane, Djimon Hounsou as the Fisherman King, Randall Park as Dr. Stephen Shin, Otis Dhanji as a young Arthur Curry, Julie Andrews as Karathen and Graham McTavish as King Atlan.