Aquaman director, James Wan, says that he will be the only person to blame if the film doesn't succeed.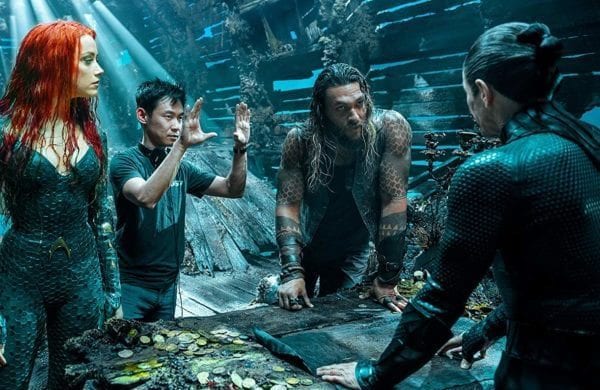 When big blockbusters aren't received well, the director doesn't always get the blame, as many of these movies are hampered by studio interference and the director's creative freedom hampered.
However, this isn't the case for Aquaman according to James Wan, who has told The New York Times that because of the freedom he was given by WB, there will be no one to blame but him if people don't like it:
"It's pretty crazy. For as big a movie as Aquaman is, I could not have had more freedom. I had all the big tools and the budget to paint on a really big canvas, but with the freedom I had on, let's say, Saw or Insidious. So if the movie works, or doesn't work, I have no one to blame but myself."
It's certainly interesting to hear a director with so much pressure on him willing to take the fall should the film not do well. Something that will surely only endear him to fans. The good news, however, is that Aquaman seems to be going down pretty well with audiences, performing nicely at the box office ahead of its U.S. release this Friday.
SEE ALSO: James Wan cut a bloody and violent shark scene from Aquaman
From Warner Bros. Pictures and director James Wan comes an action-packed adventure that spans the vast, visually breathtaking underwater world of the seven seas, "Aquaman", starring Jason Momoa in the title role. The film reveals the origin story of half-human, half-Atlantean Arthur Curry and takes him on the journey of his lifetime — one that will not only force him to face who he really is, but to discover if he is worthy of who he was born to be … a king."
Aquaman is directed by James Wan (The Conjuring) and stars Jason Momoa as the titular hero, reprising his role from Batman v Superman: Dawn of Justice and Justice League, along with Amber Heard as Mera, Patrick Wilson as Ocean Master, Willem Dafoe as Dr. Vulko, Yahya Abdul-Mateen II as Black Manta, Dolph Lundgren as King Nereus, Nicole Kidman as Atlanna, Temuera Morrison as Tom Curry, Ludi Lin as Murk, Michael Beach as Jesse Kane, Djimon Hounsou as the Fisherman King, Randall Park as Dr. Stephen Shin, Otis Dhanji as a young Arthur Curry, Julie Andrews as Karathen and Graham McTavish as King Atlan.