Slay Belles. 2018.
Directed by Dan Walker.
Starring Barry Bostwick, Kristina Klebe, Susan Slaughter, Hannah Wagner, Stephen Ford, Diane Salinger, and Richard Moll.
SYNOPSIS:
It's Christmas Eve, and three cosplaying women come across the malevolent Christmas demon Krampus. The girls must team up with Santa Claus himself to battle the creature and save the world.
Dan Walker's Slay Belles: another traditional North Pole distortion that values "Ha Ha Ha's" over "Ho Ho Horrors." More Ugly Sweater Party in its exploitation tomfoolery than A Christmas Horror Story, where Krampus' smackdown against Santa evokes primordial savagery. Is that a reference only, like, two of you will understand? Of course. You haven't endured even half the Christmas Horror obscurities as this disturbed critic. If there's anyone you can trust on such options you're reading him. What we have here is a slapstick-silly seasonal brawl sold on sex appeal, dubstep breakdowns and a do-it-yourself aesthetic better saved for the most devoted Xmas weirdos.
Low budgets, lower hanging fruits, but holly-jolly Krampus nastiness doth exist – better appreciated with spiked eggnog.
Sadie (Hannah Wagner) and Dahlia (Susan Slaughter) are the "Adventure Girls," YouTube personalities defined as "urban explorers." For their Christmas Eve episode, the flaunt-it-if-ya-got-it duo looks to invade abandoned fantasy village Santa Land. Colorful mushroom cabins, children's theme park rides, candy-striped decor – what could *possibly* go wrong for our online superstars, with best friend Alexi (Kristina Klebe) along for the ride? How about a Krampus attack that threatens surrounding residents as he eats their hearts. It's up to these "Slay Belles" to help Santa (Barry Bostwick) defeat his evil other half or Christmas may be canceled forever.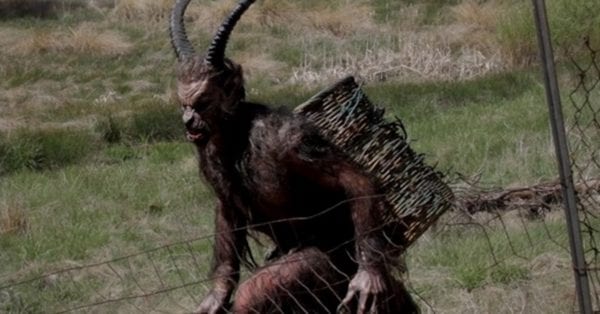 Three seconds worth of trailer footage is enough to confirm Slay Belles runs on passionate indie filmmaking, meager means, and department store costumes. Low-fi production values across the board, from CGI touchups to fake-out camera whips that cut away right when Krampus is about to strike. Grainy "online" shooting feeds, reliance on cast energies, and a story that dodges to meet whatever restraints production wrestled. No Krampus blockbuster value. Nowhere near Black Christmas (2006, even). If you're someone who cringes at the word "indie," move along.
"Spooky" Dan Walker – as he's credited – mines Krampus' European traditions when enacting the film's prime conflict. A demonic figure who snatches children and drags them to hell. Unnerving, until Slay Belles undercuts gore and swaps in hairball fuzz puppets with teeth. So much talk of gruesome crime scenes (we don't see) and vicious maulings (off-screen), only a decapitated head and one hilarious Santa effect in Act III (animation struggles to lift rocket-red sleighs or superimpose Santa a day Barry couldn't make set). Oh, and asshole boyfriend Brian (Rich Manley) answers Sadie's call at the *worst* possible moment for an added prosthetic rip-n'-tear. Bloody bits of human insides do exist, but only in *brief* spurts. Otherwise, Walker teases lusty after-dark packaging with an empty box inside.
Except when you open the wrapped switcheroo, EDM Christmas remixes assault unsuspecting eardrums. On second thought, maybe Slay Belles is scarier than I'm recounting?
When cinematographer Graham Robbins steadies his camera, holiday accents inherently strewn about Santa Land decorate an elvish fantasy world where social media mavens can monetize wonder. Unfortunately, so much of Walker's story flips between YouTube video windows, selfie front-facing lenses, and unflattering Krampus POVs drenched in green or red filtering. Cameras tumble like they're stuck in a snowy avalanche, jostling freely to minimize focus. Hard to follow, fuzzily out of focus, and never worthy of what holiday atrocity *should* be occurring.
Providing relief is Barry Bostwick as Santa Claus – a bandana-and-leather ruffian with magical staff – whose superpowered hamminess is, quite frankly, epic. Walker's humor sustains teenage juvenility, but Bostwick's long-staring Krampus herder scores some genuinely laughable moments pit against the aghast Adventure team. Scripted gags often boil down into curse words emphasized after holiday greetings ("Merry Christmas, bitch!") – rather trivial – unlike when Bostwick bites into sugar cookie crispness with a war-glazed malaise as an act of intimidation. Relief isn't *always* within reach  – acting across the board falls into off-kilter improvisation classifications at times (whether or not improv occurred) – but Bostwick's overreaching performance helps to ground, for example, Hannah Wagner's YouTube energizer bunny overload.
Here's the reality: Slay Belles promises a Yuletide throwdown between three out-of-place hotties (flashed skin for nudity's sake), hermit wizard Santa, and slobbering Krampus (full suit, better than most Krampus films). What's delivered? Maybe half of that premise, with a focus on "Belles" seductively galavanting for "likes" then acting dumbfounded for forty-five-ish minutes and doomsday badass for five. Minimal practical effects, bounce-about storytelling that's never able to capitalize on Santa's weaving of Krampus lore, and "infectious" personality that feels explicitly crafted for Twitch-watching, electro-ravin' millennials (drink every time someone demands a selfie). It's got punk-pop energy, Christmas spunk (mounted Rudolph, seasonal weaponry), an ambitious premise – high in creative spirits, lacking a fastened bow that keeps everything tight.
Flickering Myth Rating – Film: ★ ★  / Movie: ★ ★ ★
Matt spends his after-work hours posting nonsense on the internet instead of sleeping like a normal human. He seems like a pretty cool guy, but don't feed him after midnight just to be safe (beers are allowed/encouraged). Follow him on Twitter/Instagram (@DoNatoBomb).