Glass. 2018
Written and Directed by M. Night Shyamalan
Starring James McAvoy, Bruce Willis, Samuel L. Jackson, Anya Taylor-Joy, Sarah Paulson, Spencer Treat Clark, Luke Kirby, Marisa Brown, Charlayne Woodard, and M. Night Shyamalan
SYNOPSIS:
Security guard David Dunn uses his supernatural abilities to track Kevin Wendell Crumb, a disturbed man who has twenty-four personalities.
After having seen Glass (M. Night Shyamalan's hotly anticipated sequel to 2000's Unbreakable and 2017's Split), I'm not sure if the title is referring to the brittle bone-diseased but intelligent master orchestrator of dastardly plans Mr. Glass (Samuel L. Jackson returning to the role) or how fragile the plot becomes as soon as one begins to analyze it, even at surface value. Specializing in twists, it was a given that Glass would probably contain a few surprises, calling a little extra attention to the logic behind the story and actions of the (either gifted or suffering from delusions of grandeur) characters, but I suppose that's the price M. Night Shyamalan pays for making that the trademark of his wildly mixed directorial quality. Glass isn't necessarily at the bottom, but whatever goodwill he earned back from this critic with the decent Split has gone right back down the toilet.
There's so much to talk about it's difficult finding a place to begin; that's how much movie is going on here. According to Shyamalan, the original cut of the film was over three hours before cutting it down to the 2+ hours we have here, with the movie flying through so much material in parts that it's hard to soak in or muster up some empathy for anything the trio of would-be heroes or villains are doing, whereas other segments linger on to the point of boredom and questioning everything about the execution. I'm not saying Glass needed to be a straight-up action movie, as I would have been perfectly fine (and I suspect many others would have been as well) with the slower parts (mainly everything in the mental institution, an already somewhat contrived way to bring the characters to the same location and condense much of the storytelling) as long as they were interesting.
Instead, Glass is roughly one hour of Dr. Ellie Staple (Sarah Paulson) desperately trying to convince Kevin Crumb (James McAvoy returning as the DID-diagnosed kidnapper of high school girls, only now he has lost control entirely to The Beast and whatever personalities support that persona), David Dunn (Bruce Willis portraying the world's most boring superhero as he sleepwalks through the role, disgracing every emotional moment he is handed), and Mr. Glass (heavily sedated but with more obviously going on within his brain to everyone but the doctors) that they are not actually superheroes and that it's all in their head. By extension, the film also goes in hard on tricking the audience into believing that these people might just be crazy, but the constant rationalizations for every superhuman or unexplainable act we see quickly become annoying, primarily because it's all handled with terrible metaphorical writing that drives home cringe-worthy points like hammering a nail, and the fact that no one in their right mind will actually believe that the twist could be that these characters are just insane and will not end up in a climactic battle that resembles something out of a comic book. Even if the movie stripped all of the third act from the marketing, still no one would believe whatever the fuck Shyamalan is selling here.
Also, combining two films and three fascinating characters for one-story wasn't enough to focus on; Spencer Treat Clark returns as Joseph Dunn serving as an oracle for his father's low-key vigilante crime fighting, Anya Taylor-Joy gets saddled with an underdeveloped subplot showing that the trauma both her and Kevin have faced in life has made her understanding of him (she might even love him, but you will just have to watch the movie to see how ridiculous things get), and Mr. Glass' mother is well, his mother. There's not a single interesting thing to note about her character, but she still comes away looking better than the nonsense Anya receives.
Here's the thing though, if this movie were strictly about James McAvoy and Anya Taylor-Joy, it might have made for an interesting Split sequel; the problem isn't that Shyamalan wants to turn this particular story arc into a disturbing variation of Beauty and the Beast (possibly with an underage girl, which is a strange element not discussed at all during this undercurrent of romance), as these characters have faced some truly horrific abuse out of their hands and really might be able to bond in their own fucked up way. No, the reason none of this works is simply due to the fact that both of their abuse was poorly handled in Split, and their characterizations are no better here because Shyamalan is too busy shoving more comic book analysis dialogue in your face, as if he's trying to show us that he's enlightened to the entire medium in a way no one understands.
Anything related to Unbreakable basically feels shoehorned in, even if the three major stars all receive relatively the same amount of screen time. Glass feels more like fanfiction from its own creator rather than anything that functions and flows organically, and I'm almost positive Shyamalan came up with one of the major reveals for it while he was putting the finishing touches on Split. It's a mess populated with far too many characters, subplots, and around an hour of psychoanalyzing that elicits no reaction.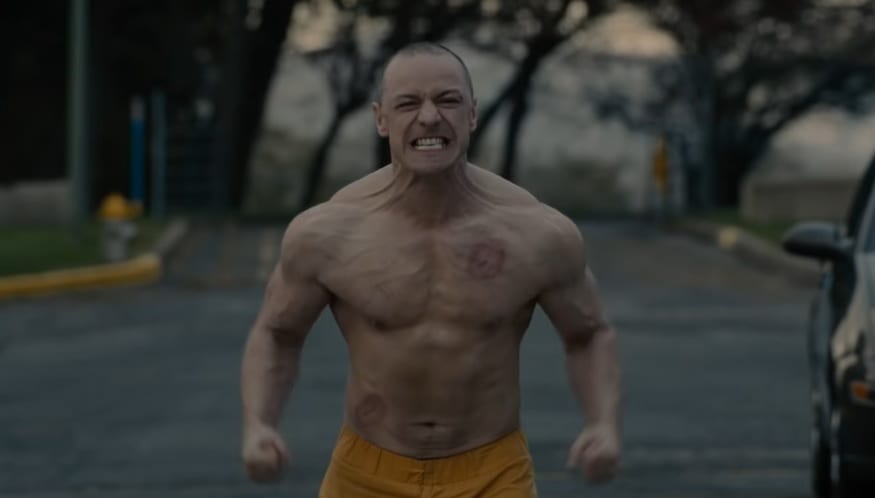 The only bright spot here is James McAvoy, who once again demonstrates a crazy amount of acting talent switching between personalities on-the-fly, and generally just being able to embody so many different characters within the same movie. Whenever he's on screen, the movie is usually entertaining and fun. Even the battle sequences at the beginning and the end are fine, although some late-game twists certainly ruin the thrill of the climax (mostly because they don't make any damn sense). Look, this review was not fun to write, particularly because there are a plethora of good ideas in Glass, but Shyamalan isn't just smashing puzzle pieces into the wrong slots, he's trying to piece together a puzzle from different puzzles altogether, leaving us with a disaster and thoughts of how this could have gone right.
Flickering Myth Rating – Film: ★ ★ / Movie: ★ ★
Robert Kojder is a member of the Chicago Film Critics Association and the Flickering Myth Reviews Editor. Check here for new reviews, friend me on Facebook, follow my Twitter or Letterboxd, check out my personal non-Flickering Myth affiliated Patreon, or email me at MetalGearSolid719@gmail.com