Piercing, 2018.
Directed by Nicolas Pesce.
Starring Christopher Abbott, Mia Wasikowska, and Laia Costa.
SYNOPSIS:
A man kisses his wife and baby goodbye and seemingly heads away on business, with a plan to check into a hotel, call an escort service, and kill an unsuspecting prostitute.
I'll tell you what; no one can accuse filmmaker Nicolas Pesce of being unadventurous. Piercing – his sophomore rebuttal to black-and-white "arthouse" debut The Eyes Of My Mother – splashes Giallo enthusiasm and revamped Deep Red/Tenebre scores atop seductive murder plots. Once a somber, slow-simmering architect, now in command of sinister and sanguine (near) throes of passion. Pesce embraces jazz-scat rhythms of European storylines uninterested in structure – which, from experience, is what will divide Piercing audiences.
Reed (Christopher Abbott) paints an unassuming family man picture at first glance. He leaves wife and child behind for a "business" trip, but instead checks into a hotel and phones an escort service. Laid on his rental bed are implements of a serial killer despite his nauseous anxiety. Reed's companion for the night, blondie Jackie (Mia Wasikowska), arrives to a suited man fumbling over his own nervous words and immediately locks herself inside his bathroom. Welcome to the longest, oddest, most unexpected night of Jackie and Reed's lives.
Piercing is to day as The Eyes of My Mother is to night (sorry for standardized testing PTSD). The former a stylistic collage of miniature model apartment buildings (LOVE these credits crawl backdrops), black velvet bedspreads, and mutilation chamber games that bounce about intent. Pesce's vision lifts from 70s exploitation era darkness as a means of operatic repulsion on the grandest stage. An unsubtle psychosis masks an otherwise hinted romance between two damaged souls. We (critics) often scramble to identify newer films based on their pre-period connections, and in doing so here, Pesce crafts one of the more faithful Giallo interpretations in recent memory (up there with Knife + Heart and Berberian Sound Studio).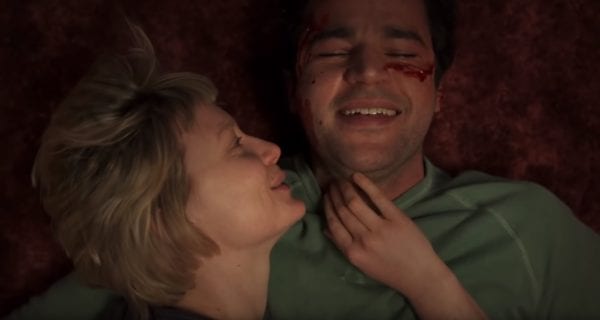 Sure to cause frustration is a ponderous nature about acid trips, motivations, and existential forces haunting Reed's psyche. As Jackie slips illicit narcotics into her newfound companion's creamy soup, disorientation opens a BDSM floodgate of traumatic imaginary. Leather clad fornicators in gimp suits, "Girl With Bunny," a pulsating stab wound on an exposed woman's abdomen, parasitic creatures traversing drain pipes – all glimpses into Reed's hallucinogenic trip. As Jackie toys with the sunken man, Reed's complicated reality becomes harder and harder to decipher. An abstract mural of fetishistic origins nary bothered by linear constructs (read: confident), but artistic expressionism can easily be viewed as a distraction.
The above leads to my warning of style over substance. Goblin-inspired organs bellow and plucked strings erase the need for discernible reasons concerning Reed's amateur Dexter act; shaggy gothic apartment decor so inviting you don't question Jackie and Reed's back-and-forth as neither character can execute their objective. Piercing is a pervasive character study that cares more about aesthetic genre reverence. Self-harm, ball gags, and kinky instability spattered against a tapestry with no background. What an erotic incendiary glimpse, but a slight, undefined glimpse.
Supplementary characters exist for brief moments – mostly voices via telephone – leaving Abbott and Wasikowska to untangle knotted chemistry. Unbuckling restrictive straps that never lead too forcefully, teasing one another with pointed edges as to tickle a reaction. Once again, it's never profoundly clear as to either's reasoning – but damn do they promote a good after-hours show. Both excited and troubled by danger, writhing in ecstasy under immense pain or fear. Abbott's "charm" a restive Manson family member who lacks experience, Wasikowska a pixie prostitute Pandora's box never fully opened.
Nicolas Pesce's return makes unsettling use of sex, lies, and sultry sadomasochistic tendencies embroiled in a baby demon's ordered slasher spree (soak that in). Bursting with an intense love for Argento and Japanese cinema alike (based on Ryû Murakami's novel), focus here remains on extreme sensationalism. For some, a euphoric tragedy of star crossed souls bound by their own tied-tight personal heaven/hell. For others? All fumbled blades and bondage foreplay without any juicy culmination. Truly ambitious virtuosity with mileage that varies based on your need for structure, discipline, and naughtiness kept in line. The very definition of "divisive."
Flickering Myth Rating – Film: ★★★ / Movie: ★★★
In select UK cinemas from 15th Feb and available on Digital from 22nd Feb. 
Matt spends his after-work hours posting nonsense on the internet instead of sleeping like a normal human. He seems like a pretty cool guy, but don't feed him after midnight just to be safe (beers are allowed/encouraged). Follow him on Twitter/Instagram (@DoNatoBomb).