Stan & Ollie, 2018.
Directed by Jon S. Baird.
Starring John C Reilly, Steve Coogan, Shirley Henderson, Danny Huston, Nina Arianda and Rufus Jones.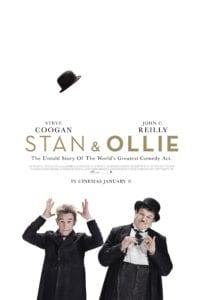 SYNOPSIS:
Laurel and Hardy, the world's most famous comedy duo, attempt to reignite their film careers as they embark on what becomes their swan song – a grueling theatre tour of post-war Britain.
It's enormously refreshing amid the current awards season circus to simply sit down with a gently enjoyable movie which hasn't had heaps of superlatives or hyperbole piled on top of it. And while Stan & Ollie certainly isn't a Best Picture Oscar contender by any means, it is an affably straight-forward, heartfelt biopic which sheds light on one of pop-culture's most iconic duos.
Following a brief prologue set during their much-vaunted heyday in 1937, the film leaps forward to their twilight years in the early 50s, as they undertake a tour of the U.K. comprised of grotty, half-full theatres and even grottier hotels. This professional impasse subsequently causes the two to examine the baggage of their sometimes fraught working relationship.
It's fair to say that Stan & Ollie doesn't get especially down and dirty with its subjects, but its script – penned by Steve Coogan's Philomena collaborator Jeff Pope – does perform a fine balancing act of representing the team's easy charm while also delving comfortably into their personal woes.
On one hand audiences will be treated to some delightful recreations of the duo's most famous skits – some of them even inserted into unexpected narrative junctures with a self-aware smirk – and on the other, they'll get a character-driven two-hander as these two men try to figure out their place in an era dominated by Norman Wisdom.
And though Jon S. Baird's direction is solidly stylish – an opening single take sequence of the pair walking to their set gets things off on the right foot – this is a film that absolutely lives and dies on the strength of its performances.
Steve Coogan isn't a particularly natural choice to play Laurel, and honestly if you're unaware of the man's transatlantic twang it might sound like Coogan's accent is constantly slipping, but rest assured that this is a sure calculation on the actor's part. Coogan brings affecting dignity to the role even if he's unquestionably working with the less-showy of the two.
John C. Reilly meanwhile makes a mind-boggling transformation into Oliver Hardy bordering on witchcraft. Thanks to Reilly's exemplary rendition and some Oscar-worthy make-up effects enhancing his natural build, it is a shockingly uncanny performance that sees the actor effortlessly avoiding the biopic pitfall of veering into caricature.
Reilly has quietly cemented himself as one of the most gifted character actors of his generation for years and years, and his remarkable work here additionally provides a much-needed palate cleanser following last month's execrable Holmes & Watson.
What Coogan and Reilly do together is build a surprisingly sad and melancholic film about the anxious unpredictability of fame and the difficulty of reconciling personal relationships with an industry that thrives on The Next Big Thing.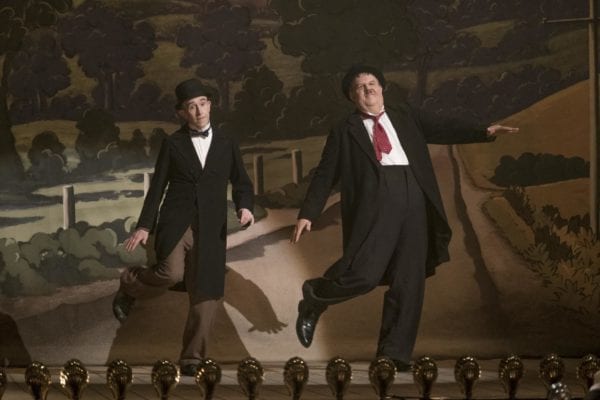 The public perception of the two is unquestionably amiable, and while this film aptly doesn't do a whole lot to move that needle, it does add shade to their popular legacies and presents them as fleshed-out human beings. But far from relentlessly downcast, this biopic largely confirms the enduring power of their off-screen friendship, inextricably linked with their stage partnership as it was.
It would also be remiss not to mention some cracking supporting performances, namely the ever-wonderful Shirley Henderson as Hardy's long-suffering wife Lucille and an hilarious Nina Arianda as Laurel's catty spouse Ida. The numerous scenes in which the pair squabble with a scarcely-veiled disdain for one another very nearly threaten to steal the show away from the prime pairing. Almost.
Stan & Ollie certainly doesn't do anything particularly creative or unique with the biopic form, but its sure emotional authenticity ultimately prevails over any hint of playing it safe (of which there are many).
Whether you're a long-time fan of the duo or the most casual observer, this is a snappy sneak of a film that builds to an unexpectedly poignant finale. Stan & Ollie is a simple yet warm-hearted and charming film anchored by an incredible John C. Reilly performance.
Flickering Myth Rating – Film: ★ ★ ★ ★ / Movie: ★ ★ ★
Shaun Munro – Follow me on Twitter for more film rambling.