Joonas Suotamo, the most recent actor behind popular Star Wars character Chewbacca, has detailed some of the difficulties involved with playing the part.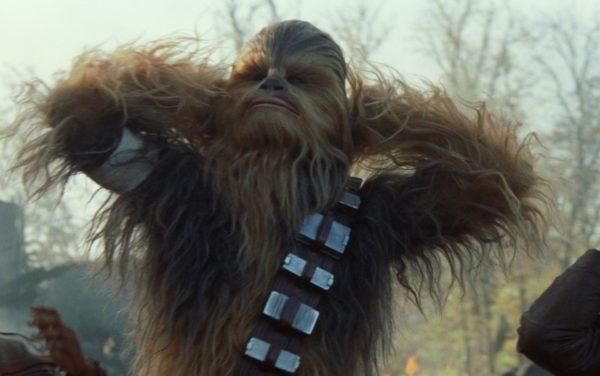 When we see some of the fantastical Star Wars characters appear on screen, we don't often appreciate what goes into making these characters a reality – especially when it comes to creatures made through costumes, prosthetics, and makeup.
One of these characters is certainly Chewbacca, and Joonas Suotamo, who has taken on the role in recent years (most recently in Solo: A Star Wars Story and Star Wars: The Last Jedi), has detailed some of the difficulties that arise on set with Chewbacca's stifling furry costume.
Taking to Instagram to express his delight at being able to play this iconic character, the actor said: "Playing Chewbacca is a dream. But sometimes there were days that were more demanding than others. On interior sets there might not be any real airflow and the hairs would just trap all the heat to the fur and cause a slow temperature rise. While filming I would perform my bit and we would go again many times – usually this would take from an hour to 2 hours. On scenes requiring 3 hours I would sometimes need to start conserving my energy, which unfortunately meant having to reserve some of my jokes for after filming ? #chewbacca #starwars"
It's obvious that the actor isn't complaining at all here, just letting fans in on some behind the scenes details regarding a character that so many have come to love across the decades. We will next see Chewbacca in the upcoming Star Wars: Episode IX.
SEE ALSO: Star Wars: Episode IX trailer reportedly attached to Avengers: Endgame
Star Wars: Episode IX is set for release on December 20th 2019 with J.J. Abrams (Star Wars: The Force Awakens) directing a cast that includes Star Wars veterans Daisy Ridley (Rey), Adam Driver (Kylo Ren), John Boyega (Finn), Oscar Isaac (Poe Dameron), Lupita Nyong'o (Maz Kanata), Domhnall Gleeson (General Hux), Kelly Marie Tran (Rose Tico), Joonas Suotamo (Chewbacca), Billie Lourd (Lieutenant Connix), Greg Grunberg (Snap Wexley), Mark Hamill (Luke Skywalker), Anthony Daniels (C-3PO), Billy Dee Williams (Lando Calrissian) and Carrie Fisher (Leia Organa) as well as new additions Naomi Ackie (Lady Mabeth), Richard E. Grant (Logan), Dominic Monaghan (Lost), Matt Smith (Doctor Who) and Keri Russell (The Americans).