The House, 2019.
Directed by Reinert Kiil.
Starring Frederik von Lüttichau, Mats Reinhardt, and Sondre Krogtoft Larsen.
SYNOPSIS:
Two German soldiers take a Norwegian soldier prisoner during one cold Scandinavian winter night during WW2. They are thankful that they find a lonely house out in the wilderness, but not all houses are that cozy after all.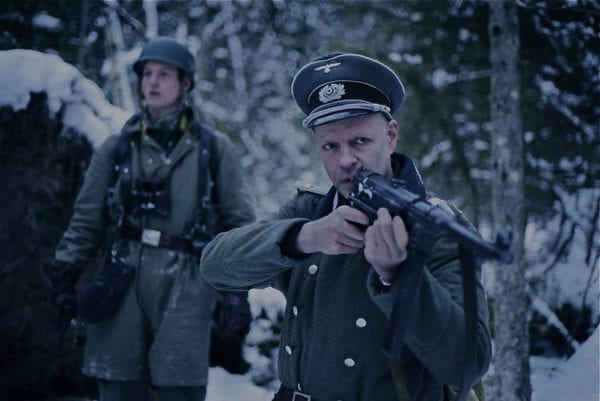 Stop me if you've heard this one before.
Two Nazis and their Norwegian prisoner of war stumble into a cursed house to escape the cold that's full of supernatural torments – ring any bells? Maybe you caught Reinert Kiil's The House (Huset) while festival touring back in 2016 because that's how long this haunted WWII head trip has been seeking US distribution. Usually, lengthy acquisition gaps point towards a lackluster product. Such is not the case for this frigid period puzzler with a heart of blackness and even colder soul.
German Lieutenant Jurgen Kreiner (Mats Reinhardt) and soldier Andreas Fleiss (Frederik von Lüttichau) can traverse no longer through Scandinavian snowfall. Weather conditions and night's approach demand the two find shelter, especially with wounded captive Rune (Sondre Krogtoft Larsen) shambling behind. The trio finds a woodland home that seems to be vacated and immediately get comfortable. A stew simmers on the stove, the radio blares, but crosses etched into living room walls suggest something amiss. Fleiss and Kreiner attempt to leave, but find there is no escape. What hell house did these no-good Nazis find?
Mr. Kiil's name might be familiar to followers of my Christmas-themed horror reviews here at Flickering Myth since he directed last year's palatable seasonal treat, Christmas Blood. I bring this up because although cinematographers differ – John-Erling H. Fredriksen credits The House – Kiil's shot composition and spacial recognition prove visually exciting. Neither film breaks scripted ground, but crisp aspect ratios, inspired framing, and situational color filters heighten presence. Harsh blues translate freezing winter temperatures outside while warmth glows indoors. Smaller details that indie filmmakers often ignore become advantages by Kiil's technical merit.
The House begs a heavy ask – especially dictated by current events – and that's to sympathize with Nazis. Fleiss repeatedly disgraces Norwegian culture be it badmouthing or outright flag burning, and Kreiner recalls concentration camp gassing orders. These damned souls might as well be Satan's lapdogs, but Kreiner at least shows regret and remorse thanks to a young girl named Ingrid he'll never forget. "The House" uses karmatic backswings to torture Kreiner much like how Fleiss is followed by ghostly "Susanne" (previously described as "not marriage material" because she owns a dildo, according to the grunt). These are trained killers caught in hallucinogenic, mind-melting, time-splicing paradoxes and they act as such – cooler than those who don't deal in death daily, which only makes their paranoia more powerful.
Moody mistrust and an exorcism of old dabble paranormal dread throughout shifty haunted house tricks. Doors shut at will, apparitions emerge from shadows, and reality defies logic. Rules of the hunt aren't defined past salvation turned sinister – Fleiss finds a guest book with etched markings similar to those on a child's closet door – which makes for a more base-value unraveling. Closing credits text mentions Skarnes Farm's history a little too late. You'll jump a few times – manipulative usage of focus and scares that creep up right outside your peripheral (lil' girly in the broken frame) – feeling the cold breath of glassy-eyed shamblers, wholly unique to Fleiss or Kreiner's demons. They sprint in circles, exasperated and quivering, only to realize there's no escape from fate. Expected horror building blocks ready to topple.
I'm going to remain uncharacteristically short here and leave you with this: The House is better than advertised, spookier than expected, and worth a curious midweek time zap. Two krauts, a local boy, and an unholy realm. Spoiling intricacies would do you no service – themes of past sins, moral greyness, and accepting consequence. Composers Kim Berg and Levi Gawrock Troite deserve a closing mention for stoking the flames of damnation with rhythmic oxygen, making for a slowly maddening period unhinge. Atonement through unholy means – Norwegian style.
Flickering Myth Rating – Film: ★ ★ ★ / Movie: ★ ★ ★
Matt spends his after-work hours posting nonsense on the internet instead of sleeping like a normal human. He seems like a pretty cool guy, but don't feed him after midnight just to be safe (beers are allowed/encouraged). Follow him on Twitter/Instagram/Letterboxd (@DoNatoBomb).