Velvet Buzzsaw, 2019.
Written and directed by Dan Gilroy.
Starring Jake Gyllenhaal, Rene Russo, Toni Collette, Zawe Ashton, Tom Sturridge, Natalia Dyer, Daveed Diggs, Billy Magnussen and John Malkovich.
SYNOPSIS:
A previously unknown painter is discovered by greedy, shallow art entrepreneurs and takes revenge in a satire/horror thriller of the art world.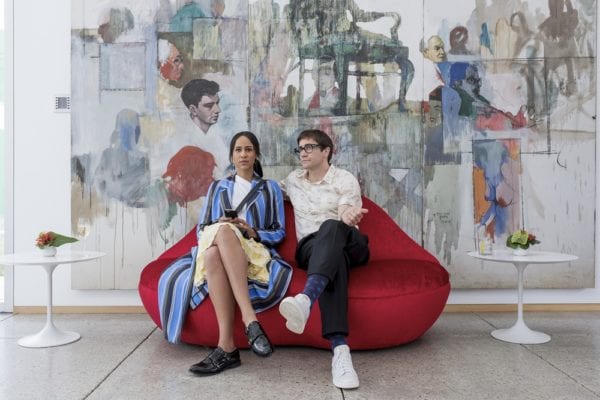 Jake Gyllenhaal is Morf Vandewalt, a stuck-up art critic, who enters an otherwise boring art exhibit. But as Dan Gilroy slowly unravels this odd satire/horror film, Vandewalt accidentally helps rediscover a disturbed dead artist, Dease. Vandewalt is among the many snobbish art-world denizens including remarkably photogenic women like Josefina (Zawe Ashton), Rhodora Haze (Rene Russo), and Coco (Natalia Dyer) who plan on profiting from re-discovering Dease and awaken Dease's wrath.
In of itself, the set-up is fairly standard as the monster lashes out at victims dumb enough to disturb its sleep. But while the film has a few penetrating scenes on the shallowness of its characters, the pay-off when the monster finally emerges is fairly leaden. Gilroy certainly deserves much praise in avoiding turning Vandewalt into another sympathetic protagonist but without a center of gravity the film drifts from one episode to another as people are picked off for no rhyme or reason.
To be sure, a plot does occur and characters do things. Haze, as a high-ranking art connoisseur, torments her assistant Coco. Vandewalt gets into a weird relationship with Josefina though it's established he's a homosexual early on. But it is unfortunate having made Dease a potentially scary character Gilroy turns him into an empty vessel to kick up the intensity on otherwise fairly dull scenes.
We get a little rather clichéd background narrated by Gyllenhaal on why Dease is bothering to hurt the victims and after his origin is established the film becomes a rather long, drawn out version of Final Destination – now relocated to plush art galleries. Yet even Final Destination had a deeper point however badly made about death and our relationship to mortality. Gilroy's Nightcrawler had a few savvy criticisms of the modern media which also starred Gyllenhaal. Velvet Buzzsaw, however, is only satisfied with laughing at its victims; no great insight is given as to why the art world is filled with such empty people beyond the obvious – addiction to fame, alcohol, etc.
Even the deaths – with one sole exception of Toni Collette – while creative lack the intensity or distinctness that the Final Destination franchise made famous. There is also a small but persistent problem that Dease's abilities are never truly established allowing him to animate art works that go after people or even literally turn people into art objects. The final death is especially illogical seemingly allowing Dease to hurt anyone using whatever means possible.
If the film is disappointing as a thriller, the performances do stand out. Everyone is fairly committed to portraying a vapid, shallow art dealer or artist. But after one or two scenes of such method acting one will pine for a break from such extreme naturalism and allow for genuine improvisation.
In the end, Velvet Buzzsaw attacks similar territory that Tom Ford mined in Nocturnal Animals but with less style and less mythic grandeur. Amy Adams may have also been shallow protagonist in the Ford film but the world she is a part of felt real and vivacious. In contrast, it feels as if Gilroy is merely stepping into the art world, having his fun, and leaving us with a shallow tour of shallow people being killed in a shallow manner. May the shallowness is the subtext of the piece itself but it lacks any specificity to make the satire truly be effective.
Is Vanderwalt supposed to be a parody of Clement Greenberg? Is Dease Jackson Pollock come back to haunt us? It is hard to say as the film closes offering no great epiphany higher than people in the art world are driven a lot by money and ego. A moralistic coda that is a bit smug from the writer of The Bourne Legacy. Velvet Buzzsaw is a tidy little yarn but being terribly derivative of David Lynch's early work it will be frustrating for a viewer wanting genuinely real horror or comedy from the promising premise that never quite reaches its maximum potential.
Flickering Myth Rating – Film: ★ ★ ★ / Movie: ★ ★ ★
Christian Jimenez