Robert Kojder chats with Climax star Sofia Boutella…
Coinciding with its U.S. release, Flickering Myth's Robert Kojder got the chance to speak to actress Sofia Boutella about her new film Climax, the latest offering from controversial filmmaker Gaspar Noe (Irreversible, Enter the Void, Love).
ROBERT KOJDER: First off, I loved Climax, so thank you so much for your time!
SOFIA BOUTELLA: Oh, thank you so much!
RK: So how did you get in contact with Gaspar Noe for this and was there any trepidation to working with such an extremist filmmaker?
SB: He contacted me on Instagram. He sent me a lovely message. I happened to follow him already at the time and I saw the message, which I was surprised by and I happened to be in Paris. So we met I think the day after and we sat and talked. He had just mentioned that he had been seeing a lot of dancers in their element and sort of spending time with them and that he had this idea to do a movie about dancers. They are in an extreme situation losing control after they are spiked with LSD and I said, "okay, what else"? And he said, "I don't know", and that's how the journey began. But he is a filmmaker that I really admire and respect and he had done incredible work before. I was a big fan of Enter the Void, Irreversible, and I Stand Alone. So I was just nothing but honored and happy. He did not know exactly the direction that he was going to take, I just had to just trust his vision. And I love his work. So I trusted being on the project with him.
RK: Following that up, what was that experience like working with him and did you learn anything as an actor from his methods?
SB: It was incredible. I absolutely loved it. He is somebody that's so easy to collaborate with. He has specific ideas, but he's also very open to suggestion and he, yeah, he collaborates very well. As an actor, I think it was such a dream to work with him. I was a bit nervous at first because we didn't have a script; we had a five-page treatment and the treatment was not a scene description, it was essentially a character description. So every day we would show up to set and we would rehearse scenes that were eight to 10 minutes long, and long-sequence shots, and we would shoot them between 14 and 17 takes. He basically also left so much room and space for spontaneity that I think in the end helped us, kept our characters alive and our circumstances alive. And that's something that I'm not used to because I usually really like overprepare. Usually, I have so many notes and so many ideas for each session. On this one, I had nothing and I had to sort of let go of the control that you can have on your characters and sort of just surrender to an everyday basis and see what happened.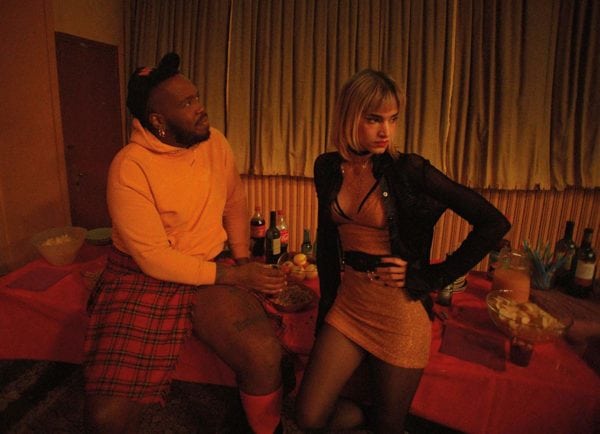 RK: We actually have an interview with Gaspar Noe up and he basically said what you said, that there wasn't much script and that he basically went around asking each dancer what they would like to do in the movie. Was that also something he asked you, and how much of your character was your own sort of creation?
SB: Yeah. Ha, it's true. He really asked people what they wanted to play. He asked them what ideas they had for creativity. And he was really open that way. He asked me if I wanted to play the pregnant girl, if I wanted to play the choreographer, etc, and we ended up picking the choreographer. And we also, I think on the second day of filming, he thought it'd be a good dynamic to see me having like some sort of an Amaris and loving relationship with David. And then the relationship built as we went off how the dynamic was between me and David's character. But we also picked, like we looked at who are the guys that would play the lover or the love interest, and it happened to be Romain because he's so talented, but he also has so much personality as a person. So that's how we picked. I told him I'd like to explore something similar to the movie Possession that Isabelle Adjani had. The only reason why I suggested that is because I was always fascinated by 'that' scene. But I always thought that she had worked with a contemporary choreographer for that moment. And I suggested that to him, that I wanted to explore something similar in terms of psychology. He said "yes, let's do it". We didn't want to do the same scene at all, but the only thing I knew getting on board was that we would start completely happy in a dense environment rehearsing and then we were going to end up in this sort of psychological nightmare.
RK: The dancing in this movie is incredible. Can you talk about the experience working with choreographer Nina McNeely?
SB: Yeah, it was my first time working with her, but I had met her, I think, two months or three months before I met Gaspar. And I had seen her work and I thought she was extremely talented and gifted and, and that there was so much feeling within her work. And when Gaspar told me about his idea of doing this project, that was my first question, "who are you thinking for choreography?" and he said nobody, he did not want a choreographer to begin with. I insisted on him looking at Nina's work and I sent him all her material and he wouldn't look at it. He was still saying "no, I don't think I want a choreographer", because he's somebody who is pretty hands-on, has a pretty good idea of what he wants to do. And I had to like beg him to keep looking and like to sort of look at her work. Then he finally said okay. So he hired her and I'm so glad that it's her because she has such an understanding of these kinds of, you know, death and dark waters and she has such a deep, deep emotional well that she can plunge from as you can see from her past work. Two days into filming I said, "so how do you feel about having a choreographer now?"and he said "it's the best present I've had on this set far".
RK: So to my knowledge you're the only trained actor this film. Did you ever give any advice to any of the other actors?
SB: Actually, there was one other trained actor, her name is Souheila Yacoub. She played the pregnant woman. She is an actress and I think she's amazing and phenomenal and beautiful, she's a great dancer as well. Everybody else was dancers, they've never acted before. When I watched the film in the end, I thought it was pretty impressive what Gaspar was able to get out of them, and I think they're all so good. I've never given them any advice unless they asked me what I thought about something, which was rare I think and pretty much didn't happen. They were in good hands with Gaspar. I didn't have to tell them anything and I would never, because I think each and every one individually is so talented and I had entire faith in Gaspar anyway.
RK: There's a lot of screaming and hysteria in this movie. I'm just wondering, did all of that ever take a toll on your throat and vocal cords, and how did you unwind after all that intense shooting every day?
SB: Yeah, I had to stay with the character. We had so little time to shoot. We only had 15 days. So it was easier for me to shoot by staying consistent. About the screaming, yeah, I think it's easier to scream through your belly like babies do. That's why babies don't lose their voice. And that's just a technical thing that you do just so that you don't lose your voice.
RK: About the dancing, everyone's individual dance moves, they're meant to be extensions of their personality. So what did you want to convey for your character through dancing?
SB: I think I was thrilled to be given the opportunity to play the choreographer. I've never been a choreographer, but I also was just thinking of something that was interesting to watch and observe, and thinking of the extreme situation for a choreographer for me in that situation would have been to play a choreographer who's not necessarily where she wishes she would be, you know, where she one time joined for something, but she didn't get there. But she has age and has some years on her sleeves at that point. Probably, that dance competition in that dance rehearsal was the first thing that made her happy and fulfilled in a very long time. And seeing the disappointment when she sees that she was losing people around her little by little was something that was also interesting to observe and to explore. Seeing that and seeing where she's losing it is like the entire frustration of these years of not feeling good enough or not feeling that she is where she should be. That's where I played it from for the character.
RK: Can you talk about what instructions you were given to realistically portray being under the influence of LSD?
SB: Oh, I essentially did a lot of research online. That's what I did. And there were drugs that jumped to mind, Flakka and this other one called Crocodile, which are horrible, horrible, horrible drugs. And I had no idea they existed because I started with LSD, and what I was seeing online was not extreme enough. So I just wondered and started speaking with Gaspar, to find that thing that is interesting to follow and observe. He basically agreed and then I went with Flakka, that's in my interpretation. He liked that. If you look at Flakka online, it's pretty disturbing. I mean, I wouldn't encourage you to look at it because I wouldn't go and look at it if I didn't have to.
RK: Now you have me curious!
SB: Well good luck, good luck. You can't hold me responsible, I advise you not to.
[Laughter]
RK: Outside of the elaborate dancing obviously, what was the most challenging scene to perform?
SB: For me it was essentially the corridor scene that was the most challenging one because it took the life out of me and because it was very energetically intense and because psychologically it was also very intense. Also we had to rehearse the path, the choreography for that was not set. And so we learned the choreography as we went. And with Nina, cause we were in LA, both of us I think had two months before flying to Paris and we had a bit of time. We never worked together, but we decided to go to a dance studio and see what happened. And we played the music and she had seen my work. So we started with counting, like placing movements on the music on specific counts and then we kept trying that and at some point, she just played the music and I told her I'm just going to go for it.
Then she grabbed the phone, starts filming me, and she was giving me notes as I went that I would listen to. Sometimes I would skip notes and sometimes I would go for the notes. In the end, that's how, and then she edited it and she's an amazing editor too. She sent it to Gaspar and he said, "that's it". So we did not want to set any specific choreography. We needed to see the space in order to see what we would do with the space. And so what we did that morning as we were rehearsing the camera movement, when initially the camera was only going from the corridor to the back room and coming back to the corridor and going to the kid, we shot I think at that point, four scenes, and every time we would see the take and Nina would give me notes and I would adjust as I went and I would have like time to reset.
On the fourth take Gaspar said, I really want to film you through the bathroom window through the bathroom mirror. So we had rehearsed again for another half an hour that pass. So it's going from the corridor to the backroom, back to the corridor, to the bathroom and then to the kid. But after. I was like, what's going to take me to the bathroom? I need a reason. So I think on the fifth take I started looking at my hand because I had been rolling on the floor and been high. I thought I need to wash my hand, and Gaspar said, "no, don't do that because this other character Lea is seeing blood on her hand and she's washing it off in the bathroom." We hadn't shot that scene at that moment and I said "okay, what else"? And so I knew I wanted a rest within in that frantic moment and that's why I have that moment on the couch where I'm looking around me at the space and I decide to tuck myself into my tights, wanting to feel, refrained and comfortable, and then losing myself forgetting that my hands are there and then eventually wanting to get up and seeing my hands underneath the tights. It made me feel like I had my hands stuck in my legs and that was a nightmarish idea for me. I said "I think that works" and Gaspar liked it.
So we did that for two takes and I think on the last one, the seventh take Gaspar told me, okay, we can do whatever you want now. And so, same thing I think on the sixth take, I look at myself in the mirror and didn't have a reaction, like, no, I can not look at myself like, like it's normal. I have to look at myself like I'm seeing the worst monster on the planet and like I don't recognize my reflection and he said, do whatever you want. So I did the scare and that's when I decided to put my head under the water, because we didn't have any time to reset for the hair and dry them and reset the makeup. So the take that you see in the movie is the very last take.
RK: Real quickly, did you have any involvement with Star Trek 4 or do you still have any involvement with it?
SB: Oh, I have no idea. You probably will find out before me!
RK: Well, it was very lovely meeting you and thanks again, I loved the movie.
SB: Oh, thank you so much. Thank you.
Many thanks to Sofia Boutella for taking the time for this interview.
Robert Kojder is a member of the Chicago Film Critics Association and the Flickering Myth Reviews Editor. Check here for new reviews, friend me on Facebook, follow my Twitter or Letterboxd, check out my personal non-Flickering Myth affiliated Patreon, or email me at MetalGearSolid719@gmail.com