Black Ruby, 2017.
Directed by La Raza.
Starring Zachary Laoutides, Krystal E. Heredia, Ric Morgan and Joseph Mennella.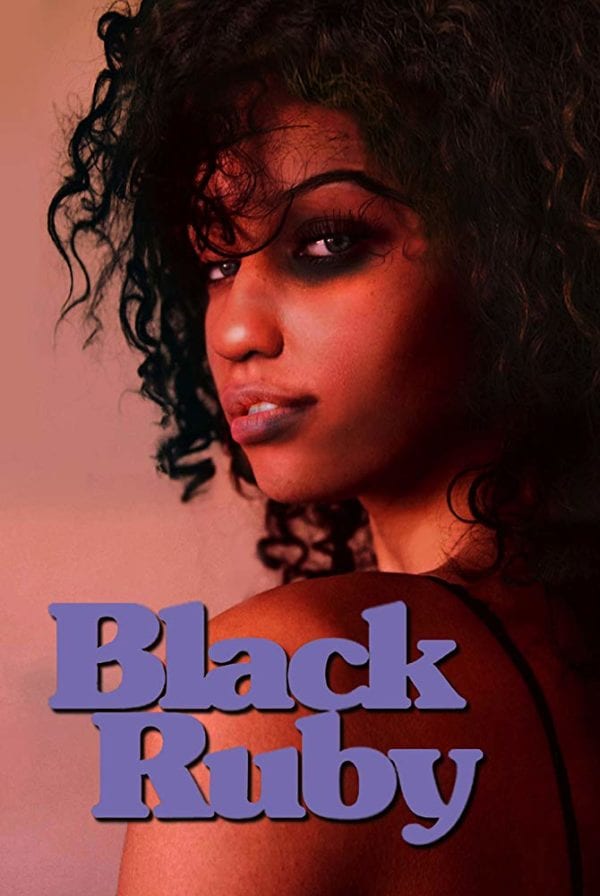 SYNOPSIS:
The first feature film shot entirely on the iPhone 7, captures the story of two best friends, Jules and Louis, hustlers and jazz musicians who struggle to create a hit song when a young seductive black-Hispanic escort named Ruby finagles her way into their lives. Ruby turns their friendship upside down distracting Jules from his music and causing Louis to street fight his best friend's debts away.
Black Ruby is listed as a thriller but it is an underwhelming story that has much potential. The highlights of this film are that the cinematography of the iPhone 7 is great. This should give aspiring film creatives hope because if Black Ruby can win accolades and recognition anyone with a smartphone can.  From the very beginning, the storyline is just cringeworthy. If you find yourself watching Black Ruby, you will probably rewind a few times to see if you missed something to understand what you are watching.
The opening of Black Ruby is a narrator's voice and a poorly choreographed fight scene. You have two clean-cut white males who are being referred to as the n-word. I still don't understand why or what that means in the grand scheme of the film. Maybe it was the precursor to their poorly usage of African American Vernacular Slang (AAVE).
There are several conflicts in Black Ruby; Jules and Louis are supposed to be hustlers and jazz musicians but only ones of them actually makes music.  I don't understand the hustling part because one works at a coffee shop and the other one works at his girlfriend's furniture store. Perhaps they are using hustling as a term for the working class. Eventually, we find out the hustle is fighting in backyards to pay for Louis' drugs. It's still annoying.
Jules is the friend who is the ex-boxer who bails Louis, a recovering addict out of trouble all the time. Jules is living with his girlfriend and his girlfriend seems to be combative with him about their relationship and about his career. As the film progresses, we discover that Jules is working at his girlfriend's father's furniture store. Her father tells him he's a loser and reveals Jules has never won a fight. Or maybe he did win a fight and the father doesn't know, but it isn't really clear.
Ruby is an overly sexualized sex worker with bad hair. All she wants to do is have sex and her sexual prowess is displayed as something so mythical it is breaking up a lifetime brotherhood between two friends. Jules and Louis find themselves making questionable and even erratic decisions based on their infatuation with Ruby.  Some of the choices they make are predictable while the other choices they make just doesn't make much sense.
I had a hard time writing this because I couldn't believe how horribly cliche this was and so tone deaf. I was thinking maybe this film isn't intended for me but what kind of people will praise such an incomplete project with such cringe-worthy acting and dialogue?
I hope Black Ruby inspires filmmakers to use resources that are at their disposable to create independent films. Visually, it looks great and I was really hoping to see something cool and stimulating. But between the yucky fetishism and poorly-timed usage of urban slang, it seems more of a parody than a thriller or drama.
Flickering Myth Rating – Film: ★ / Movie: ★
Erika Hardison