Trespassers, 2018.
Directed by Orson Oblowitz
Starring Angela Trimbur, Zach Avery, Janel Parrish, Jonathan Howard, Fairuza Balk, Carlo Rota.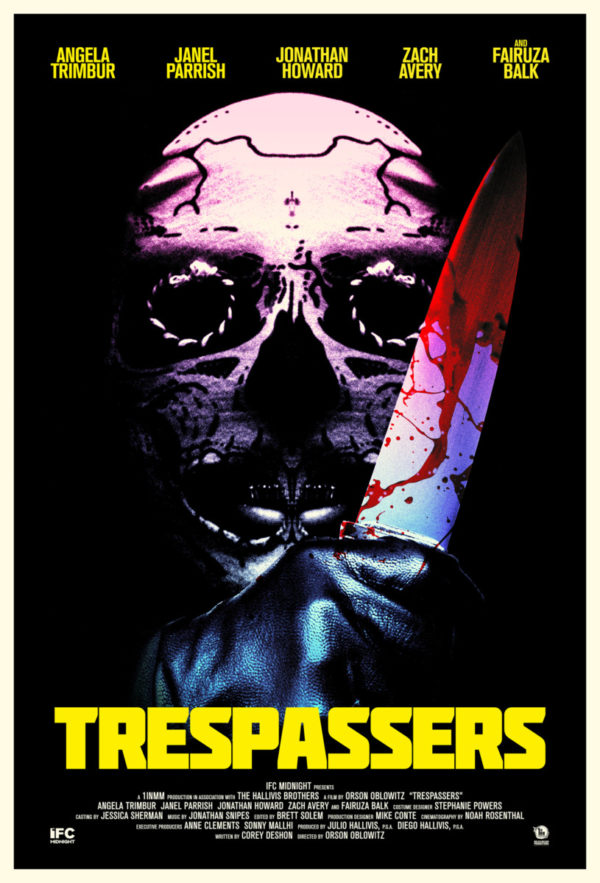 SYNOPSIS:
Two couples, each attempting to work through their  troubled relationships, rent out a beautiful home in the Mojave desert for a drug and sex fuelled escape from reality. Things quickly turn strange when an unnexpected neigbour drops by asking for help.
A stylish home invasion thriller, Trespassers subverts the expectations of the genre in a gripping way. Even when the plot starts to unravel and the film is left with the bare essentials of blood and neon streaked interiors, the thrill of searching for escape and survival serves the tension very well. Also making use of a well craafted soundtrack of sun soaked pop songs and disturbing effects, the movie brings out an accelerated psycho drama with giallo-esque undertones nicely.
Originally titled Hell Is Where the Home Is, Trespassers sets its sights firmly on abusive relationships and the damaging effects of toxic masculinity. The very nature of what home and family is comes under the unwavering radar of what at points manages to be an insightul examination of love gone bad and fun times gone wrong.
With the trashier end of the horror spectrum represented by overtly inventive kills and blood splatter gore complementing the creepier psychological tension, the film has fun taking us along through a trail of chaotic dementia.
All of the cast perform well in this diverting release, with Fairuza Balk as the unexpected visitor to the party bringing in a nice line of understated menace and weirdness. Playing up to her most famous role in 90s favourite The Craft – she even says at one point 'I am not the Wicked Witch of the West you know…' – she helps to set up the whole explosive second act.
Featuring a whole host of creative ideas, some of which struggle a little to fully take flight (the supposed clues in the home photography dark room are an unnecessary distraction), Trespassers is never the less an entertaining trip to the extremes of human behaviour.
As a mix of home invasion and 80s style slasher it's well produced with a good working knowledge of the tools of the trade. Building up the tension, drama and hints at the troubled back stories without being too explicit, allows the story to play out at a fluid, well managed pace. A grimly cool horror show.
Flickering Myth Rating – Film: ★ ★ ★  / Movie: ★ ★ ★
Trespassers is released in the US on July 14th.
Robert W Monk