Martin Carr chats with American Gods star Yetide Bakadi…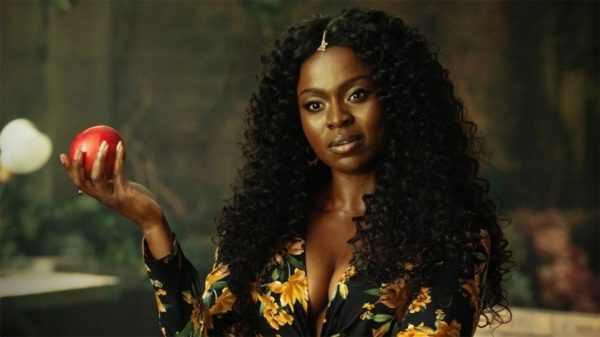 The name might not sound familiar but Yetide Bakadi is a character actor who embodies every character she takes on. Anyone familiar with American Gods will remember the sensuous Queen of Sheba known as Bilquis. Ancient as the desert sands and wise beyond measure in conversation Yetide is softly spoken, disarmingly geeky and pivots between considered reflection and easy laughter depending on the topic. In other words a real pleasure.
Firstly thank you for taking the time to talk season two. For those who are unfamiliar who is Bilquis and how does she fit into American Gods?
Bilquis is the ancient Goddess of love also known as the Queen of Sheba and she fits into the story in a wonderful way. In that we have already seen a more expanded view of her than we usually have in the book and in this world where you have the very powerful Gods, Mr Wednesday versus Mr World recruiting expressing there is only one way or the other. We now have this Goddess who is in fact a Queen who is forging her own path and offering a third way.
How do you think she evolves in this second season as appose to the first?
Well the first season was very much about trying to survive and you see her going through some hard times, but you also get some of Bilquis's back story and we see some extremely low lows and towards the end of the season you see her beginning to reach towards the heights that she wants to and actually begin to thrive. She comes in very early on in the wonderful place that is House on The Rock to a meeting she wasn't invited to and literally brings her own folding chair and says she will be heard. You can clearly see that this is a Bilquis who is stepping right back into her power. So the second season you see her evolution and see her begin to thrive. And you get to see what some of the other aspects of her are.
So for you how does she differ from the book?
Apart from the fact she didn't die immediately?
Yes apart from that.
I actually think she is very much an extension of the book. You get to spend more time in the room with her so to speak and Neil (Gaiman) describes how with the book you were in a house and you could open certain doors, but in a television show you are able to open up other doors.
Speaking of Neil (Gaiman) what do you think he has brought to season two specifically in relation to your character?
Oh everything. It's a wonderful rare gift to have the creator of the world be a large part of the show and he has consistently been so. And it's wonderful to able to collaborate with the person behind the book. So when I have question so broad I can't help but say everything. He is also very open to discussion, he also very open to collaborating and in many ways what is even more powerful is that going in the right direction with something and him going 'ah yes' puts a lot more energy behind the direction of that choice. And you now have the full backing of the person that created that, so his stamp is all over it.
Had you read any of his other books before you got involved in American Gods?
Oh yes I am probably one of the biggest geeks you will ever meet in your life. I am a huge fan of sci-fi and fantasy is what I grew up on and I read American Gods when it came out 2001, and I loved The Graveyard Book, Ocean At The End Of The Lane and his collaborations with Terry Pratchett so I have been a Neil Gaiman fan for a while.
Did you watch Good Omens when it came out?
Oh yes. I thought it was delightful. So first off I I am also a huge David Tennant fan because he was my Doctor (Who).
Is he your favourite Doctor?
Yes he is my favourite Doctor absolutely. So then there is that and you have Michael Sheen and the relationship between the two of them is just incredible, so what a gift that is. And then you have a show made my Neil Gaiman how could I not watch it? So I finished that in about two days.
My God did you sleep?
No and anything I had lined up I said look I'm sorry I'm busy you know, but I think that was a good excuse.
So what's your favourite sci-fi film?
It's hard to pick one and I go for different sci-fi for different reasons you know I love everything from Alien to Fifth Element to Star Wars to Star Trek basically anything from sci-fi or fantasy. It's hard for me to narrow it down to one.
So looking back at both seasons what have been Bilquis's most challenging moments?
I think for Bilquis the challenge has been coming from one world to a new world and finding her place in this new world. I think a big struggle for Bilquis as well was not only finding her place, but remembering the power of it and reconnecting with that power. Which I think is going to pay off.
If you could describe Bilquis is three words what would they be and why?
Ancient. Layered, sensual. Ancient because you don't really know how old she is and because that affects all of her decisions when if you are living for centuries what is just one decade to you. And how do you then move through the world with that much time behind you. Layered because we have seen certain aspects of the Goddess of love and layered because we have yet to explore all the different aspects of her. And sensual I use that term because I think her relationship to the world is heightened in regard to the sense as a whole. And that involves touch, sight, smell; she is a sensual Goddess in that she has come to fully experience this world and all its individuals allowing her to connect in that way.
To what extent do you think technology has replaced religion?
Interesting. Well I don't know if we can ever as we speak on the phone in regards to our characters, you start to find that you see through the eyes of the God who's clothes you wear. On a personal level I don't it's about replacing, it's about different areas of understanding. I think that they don't absolutely have to be opposing sides and that it depends on the way you look at it. That in many ways they might be interconnected. And can be of service to each other. In the end they all come down to belief or the way you interact with them and that is something which universally shared.
Season two addresses some challenging questions. How did you all keep it light on the set?
At the end of the day it comes down to this incredible group of people. We have a lot of passionate, dedicated individuals and people who love what they do and there is something deeply energising about that. Because every day we would all come together and create and in that there is always joy. And you know what the God squad double down on the magic.
What forthcoming projects are you excited about?
I have written, produced and also performed in a short which is coming out called Hollywoodland, I also did a spot on The Magicians in our hiatus time and obviously I am about to jump right back into season three of American Gods which is starting to shoot next month.
Describe for me your perfect Sunday afternoon.
Part of it would be reading books the other part I would definitely fit in some television shows. Yes I like science fiction and fantasy but I also like going international. Lately I've found some wonderful anime and I'm getting into that a bit more. So watching something like that in socks and sweats surrounded by stuff I love.
Do you have snacks and surround yourself with food?
Probably some almonds and sparkling water. You know exciting stuff.
Well thank you for taking the time to speak to Flickering Myth and have a good day.
American Gods season 2 is now available on Digital, Blu-ray and DVD from Lionsgate.
Martin Carr