Crawl, 2019.
Directed by Alexandre Aja.
Starring Kaya Scodelario, Barry Pepper, Morfydd Clark and Ross Anderson.
SYNOPSIS:
A young woman attempting to rescue her injured father from his house in the middle of a hurricane finds herself terrorised by aggressive alligators.
Crocodiles and alligators are great. Movies about them, however, are often not. There's very little love for Lake Placid and, as much as there's a lot of good stuff in Tobe Hooper's Eaten Alive, it's not the horror maestro at his best. Crawl, however, marks the moment crocodilia enter the game with their teeth bared. It's a raucous onslaught of gator-based chaos that, much like its central predator, sinks its teeth into everything that moves.
Splat Pack member Alexandre Aja is in the director's chair, trapping college swimmer Haley (Kaya Scodelario) and her injured father (Barry Pepper) in the increasingly flooded crawl space of their Florida home – actually filmed in Serbia – during a pretty gnarly hurricane. Haley's rescue attempts, however, are almost immediately thwarted when she comes face to face with an enormous reptile – "Be careful," Pepper deadpans unhelpfully, "there's a big gator".
Aja has creature feature form via the enjoyable Piranha reboot – before David Hasselhoff and a titular boob joke rendered Piranha 3DD a step too far – and brings all of that sense of fun to Crawl. He knows that his audience is here for the gators and wastes no time in delivering a big, old scaly money shot of his heavyweight beastie. The gators are achieved via CGI that isn't especially convincing, particularly in the midst of the very artificial-looking hurricane, but that doesn't matter all that much. After all, the best creature movie of all time saw Steven Spielberg make cinematic gold from a shark that often resembled a pound shop bath toy.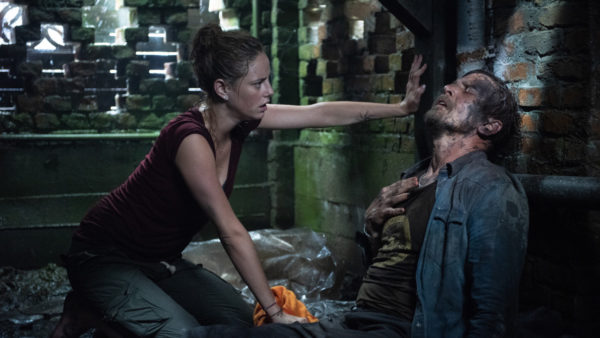 This is midnight movie pulp of the best kind, with inventive kills – one gator death rolls a dude's head clean off – and memorable chase sequences used in lieu of much narrative flair. Aja knows how to marshall a tense set piece in amongst the multiple Jaws homages – some more gratuitous than others – and finds real suspense in the omnipresent threat lurking in the murky water. The violence, when it comes, is the perfect combination of grimace-inducing gruesomeness and darkly satisfying gore, as Aja nimbly manages the inherent tonal balance at the heart of the story.
At the centre of all of the carnage is Kaya Scodelario, delivering a fearless, physical performance. Within minutes of the film starting, she's crawling through inch-thick mud and excrement en route to her father and she spends much of the snappy – sorry – running time jumping, swimming and climbing around obstacles as if taking part in an unusually high stakes segment of The Crystal Maze.
The Skins star has been badly under-served by thankless franchise roles for much of her big screen career, but this is a real vehicle for her talents as a viable lead. She emerges as a formidable force – it's not for nothing her father calls her "the apex predator" in a recurring motivational speech – and brings bona fide intensity to a role that must have largely consisted of acting against tennis balls on the end of sticks of various lengths. If her career from this day forward simply involves thwacking various critters in the face, that's a great thing. Kaya vs. Giant Wasps, confirmed for 2021.
There's nothing big or clever about Crawl and its attempts to provide extra emotional depth to the connection between the central duo are ham-fisted at best. It's a film steeped in its influences from previous creature features, but also occasionally inflected by Aja's own New French Extremity instincts towards Grand Guignol bloodshed. With all of that in mind, and in the wake of a summer that has yielded little in the way of excitement, a brisk 90-minute thrill ride of pointy teeth and cold, dead eyes is exactly what the doctor ordered.
Flickering Myth Rating – Film: ★ ★ ★ / Movie: ★ ★ ★ ★
Tom Beasley is a freelance film journalist and wrestling fan. Follow him on Twitter via @TomJBeasley for movie opinions, wrestling stuff and puns.