Gwen. 2019.
Directed by William McGregor.
Starring Eleanor Worthington-Cox, Mark Lewis Jones, Maxine Peake, Richard Harrington, Richard Elfyn, Kobna Holdbrook-Smith, and Gwion Glyn.
SYNOPSIS:
A dark folk tale set in the hills of Wales during the industrial revolution.
Every year, horror journalists (including myself) crown a new "[X] year's The Witch!" Such classification translates to "deathly moody, puritanical, period-based horror." As of a week ago, we had our "The Witch of 2019" in Hagazussa – but, frankly, more The Witch comparisons materialize by the season. William McGregor's Gwen follows movies like The Wind and Hagazussa as a cultural taste of colonial living that derives horror from rotting crops and corrosive blasphemy. Sprawling mountain ranges, isolated terror, and silent dread intensify whimpering aesthetics now commonplace throughout "historical horror." Stoke another slow-burning fire – gotta' strike while the branding iron is still hot.
Eleanor Worthington-Cox stars as "Gwen," a 19th Century Snowdonian girl forced into maturity rather quick. Her mother Elen (Maxine Peake) falls ill, her father's fled home, and a greedy mining company advances on their land. Gwen does her best to sell homegrown vegetables to marketers, but townsfolk treat lepers with more respect. Even worse, Elen's condition casts her under unnatural lights. As if ostracization and slaughtered livestock weren't enough obstacles for Gwen to hurdle.
Comparisons to The Witch, The Wind, and Hagazussa are explicit. Thrillseekers beware. Gwen is about the terrors of inexplicable sickness, impoverished struggles, and the horrors of humankind. An underaged daughter forced into matriarchal duties amidst childhood and ruthless business practices of a lawless community. People, at their core, are evil. Gwen experiences targeted humiliation firsthand, through a harrowing crucible of difficulties only made worse by churchgoers believing in curses and religious chastising. A time when people knew no better, put to screen as a sorrowful fable.
Adam Etherington's cinematography introduces Gwen via a family frolicking over grassy Snowdonian hilltops that roll as far as lenses can capture. Nature's beauty, untouched by man-made machines or excavation mining materials. Wide, spacial frames devour Gwen and her family – cast away from society – and linger on the despair found in Elen's or Gwen's latest facial emotion to tragedy. We watch these movies to be swept up in landscapes forgotten by metropolitan modernization, and – as something like Sauna accomplishes – McGregor accentuates destitution via character surroundings. Visual storytelling drenches cobblestone walls and foggy English farmlands in an unshakable state of alarm, stormclouds and midnight torchbearers rustling many a bother.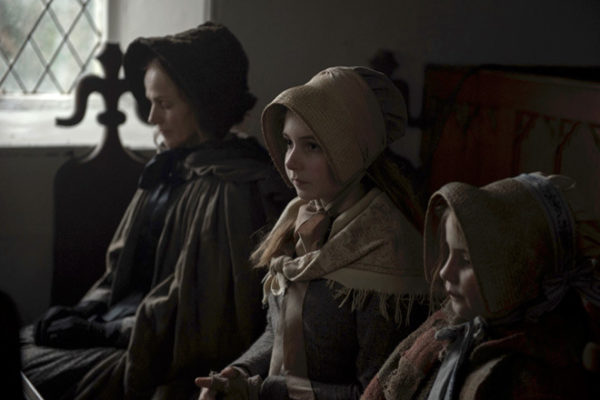 Here comes the "but," readers.
Pagan teases and dastardly businessmen never achieve darkened storytelling highs akin to The Witch and Hagazussa. Satanics and witches define previously mentioned titles while Gwen tempers haunts. Elen's form can be seen stalking hallways past bedtime, her face morphed demonic during a nasty nightmare, but upbeat horror interjections aren't jarring enough to uptick an otherwise slowest of slow burns. Gwen's plight is unholy; her lambs slain, name besmirched, and homestead under siege by those who'd see her dead in the name of "progress." Worthington-Cox and Peake's centuries-old performances transformative and enraged when called upon, spreading blood on their faces to ward off evils as an act of ritual. In terms of horror storytelling, expect the softest of sinister lullabies that trudges forward unto an ending that's over in a matter of stab wounds – but missing that next-level punch.
Gwen is a coldhearted story of classism and corruption via power. Those with nothing condemned by those with everything. Original scoring, Welsh countryside production design, and picturesque lensing – techniques are primitively divine as The Head Hunter, The Witch, and other time capsules capture. For those reasons, and a short enough run time (90ish minutes), William McGregor's somber fairytale can be appreciated despite pacing. Viewers who savor lurching period-based lifestyle dramas defined by stony gazes and relentless nothingness, Gwen will brood unforgivably and make "Top 10" lists come December. Know your brand and watch accordingly. Those who only hop aboard Train To Busan level intensity need not apply.
Flickering Myth Rating – Film: ★ ★ ★ / Movie: ★ ★ ★
Matt spends his after-work hours posting nonsense on the internet instead of sleeping like a normal human. He seems like a pretty cool guy, but don't feed him after midnight just to be safe (beers are allowed/encouraged). Follow him on Twitter/Instagram/Letterboxd (@DoNatoBomb).