The long-awaited Evercade is now available to pre-order over at Funstock.  This handheld device is set to bring a whole library of classic games from publishers which include Namco, Atari and Interplay.  Not only that when you land at home you'll be able to upscale these classic games to you HD TV too.

With titles including:- Dig Dug, Earthworm Jim, Galaxian, Splatterhouse 2 and Way of the Exploding Fist, to name but a few out of the 100+ titles named so far.  You'll find these collections of games separated into individual publishers cartridges.  The Evercade console features a 4.3″ screen which has been developed to deliver an authentic gameplay experience or if you want to you can make the game fill out the screen – with full screen mode –  completely, just don't tell the purists you're doing this.  Saving your game at any point and load instantly, means you should never be totally at the mercy of just three lives again.  The Evercade also offers HDMI connectivity – with HD up-scaling on all games. This allows retro enthusiasts to play both on the move and in their homes. The best of both worlds.
Over at Funstock currently, for pre-order, you can secure either the White or Black Evercade.  Starting at the 'Standard' release with a game and working all the way upto the 'All in' release which comes with the full library of titles and a case also.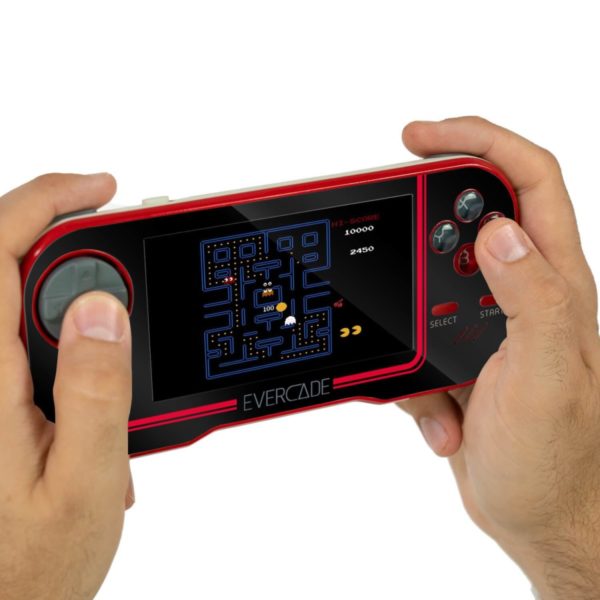 Below you can see the list of games set to launch with the Evercade, but expanding their future library Evercade are also making indie games available on their new platform. They have already signed Mega Cat Studios (known for titles such as Log Jammers, Coffee Crisis and Almost Hero), with more to be announced after launch.
#

Title

Cartridge

1

8-Eyes

Piko Interactive Collection 1

2

Adventure (2600)

Atari Collection 1

3

Air Sea Battle (2600)

Atari Collection 2

4

Alien Brigade (7800)

Atari Collection 1

5

Almost Hero

Mega Cat Studios Collection 1

6

Aquaventure (2600)

Atari Collection 1

7

Asteroids (2600)

Atari Collection 1

8

Asteroids (7800)

Atari Collection 2

9

Bad Dudes

Data East Collection

10

Basketbrawl (7800)

Atari Collection 2

11

Battle Cars

Namco Collection 1

12

BattleChess

Interplay Collection 1

13

Boogerman

Interplay Collection 1

14

Bowling (2600)

Atari Collection 2

15

Brave Battle Saga

Piko Interactive Collection 1

16

Burger Time

Data East Collection

17

Burnin' Rubber (Bump & Jump)

Data East Collection

18

Burning Force

Namco Collection 2

19

Canon – Legends of the New Gods

Piko Interactive Collection 1

20

Canyon Bomber (2600)

Atari Collection 1

21

Centipede (2600)

Atari Collection 1

22

Centipede (7800)

Atari Collection 2

23

Clayfighter

Interplay Collection 1

24

Clayfighter 2

Interplay Collection 2

25

Claymates

Interplay Collection 2

26

Coffee Crisis

Mega Cat Studios Collection 1

27

Creepy Brawlers

Mega Cat Studios Collection 1

28

Crystal Castles (2600)

Atari Collection 1

29

Dark Chambers (2600)

Atari Collection 2

30

Demons to Diamonds (2600)

Atari Collection 2

31

Desert Falcon (2600)

Atari Collection 1

32

Desert Falcon (7800)

Atari Collection 2

33

Dig Dug

Namco Collection 1

34

Dig Dug 2

Namco Collection 2

35

Dorke and Ymp

Piko Interactive Collection 1

36

Double Dunk (2600)

Atari Collection 1

37

Dragon Spirit

Namco Collection 2

38

Dragon View

Piko Interactive Collection 1

39

Drakkhen

Piko Interactive Collection 1

40

Earthworm Jim

Interplay Collection 1

41

Earthworm Jim 2

Interplay Collection 2

42

Fighter's History

Data East Collection

43

Food Fight (7800)

Atari Collection 1

44

Galaga

Namco Collection 2

45

Galaxian

Namco Collection 1

46

Gravitar (2600)

Atari Collection 1

47

Haunted House (2600)

Atari Collection 2

48

Human Canonball (2600)

Atari Collection 2

49

Incantation

Interplay Collection 1

50

Iron Commando

Piko Interactive Collection 1

51

Jim Power – The Lost Dimension

Piko Interactive Collection 1

52

Joe & Mac 2: Lost in the tropics

Data East Collection

53

Justice Duel

Mega Cat Studios Collection 1

54

Karate Champ

Data East Collection

55

Libble Rabble

Namco Collection 1

56

Little Medusa

Mega Cat Studios Collection 1

57

Log Jammers

Mega Cat Studios Collection 1

58

Magic Girl

Piko Interactive Collection 1

59

Magical Drop 2

Data East Collection

60

Mappy

Namco Collection 1

61

Mappy Kids

Namco Collection 1

62

Metal Marines

Namco Collection 1

63

Midnight Resistance

Data East Collection

64

Millipede (2600)

Atari Collection 2

65

Missile Command (2600)

Atari Collection 1

66

Motor Psycho (7800)

Atari Collection 1

67

Multidude

Mega Cat Studios Collection 1

68

Night Driver (2600)

Atari Collection 1

69

NightShade

Piko Interactive Collection 1

70

Ninja Golf (7800)

Atari Collection 1

71

Old Towers

Mega Cat Studios Collection 1

72

Pac Man

Namco Colle

c

tion 1

73

Pac-Attack

Namco Collection 2

74

Phelios

Namco Collection 2

75

Planet Smashers (7800)

Atari Collection 2

76

Power Piggs of the Dark Ages

Piko Interactive Collection 1

77

Power Punch II

Piko Interactive Collection 1

78

Prehistoric Man

Interplay Collection 2

79

Quad Challenge

Namco Collection 1

80

Radar Lock (2600)

Atari Collection 2

81

Radical Rex

Piko Interactive Collection 1

82

Realsports Tennis (2600)

Atari Collection 2

83

Side Pocket

Data East Collection

84

Solaris (2600)

Atari Collection 2

85

Splatterhouse 2

Namco Collection 2

86

Splatterhouse 3

Namco Collection 2

87

Sprintmaster (2600)

Atari Collection 2

88

Star Luster

Namco Collection 1

89

Steeplechase (2600)

Atari Collection 1

90

Street Racer (2600)

Atari Collection 2

91

Submarine Commander (2600)

Atari Collection 2

92

Super Castles

Interplay Collection 2

93

Super Painter

Mega Cat Studios Collection 1

94

Switchblade

Piko Interactive Collection 1

95

Swordquest Earthworld (2600)

Atari Collection 1

96

Tänzer

Mega Cat Studios Collection 1

97

Tempest (2600)

Atari Collection 1

98

The Adventures of Rad Gravity

Interplay Collection 2

99

The Brainies

Interplay Collection 2

100

The Humans

Piko Interactive Collection 1

101

The Immortal

Piko Interactive Collection 1

102

Tinhead

Piko Interactive Collection 1

103

Titan

Interplay Collection 1

104

Top Racer

Piko Interactive Collection 1

105

Tower of Druaga

Namco Collection 2

106

Two Crude Dudes

Data East Collection

107

Video Pinball (2600)

Atari Collection 1

108

Warp Man

Namco Collection 2

109

Water Margin

Piko Interactive Collection 1

110

Way of the exploding fist

Piko Interactive Collection 1

111

Weapon Lord

Namco Collection 2

112

Wizard (2600)

Atari Collection 2

113

Xevious

Namco Collection 1

114

Yars Return (2600)

Atari Collection 1

115

Yars' Revenge (2600)

Atari Collection 2
To pre-order an Evercade visit Funstock here.  For more information on the Evercade Follow them on Twitter.

@Villordsutch