Hell House LLC III: Lake of Fire, 2019.
Directed by Stephen Cognetti.
Starring Gabriel Chytry, Elizabeth Vermilyea, Sam Kazzi, Theodore Bouloukos, Brian David Tracy, Bridgid Abrams, Leo DeFriend, Scott Richey and Jordan Kaplan.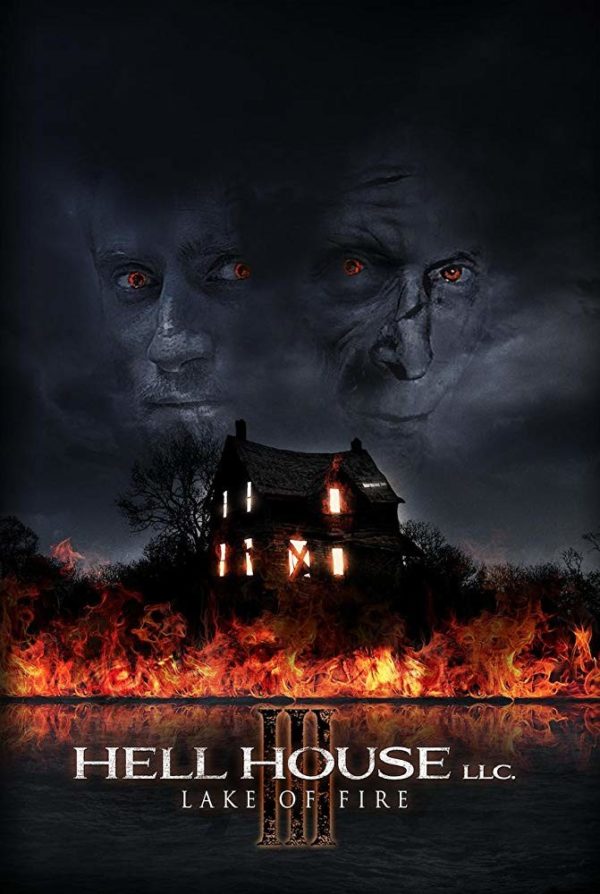 SYNOPSIS:
Nine years after the tragic events of Hell House, the Abaddon Hotel will once again be open to the public. Billionaire Russell Wynn has taken his audience-interactive show, Insomnia, into the abandoned hotel.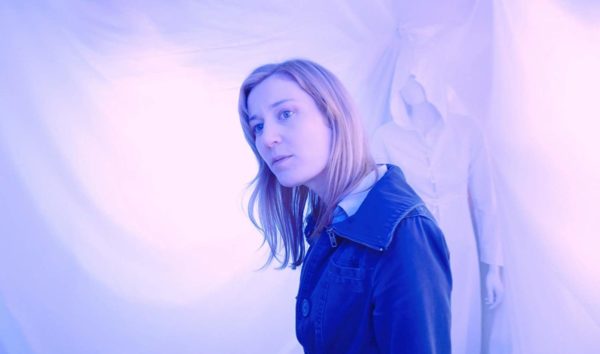 Stephen Cognetti's Hell House LLC franchise was, to this critic, a shining example of "Found Footage" and "Halloween Attraction Horror" done right. The first is an outright terrifying glimpse into one crew's dealing with legitimate paranormal devils, Hell House LLC II a buildout of mythology that invigorates Abaddon's legend. Cognetti set himself up for an epic continuation and/or finale, which Shudder announced would be titled Hell House LLC III: Lake Of Fire. Another trip back to Abaddon, another reopening of the doomed hotel, another investor thinking this time would be different. Well, to an unfortunate degree, things are different this time – only because this is the first Hell House LLC that falls into the more generic and dismissable norms of those subgenres mentioned above.
Multimillionaire Russell Wynn (Gabriel Chytry) is the latest foolheartedly opportunist to save the Abaddon Hotel from being destroyed, nine years after Hell House's incident. His show, an interactive play detailing Faust's dealings with heaven and hell titled "Insomnia," is set to be the latest hit despite so many missing persons reported on the premises. Vanessa Shepard (Elizabeth Vermilyea) is contracted to provide media coverage for the grand opening, she the newest anchor for Morning Mysteries. Wynn takes tremendous precautions to keep workers out of Abaddon after hours and enforces buddy systems, but the rumored gateway to Hell starts playing its old tricks once more. More freaky footage, more unexplained encounters, and a few visits from ghosts of Hell House's past. History repeats itself once more, with the cameras always rolling.
"Found Footage" is hard enough to pull off, but "Found Footage" franchises endure an added layer of difficulty because storytelling needs to justify a reason to revisit haunted grounds. Hell House LLC III: Lake of Fire has trouble replaying the same motivations, as interviews with Wynn's actors and management downplay Abaddon's past – despite extensive documentary footage from Hell House's calamity? And Hell House LLC II's open case? Actress Jane (Bridgid Abrams) boasts her courageous disbelief in Abaddon's ghostly inhabitants, the same for Faust, aka Gregory (Leo DeFriend). Then when Abaddon proves itself a true manor of madness, Wynn solves the problem by throwing money at shaken employees until they return – suddenly now forgetting their spectral encounters.
Cognetti, through his first two films, does an architecturally sound job keeping Hell House's mystery alive and seething. A third time, it appears, is not the charm.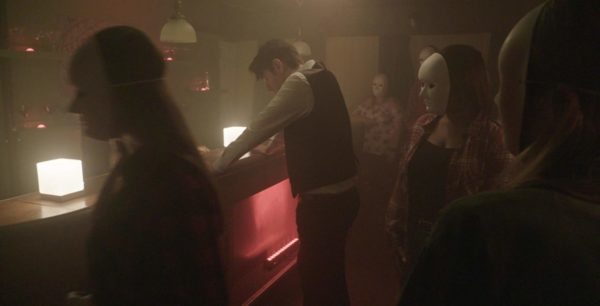 With Wynn's team remodeling and updating Abaddon strictly during daylight hours, Hell House LLC III: Lake Of Fire has trouble herding single handy-cam users away from larger groups. More daylight, less suspense. Vanessa, already rattled by her task, is predominantly flanked by at least two more participants (cameraman Louie played by Joe Bandelli plus an interview subject). Actors wander in groups of three, while Wynn's top advisors – Chief Operating Officer Jeff Stone (Sam Kazzi) and Artistic Director Harvey (Scott Richey) – are either meeting with their vaguely dismissive boss or chatty workers. Cognetti's workaround is to splice in heavy reliances on reused footage from Hell House LLC and Hell House LLC II, using the same digital intrusion static when ghost footage overrides current feeds – a bit old hat by this point.
The above plays into a larger problem of scares and horror, as Hell House LLC III: Lake of Fire downgrades event-based atmospheres that define both vastly more terrifying predecessors. Hell House LLC doesn't clown around when it comes to provoking screams, and Hell House LLC II works plenty of those signature terrors into a documented investigation searching for answers. Hell House LLC III: Lake of Fire loses menace by leaning hard into Abbadon's backstory versus permanently populating more rooms, as interactions with ghastly figures lack previous hostility. I never found myself clenching fists or hiding behind pillow walls while watching Hell House LLC III: Lake of Fire, which is a serious change of pace considering my adoration Cognetti's DIY franchise thus far. One basement sequence stands out, but the rest reuses familiar setups. An inevitability.
What's accomplished by dialing back monstrous delights is a story that accepts Abaddon as the underworld portal it is. Hell House LLC II confirms such a heretic passageway, introducing Andrew Tully into the fold. There's a reason Wynn's Insomnia walks patrons through purity-white "Heaven" hallways before eventually reaching "Hell's" red-saturated walkways. Cognetti goes for broke and conceptualizes a final chapter in Abadon's demonic history, but his talking-head documentary delivery feels like it's spitting information at viewers rather than living the town's morbid history. Mentions of a 2000s county fair and Billy Braddock are thrown around by "experts," remarking about Insomnia's "inevitability" in a way that never allows dramatic intrigue to build in real-time.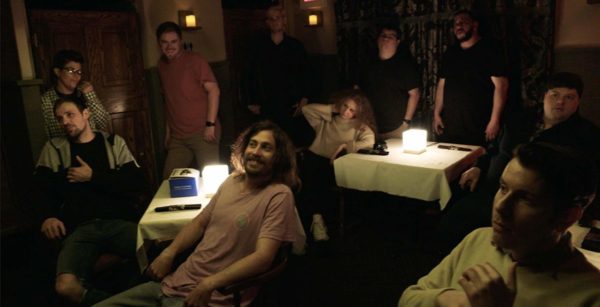 Then, when Act III reaches the gore-guts climax we know is knocking, it's over within a short burst. That, to me, was the final nail in a coffin that might've been otherwise rescued given a payoff with more reward. Nothing I'll divulge here, as it's best experienced than described (obviously) – but, something I must note as a point of serious contention.
If you're a fan of Cognetti's work thus far, Hell House LLC III: Lake of Fire is still worth witnessing for completionist reasons. It won't chill or challenge fans in the same nerve-shredding ways, but does conclude one gnarly chapter in Abaddon's fabled and twisted legacy. Expect a whimper of an exit that gets away from what makes Hell House LLC and Hell House LLC II two of my favorite indie screamers to recommend (Hell House LLC II a minority opinion). Hell House LLC III: Lake of Fire is expanded, more ambitious, and certainly blueprinted with intricacies in mind. Hard to fault a filmmaker and franchise dying to evolve, but it's also hard not to feel somewhat let down by how Cognetti ends this Hell House LLC trilogy. Andrew Tully's introduction a work of exceptional malevolence – his exit nothing more than Lucifer's weakest of whispers.
Flickering Myth Rating – Film: ★ ★ / Movie: ★ ★
Matt spends his after-work hours posting nonsense on the internet instead of sleeping like a normal human. He seems like a pretty cool guy, but don't feed him after midnight just to be safe (beers are allowed/encouraged). Follow him on Twitter/Instagram/Letterboxd (@DoNatoBomb).