Ricky Church on his hopes for the Obi-Wan Kenobi Star Wars TV series…
When it comes to characters in the Star Wars saga, there are several who stand out as fan-favourites. Luke, Han, Leia, Lando, Boba Fett, Darth Maul, R2-D2, Rey, etc. There are too many to name, but they're all beloved for various reasons. One character that stands out among the many favourites is Obi-Wan Kenobi, one of the last surviving Jedi Knights after Order 66 and Darth Vader's old mentor. Played by Alec Guinness in the Original Trilogy and then by Ewan McGregor in the Prequel Trilogy, Obi-Wan has been a source of the franchise's most well-known pieces of wisdom, action scenes and quotes. Even as maligned as the prequels are, McGregor's performance as Obi-Wan is often cited as their saving grace. It makes the rumoured prospect of McGregor returning to the role for a Disney+ series all the more exciting.
The series will most likely be set within the 20-year gap between Revenge of the Sith and A New Hope, during which time Obi-Wan was in self-imposed exile on Tatooine as he watched over Luke Skywalker. Some of this time has been detailed in other Star Wars media, such as Marvel's Star Wars comics or the Star Wars Rebels episode 'Twin Suns', but there is still a lot of ground for the show to cover. While some may ask why we'd be getting another prequel story, especially one involving another character whose story we know the ending to, a Kenobi-driven series is a great chance to further explore the character and how his exile changed him into the man we meet in A New Hope.
Obi-Wan is known as one of the most dedicated teachers and warriors within the Jedi Order, following its principles so thoroughly  that he eventually joined the prestigious Jedi Council. One of the most appealing aspects of an Obi-Wan centric show set in his exile is how he comes to terms with the loss of the Jedi Order and his friend and protege, Anakin Skywalker. Though Obi-Wan's anguish was clear in Revenge of the Sith, the concluding prequel still had barely enough time to cover his feelings. For a Jedi like Obi-Wan, it would be a hard thing to cope with knowing everyone you grew up with were gone and the system you fought for was corrupted and vilified throughout the galaxy, especially when it was caused by your best friend. The series could really expand on Obi-Wan's development by focusing on who he is without the Order, but how he still believed in it despite its loss.
These are feelings McGregor can deliver with ease. He's had a pretty diverse career with the roles he's played and his interpretation of Obi-Wan Kenobi, from his youth to member of the Council, really was one of the shining elements of the prequels. There were many moments where he seemed like a younger version of Alec Guinness' portrayal, capturing the charisma, light-hearted humour and devotion Obi-Wan carried in the Original Trilogy, but he also excelled at the seriousness within Obi-Wan. Whether it was Obi-Wan talking down to Count Dooku or sorrowfully informing Padmé of Anakin's turn to the dark side, McGregor conveyed a variety of emotions. Some of McGregor's best work in Star Wars comes from Revenge of the Sith, most significantly Obi-Wan's final scene with Anakin on the shores of Mustafar. McGregor's return to the galaxy far, far away would be a great opportunity to see how Obi-Wan was able to overcome the new reality of the Jedi's extinction and merge his portrayal with that of the Original Trilogy's older and wiser Obi-Wan.
While many of Obi-Wan's adventures involved lots of space travel and lightsaber fights, there's great potential for the series to do something much more smaller scale and completely different to Star Wars' usual style. Obi-Wan's purpose is, after all, to maintain a low profile while he watches over Luke, but as the Marvel comics have shown there have been rare occurrences where Obi-Wan was forced to take matters into his own hands. It could really veer into the Western genre, placing Obi-Wan even more into the trope of a reluctant and reclusive nomad getting pulled back into an adventure like A Fistful of Dollars or Unforgiven. The fact that Tatooine is a desert planet overrun with gangsters just adds to the Western theme and would further diversify the series from other Star Wars projects much like the previous spin-offs have done. Rogue One gave fans a spy/war film while Solo delivered a heist film. It would be neat for the series to play around with another genre while also giving Obi-Wan the challenge of not calling on the Force in such a direct and obvious way, including the use of his lightsaber, allowing viewers to see just how resourceful and powerful Obi-Wan is all on his own in this new setting.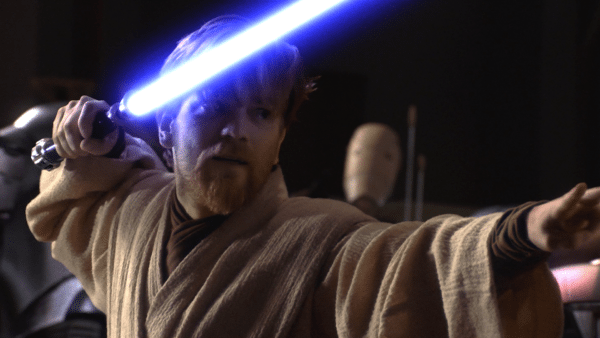 To that end, another area of potential is showcasing Obi-Wan's growth with the Force. He is already a very powerful Jedi, both with his various Force abilities and skill with a lightsaber, but the intervening time between films sees Obi-Wan become an even more powerful Jedi. He would have to be since he is one of the few Jedi ever to live on after death by becoming one with the Force. Much like some of the later episodes of The Clone Wars or Rebels animated series, the Obi-Wan show can delve so much deeper into the mysteries of the Force as Obi-Wan's connection with it grows. There is a clear difference between Obi-Wan's view of the Force between Revenge of the Sith and A New Hope as he saw it more as the mystical and spiritual energy it is. He trusted himself to its will more than he did before, much like his master Qui-Gon had done. On that note, the potential for Liam Neeson to reprise his role as Qui-Gon is just as intriguing in itself. Neeson made some brief vocal appearances in The Clone Wars, but the chance to see Neeson as Qui-Gon in the flesh (so to speak) as he continues to teach Obi-Wan about the Force is an exciting possibility.
Of course, Obi-Wan, Qui-Gon or even Yoda don't have to be the only Jedi to appear in the series. As Star Wars fans will know, several other Jedi survived Order 66, such as Rebels' Kanan Jarrus, Anakin's own padawan Ahsoka Tano or Cal Kestis, the protagonist of the upcoming video game Star Wars Jedi: Fallen Order. While the exact numbers on the surviving Jedi have never been given, there's obviously several Jedi who have survived the Empire's purge and are laying low. It would be interesting if Obi-Wan ever came across any other survivors and see how they have handled life post-Republic. It could even further highlight the different path Obi-Wan has taken compared to others. Kanan, for example, turned his back on the Force for a long time while Ahsoka helped found the beginnings of the Rebel Alliance. It would seem strange to any surviving Jedi that the great Obi-Wan Kenobi, the Jedi Master who risked sending out a message to other Jedi, would spend his time in a reclusive state rather than fight back against the Empire and Darth Vader.
It also gives the opportunity for other known characters from the franchise to appear, chief among them Luke. Even in the Marvel comics, Luke and Obi-Wan never interacted. It gives the show an opportunity to show how Obi-Wan and Luke's friendship began since they've already met by the time A New Hope begins. Luke's youth could even be explored to the point where we see what was mentioned in the first film: Luke's friends leaving Tatooine one by one as they either become pilots or join the Rebellion. The series could even expand on the comics' view of the tense relationship between Uncle Owen and Obi-Wan as Owen has become a father to Luke and wants to protect him at all costs, going so far as to attempt to push Obi-Wan away from his guardian role. And while this will likely never happen, it would be very cool to see a live-action interpretation of Obi-Wan's fateful encounter with Darth Maul from the Rebels episode 'Twin Suns', complete with Ray Park reprising the role once again. The only reasons it likely won't happen is because it has already been covered (and covered very well) in the animated series and that fact Ewan McGregor is still a little ways off from Obi-Wan's age in his Rebels appearance.
The potential for a Obi-Wan Kenobi show is quite large and would make many fans happy. Ewan McGregor has always been a solid casting choice for a younger version of the fan-favourite and emphasizes many of Obi-Wan's best attributes with ease. It would be great to see him reconcile the Prequel and Original versions of the character in the series while exploring how Obi-Wan further developed into the Jedi Knight we know him as. Hopefully a formal announcement of the series and McGregor's return will be announced at D23 this weekend, but this is what we can hopefully look forward to from the potential show.
What would you like to see in an Obi-Wan series? Is there anything in particular you'd like the show to touch on? Let us know in the comments below or on Twitter at @flickeringmyth…
Ricky Church – Follow me on Twitter for more movie news and nerd talk.