In the Tall Grass, 2019.
Directed by Vincenzo Natali.
Starring Patrick Wilson, Laysla De Oliveria, Harrison Gilbertson, Avery Whitted, Rachel Wilson and Will Buie Jr.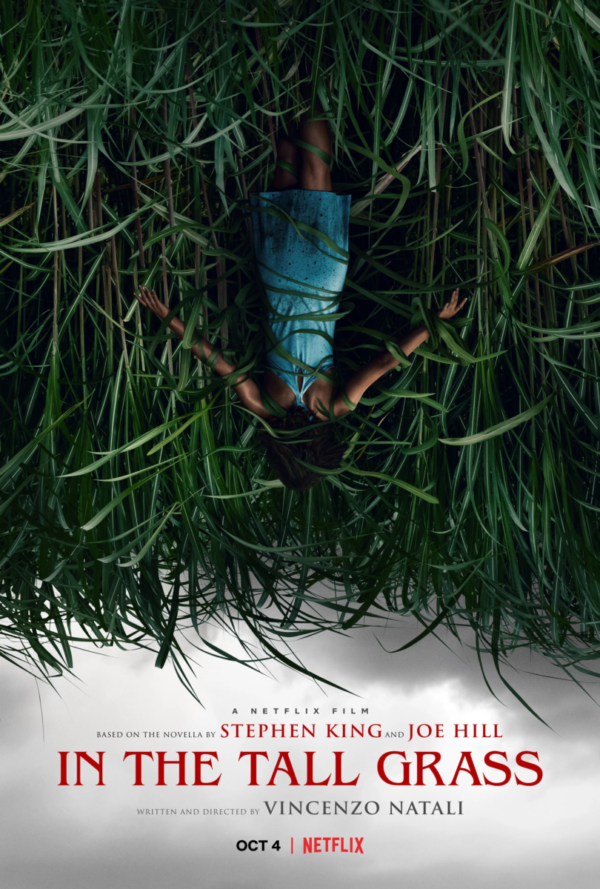 SYNOPSIS:
When siblings Becky and Cal hear the cries of a young boy lost within a field of tall grass, they venture in to rescue him, only to become ensnared themselves by a sinister force that quickly disorients and separates them. Cut off from the world and unable to escape the field's tightening grip, they soon discover that the only thing worse than getting lost is being found.
We're living in a golden age of Stephen King adaptations. Sure, the prolific author has always enjoyed and maybe even suffered a ton of adaptations of his work in years past, but it's safe to say there haven't been as many adaptations in such a short period of time – and quite a lot of them are good!
The latest film adaptation comes from In The Tall Grass, a novella by King and his son – author Joe Hill. Vincenzo Natali writes and direct the feature-film adaptation which follows a brother and sister, Becky (Laysla De Oliveira) and Cal (Avery Whitted) who stop on the side of the rode on their way to San Diego after they hear a boy's cries for help coming from a nearby field. They decide to venture into the field to find the boy and quickly find themselves unable to find a way out.
Though Natali gives every character a backstory and the actors do a good job portraying the horror and the emotion of the story, the characters are simply not interesting. Cal and Becky's relationship, though charming at first, quickly becomes off-putting, and the film never recovers from it. Even when new characters are introduced, like Becky's ex-boyfriend and the father of her baby, Travis (Harrison Gilbertson), the boy whose voice jumpstarts the story, Tobin (Will Buie Jr.) and his father Ross (Patrick Wilson), they mostly serve as filler next to the real protagonist of the film – the titular grass.
Natali's filmmaking instantly creates a world where nature becomes the most terrifying thing possible. His close-ups of water drops, grass leaves, and bugs create a menacing and ominous presence that feels both real and otherworldly. It's become a cliché to say that a film's location is a character, but in the case of In The Tall Grass, it is true. The movement of the tall, imposing grass, the crackling noises and eerie sounds coming from across the field and the focus on the vast amounts of mud makes for a simple yet effective villain.
That being said, this movie would not work if the performances weren't at least decent, and luckily for In The Tall Grass, it's got a fantastic cast. The introduction of Travis and his suspicion at the extremely close relationship between Becky and Cal drives the emotional arc of the story, with Becky struggling to decide what to do once the baby comes, and Travis trying to make up for past mistakes while being increasingly frustrated when no one listens to his warnings. Meanwhile, Patrick Wilson continues his streak of menacing yet captivating horror performances. His role as Ross starts out in nice-and-concerned-father territory that will remind viewers of his role in The Conjuring series, but Wilson stretches his scary muscles as Ross hides a secret, one that will turn very bloody, very quickly.
Though engaging and creepy, In The Tall Grass doesn't have as many jump scares or scenes of extreme shock as the novella, which enters taboo territory at times. Luckily, the film's second half quickly evolves into a body horror extravaganza, with mutilated limbs, buckets of blood, and a dash of cosmic horror that will leave fans of H.P. Lovecraft very happy.
In The Tall Grass doesn't reach the highs of King and Hill's novella, and the film's pacing makes this 90-minute film feel like three hours long. But an unsettling and creepy cinematography and a terrific cast makes this a worthy addition to your Netflix queue.
Flickering Myth Rating – Film: ★ ★ ★ / Movie: ★ ★ ★
Rafael Motamayor