Monos, 2019.
Directed by Alejandro Landes.
Starring Moisés Arias, Julianne Nicholson, Sofia Buenaventura, Karen Quintero, Julian Giraldo, Laura Castrillón, Deibi Rueda, Paul Cubides, Sneider Castro, Wilson Salazar, and Jorge Román.
SYNOPSIS:
On a faraway mountaintop, eight kids with guns watch over a hostage and a conscripted milk cow.
Monos is a fictional story that might as well be real, and I wouldn't be surprised if similar real-life stories do exist. In an undisclosed location seemingly somewhere in South America, Alejandro Landes' (his sophomore feature, although third film total counting documentaries) film depicts a brotherhood of teenage soldiers tasked with watching over an American engineer hostage (Julianne Nicholson) while performing rigorous guerrilla military training at the orders of an Organization (the mysterious unseen group at the top of the commanding chain) member known simply as Messenger (Wilson Salazar). Living conditions are not much more appropriate, as the soldiers create makeshift underground nests and look after a single cow given to them for the sole purpose of having an endless supply of milk. Caring for the cow also serves as an exercise in responsibility, something that these gung-ho misfits could use.
The young rascals are presented as feral; on birthdays, they take turns whipping the celebratory individual with a leather belt. There are also campfires involving ritualistic dancing, chanting, and dreamlike atmospheres. It doesn't take long before Monos hurls itself into a bleakly harrowing territory, but some of the film's best moments do come early on from observing their socially maladjusted and primal way of life. Morally compromised due to harsh circumstances and more (research tells me the film is somewhat of an allegory to the current political state of Columbia), there is still appreciation for the close-knit bond these eight soldiers (six boys and two girls that are allowed to romantically partner up with one another so long as they are granted permission) share.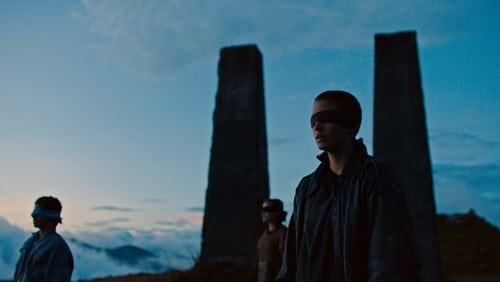 Without giving too much away, their already unsettling routine goes haywire causing a new leader to be chosen, a migration away from their living area, and a questioning of whether they should be following the Organization's orders or not. There is no main character here, as everyone is given their own important segments and a great amount of depth which is a testament to both the writing (Alejandro Landes also serves as a co-writer next to Alexis dos Santos) and direction. Rewatches will also yield more character details, such as a segment where each soldier gets to take a belonging from a recently deceased member of the pack, where their choices no doubt further shape who they are and where they are going as individuals. Admittedly, the squad does start out as a blur of faces indistinguishable from one another outside basics such as gender, but by the horrific finale, there is the sensation that each one of these teenagers has endured their own mental journey.
Some of the more abstract characteristics of Monos will be offputting to those that want a clean straightforward narrative, but even those viewers will find it nearly impossible to resist the sonic and visual beauties the experience has to offer. Overflowing with gorgeous cinematography from Jasper Wolf, Monos captures both colorful vibrancy and dangers of the jungle alongside heavy cloudy skies that almost feel symbolic of the heaven to the hell that these children inhabit on a day-to-day basis, not knowing what horror awaits them next. Sound design is also excellent, whether it be the chirping of birds and the noises of various other wildlife critters, or the thunderous crashing of waves (most notably during the breathtaking climax). The story will no doubt be slightly inaccessible to casual moviegoers, but Monos is aesthetically arresting and intoxicating to the ears (the compositions from Mica Levi is pounding and intensifies in synchronization with the unnerving and often disturbing events unfolding on the screen).
Others might simply find the film too uncomfortable to watch, as the story goes to some depraved places. Again, the way of life for the soldiers is inevitably disrupted leading to dissension in the ranks and general in-house arguing, meanwhile, the middle-aged American woman hostage is desperately looking to take advantage of any possible situation in order to make your escape. Even the lesser violent segments such as the torturous and physically exhausting combat training might turn some viewers away (there's even a part where they are punished and forced to collectively hold a log the size of a tree over their heads), but Monos is also a necessary watch for that unflinching tone. Just because something is fictitious doesn't mean it can't feel lived-in and blisteringly authentic.
Flickering Myth Rating – Film: ★ ★ ★ ★ / Movie: ★ ★ ★ ★
Monos is released in UK cinemas across UK & Ireland on 25th October 2019.
Robert Kojder is a member of the Chicago Film Critics Association and the Flickering Myth Reviews Editor. Check here for new reviews, friend me on Facebook, follow my Twitter or Letterboxd, check out my personal non-Flickering Myth affiliated Patreon, or email me at MetalGearSolid719@gmail.com